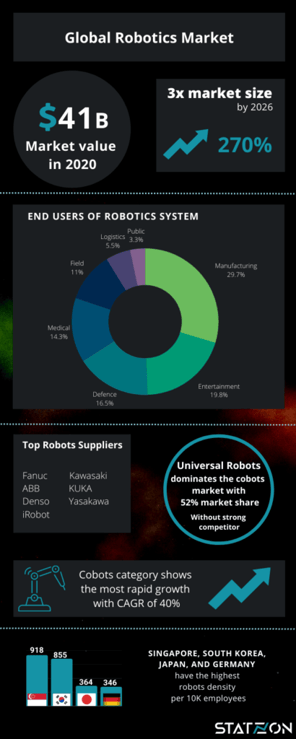 Demand for automation driven by a higher cost of human labor has led to the growth of the robotics industry. Although companies can find it challenging to justify the cost of robot installation, in the
long run, they will see that the cost of operating these robots is far lower compared to human wages. Robots also improve safety and accuracy. And, of course, robots don't get sick or tired, and they also don't spread viruses. Indeed, robots have become essential workers in many industries.
The global robotics market is valued at 41 billion USD in 2020, according to Statzon's aggregated data. This number is expected to grow by 270% in 2026. Furthermore, as demands for robots increase, numerous start-ups are joining the field, further enhancing the market's growth.
The robotics industry is still relatively young, but it has delivered amazing progress. The promise of more innovative and forward-thinking technology in science fiction that we once dreamed about now seems within reach. While companies and scientists are working toward that dream, here are some of the robots that are currently working, interacting, and sharing space with us.
INDUSTRIAL ROBOTS
Industrial robots are used in manufacturing to perform repetitive tasks. They are often primary forms of machines. They can be stationary or capable of some movements that are automated and programmable.
Next Move Strategy Consulting reported that the global market for industrial robots was valued at around 32.2 billion USD in 2021. Factors such as increased demand for automation, high cost of human labor, governmental support, and advancement of R&D will push the market value to grow at a CAGR of 12.1%.
China has been the leading country in the industrial robot market for several years, with a revenue of more than 12 billion USD, accounting for 38% of the market share globally. The Asia-Pacific region is forecasted to have the highest market growth, with China, Japan, and South Korea leading the market in the region.
Typical industrial robot applications are material handling (including material transfer, machine loading, and unloading), assembling, disassembling, soldering, and welding. Based on those applications, it is expected that automotive, manufacturing, and logistics are the three biggest industries using this technology.
Fanuc, ABB, KUKA, and Yashakawa are the four major suppliers in the market, accounting for around 56% of the global market share (Next Move Strategy Consulting market research report in 2021)
COLLABORATIVE ROBOTS (COBOTS)
In a traditional sense, industrial robots are often considered the least intelligent type of robots since they perform simple and repetitive tasks. They should not be confused with Collaborative Robots or cobots. These robots are new inventions for the industrial setting. They are designed to share our workplace and work hand-in-hand with us. Cobots are usually smaller than the typical industrial robots but equipped with a sophisticated sensor that can anticipate human actions and complement them.
Like traditional industrial robots, cobots can also be used for material handling processes. However, the smaller size of these robots combined with more intelligent technology makes it possible for them to perform small parts assembly and even machine tending, a repetitive process that is potentially dangerous when done manually.
The automotive industry is the largest end-user segment, with a 35% share of the cobot market. Cobots in the automotive industry are used for door panel installation, machine parts loading and unloading, and small parts assembly. The growing need to automate complex manufacturing processes is driving the demand in this segment. Electric and semiconductors, as well as food and beverage, are the other two industries where cobots are commonly used.
Statzon aggregate data estimated the global collaborative robot market value at around 1.2 billion USD in 2021 with a sales volume of 32,200 units. The market is expected to grow in the future with a CAGR of +40%.
Manufacturing companies in North America were the early adopters of cobots and currently dominate the global market with a hold of 33% of the market share. Asia Pacific is also the fastest-growing region with India expected to have the most rapid growth.
There are more than fifty cobot manufacturers globally, but only a small number have so far deployed cobots on any meaningful level of scale. Denmark-based Universal Robots is the clear market leader with a 47 % market share. Techman Robotics, FANUC, and Rethink Robotic hold less than 10% of the market share each.
MOBILE ROBOTS
Moving materials around factory settings is burdensome and time-consuming when done manually. So why use employees for this task when it can be automated using the help of robots such as AGV (Automated Guided Vehicle), AMR (Autonomous Mobile Robots), and AMMR (Autonomous Mobile Manipulation Robot)?
AGV is the most simple machine out of the three. It can only work on a fixed route guided by wire or magnetic markers. Changing or disrupting the routes can be costly and complicated.
AMR has a more intelligent navigation system. It creates maps within its software, recognizes obstacles, and can plan movements to avoid them.
The more sophisticated form of AMR is AMMR. It is an AMR machine with an arm for autonomous grasping and picking. Instead of just transporting items, AMMR can autonomously load and unload the items and even place them on designated shelves.
Mobile robots have one of the fastest-growing markets in the robotic industry with a CAGR of 21%, based on a report from Next Move Strategy Consulting. The market value is estimated at around 10 Billion USD in 2020 and is predicted to reach 72.5 billion USD by 2030. These robots are most prominent in the USA, but countries in Asia are showing a fascinating market growth, with Japan leading the region.
Logistics and warehouses are the most common settings for mobile robots but these robots can also be found in education, entertainment, and even military settings.
Mobile robots are utilized to transport material, carry heavy objects, clean the floors, and perform many other tasks. In addition, in the military mobile robots can be deployed for combat scenarios.
Mind Commerce, another market research company, reported that AMR is the most significant contributor, accounting for around 50% of the total market share compared to other mobile robots in the market. Some of the top players in mobile robots manufacturing are among others KUKA, iRobot, Lockheed Martin, Honda Motor, Samsung Electronics, Amazon Robotics, and Softbank Robotics.
MEDICAL SURGERY ROBOTS
Robots for medical use have been around for several decades now, changing how surgeries are performed. Robot-assisted surgery is often mentioned as the new revolution in surgical processes. It helps surgeons to perform complex procedures with more precision and control. This type of surgery is usually used in minimally invasive surgery, where tiny and precise incisions are needed. However, surgery robots can also be used to perform open surgery.
Statzon's aggregated research data shows that the global surgical robot market is valued at around 5.4 billion USD. The emerging trend is expected to continue with a CAGR of +13.8% until 2028. Innovations in the industry are expected to reduce the cost of the systems over the coming years. Thus, market penetration is expected to increase.
Hospitals in the United States and Europe have rapidly adopted robotic surgery, but other countries like India, Indonesia, China, and Taiwan are catching up in using this technology. Around 86% of surgical robots in the market can be found in hospitals, and the rest 14%, are placed in Ambulatory Surgery Center, an outpatients facility providing same-day surgical care. The robots are currently being used mostly in general surgery, with gynecological, urological, and orthopedic surgery following the trend.
The leading companies in robotic surgery are, among others, Medtronic, Zimmer Biomet Holdings, Smith & Nephew, and Intuitive Surgical.