What is a mobile robot? A mobile robot is a robot capable of moving from one place to another. They are utilized to transfer materials in factory settings relieving employees from burdensome and time-consuming tasks.
Is mobile robot an industrial robot?
In general, industrial robots are robots used for manufacturing purposes. They are intended mostly to replace human employees in performing difficult, hard-labor, or repetitive tasks. In this sense, mobile robots are part of industrial robots although applications of mobile robots can also be found outside the manufacturing industries.
Industrial Mobile Robots (IMR) is the term used to describe a mobile robot platform equipped with a robotic arm and programmed to perform tasks in industrial settings. The mobile platform would maneuver its robotic arm to pick up and put down items between points of operation.
IMRs found some of their earliest practical applications in warehouse and logistics settings. They are programmed to be able to navigate through the warehouse, retrieve items from inventory shelves, and drop the items at the packaging station.
Fixed robots vs mobile robots
Most of the robots available today are stationary or fixed, especially when we talk about industrial robots. These robots are the backbone of many industrial processes, and they perform well in doing repetitive tasks.
However, in recent years, we are witnessing a shift to mobile robots, automatic robots that are capable of moving around in their environment. Around 43% of robots nowadays are capable of mobility.
Two common categories of industrial mobile robots: AGV and AMR
Automated Guided Vehicle (AGV) and Autonomous Mobile Robot (AMR) are great examples of mobile robotics and are usually mentioned when talking about industrial mobile robots. Both technologies are common fixtures in big factories and warehouses. They both can accomplish similar tasks, which are moving materials around. However, there are apparent differences between the two.
Automated Guided Vehicle (AGV)
Some people think of AGV as the predecessor of mobile robots, and it has been used in industrial settings since the 1950s.
AGV operates on a fixed route relying on guidance devices such as wire, magnetic tape, laser path, or reflective markers. Changing or adding the routes of AGV can be complex and costly as it would mean changing the infrastructure. The installation will also take more time since the infrastructure needs to be provided before AGV can operate.
AGV is considered to have basic, simple technology. It can detect obstacles but has no ability to change its course of action. As a result, AGVs may become "stuck" when they come across an object along their path. This often requires the help of an operator to move the object and restart the AGV again.


Autonomous Mobile Robot (AMR)
AMR is the newer, smarter, and more expensive technology compared to AGV. It is equipped with an autonomous navigation system within its software. They can overcome obstacles as they can remap and define a new destination.
Although AMR is more expensive than AGV, its installation is fast, easy, and cost-effective. In addition, it offers greater flexibility as it can work in different locations, not bound by any fixed infrastructure. AMR can also be used outside of a building and has a "follow me" application that can be used to follow humans around while carrying loads of material.



Mobile robot market size
Next Move Strategy Consulting evaluated the global market for mobile robots at an estimated USD 10.7 billion in 2020, with 21 million units of mobile robots sold. The global mobile robot market will likely showcase a high growth rate driven by increasing manufacturing automation. The market value is projected to reach USD 72.5 billion in 2030, growing at a CAGR of 21%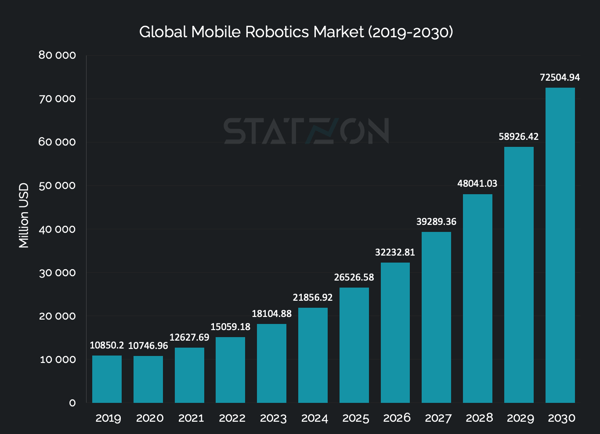 Source: Statzon/ Next Move Strategy Consulting
Factors contributing to mobile robot market growth
High personnel costs and wage rates are especially high in developed countries, making automation the key focus in the manufacturing and logistics sectors. Growth in e-commerce is the main driver for AGV/AMR demand in warehouse automation. Major e-commerce companies have increased their acquisitions of robots to boost their warehouse operations.
Advancements in mobile technology and artificial intelligence are already revolutionizing how industries operate. For example, the rightPick robot that was launched in 2017 is able to pick items at a rate of 500 to 600 per hour, at par with a human worker. This kind of technological advancement will further accelerate the growth of the mobile robot market.
Many other factors play a key role in the growth of the market. Many emerging countries are now more willing to justify the cost of mobile robot installations as they have been proven to improve the speed and quality of production. Increasing governmental initiatives in funding and research in robotics will also further fuel the market.


Mobile robot market is growing faster in Asia-Pacific region
The United States and China are the driving force in the mobile robot market. US is currently leading globally with a market value of USD 3.5 billion in 2020, that's about 33% of the total market size. The significant presence of key market players in this country boosts the market's growth. Companies like Northrop Grumman, Lockheed Martin, Amazon Robotics, and General Dynamics Mission Systems have their headquarters located in the US.
The Chinese e-commerce industry, like Alibaba, has driven the mobile robot market in China. China's market value was estimated to be around USD 1.2 billion, but this number is expected to soar to almost USD 20 million in 2030, increasing China's share of the market from 11% to 27%. However, Japan is the fastest-growing market, both globally and regionally in the APAC region, with a CAGR of 39%. Other countries in Asia, such as India, Singapore, and South Korea, are also showing incredible growth rates making APAC the fastest growing region in the market.
Mobile robot market share by application
Mobile robots' applications span a broad spectrum of industries such as logistics, education, entertainment, healthcare, domestic, agriculture, and even the military. The logistics segment takes up the largest share (26%) of the market. The use of mobile automated guided vehicles (AGVs) is prominent in this sector to transport goods around warehouses and storage facilities.
The domestic segment is expected to grow with the highest CAGR of 24.0%. The robots used in this sector are service robots mainly used for household chores. Robots currently available in this segment are, for example, floor cleaners, lawnmowers, swimming pool cleaners, gutter cleaning robots, and telepresence robots.
Top mobile robot companies
The mobile robot market is highly competitive, with many manufacturers pursuing different strategies and initiatives in R&D, product launch, partnership, and collaboration. In addition, the promising growth of the market has resulted in numerous new start-ups entering the market, making competition even more fierce. Next Move Research Consulting recognizes KUKA, Northrop Grumman, iRobot, Lockheed Martin, Honda Motor, Kongsberg Maritime, Samsung Electronics, Amazon Robotics, and Softbank Robotics as major players among others.
Sources: Statzon data on global mobile robots market, Next Move Strategy Consulting market research report on mobile robots market, Mobilerobotguide, Robotnik.eu
Robotics market guide: The ultimate guide to the ever-evolving robotics market
Statzon's Handbook of Robotics is your ultimate guide to understanding the ever-evolving robotics market and its impact on various industries worldwide. Robotics has been one of the fastest-growing industries in recent years, transforming how we live and work. From manufacturing and healthcare to agriculture and retail, robots are changing the face of businesses and revolutionizing how we approach various tasks. With so much potential and opportunity, staying up to date with the latest trends and insights in the global robot market is essential.
This handbook provides a comprehensive market overview, including key players, emerging technologies, and prospects.