What is an autonomous mobile robot (AMR)?
Autonomous mobile robots (AMRs) are the evolution of automated guided vehicles (AGVs), a much-matured technology that has been used in factories since the 1950s. Autonomous mobile robots, as the name suggests, have the independence to make their own decision in a working environment without the need for human intervention. AMRs are equipped with advanced sensors that allow them to comprehend and interpret their surroundings. This capability assists them in completing their tasks in the most efficient and effective way possible by maneuvering around barriers and unpredictable obstacles, such as a box falling from a shelf.
AMR vs. AGV - How are they different?
What's the difference between AMR and AGV?
Autonomous guided vehicles (AGVs) are a familiar fixture in large, fixed installations, usually where there is a need for repetitive, consistent material deliveries. These robotics systems have minimal onboard intelligence and can only obey simple programming instructions. AGV needs to be bound to fixed infrastructure in order to move around. They move by following a fixed route marked by tape, wires, magnetic strips, or lasers for navigation. Changing or disrupting the routes means additional cost and time.
Autonomous mobile robots (AMRs) are equipped with onboard sensors and cameras which enable them to move autonomously without any need for physical guides or markers. This ability can be compared to a car with a GPS and a pre-loaded set of maps. AMR robots are smart in a way that they can recognize and at the same time can react to their environment, meaning they can go around obstacles as they can remap and define a new destination. Very different from AGV which needs human intervention in the face of obstacles. Therefore, AMR is better for a work environment where humans are present due to its flexibility to plan and change its course of action.
Both AMR and AGV are important parts of a warehouse mobile robot fleet.

Autonomous mobile robot (AMR) market size
The global market for autonomous mobile robots reached a value of USD 1.4 billion in 2022, as revealed by research conducted by The Insight Partners. This indicates a significant growth of 25% compared to the preceding year. An additional increase of 25.3% is foreseen in 2023, with the market value expected to reach USD 1.76 billion. Forecasts for the 2023-2030 timeframe project an expected CAGR of 25.7%. As a result, the market is poised to expand substantially, potentially reaching a noteworthy USD 8.7 billion by the year 2030.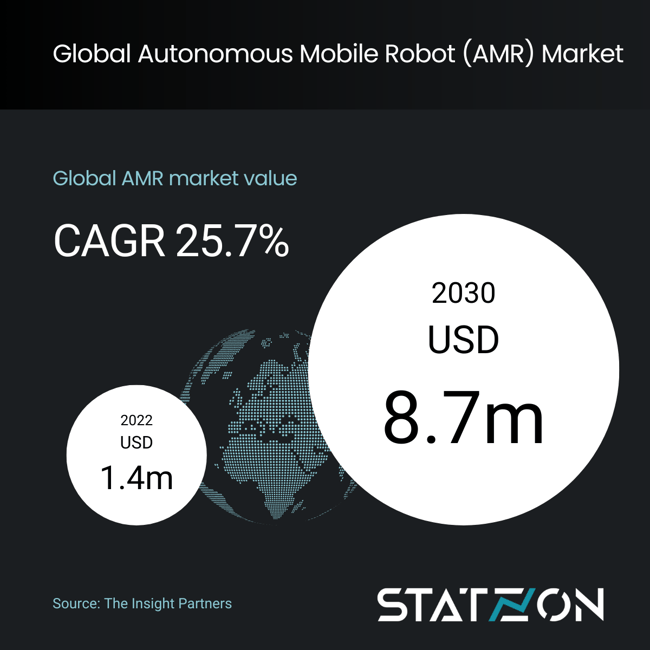 The market is divided into five key regions: North America, Europe, Asia Pacific (APAC), the Middle East & Africa (MEA), and South America (SAM). Government initiatives promoting manufacturing automation are driving AMR adoption in APAC. Some examples are China's "Made in China 2025" plan aims to enhance manufacturing through smart technology, and India's "Make in India" initiative focuses on integrating robotics. APAC leads the market with a 38% share in 2022 and a robust 26.9% CAGR, poised to reach USD 3.2 billion by 2030. Europe closely follows with a 35% market share, and North America with 26%. Both regions are propelled by strong automotive sectors.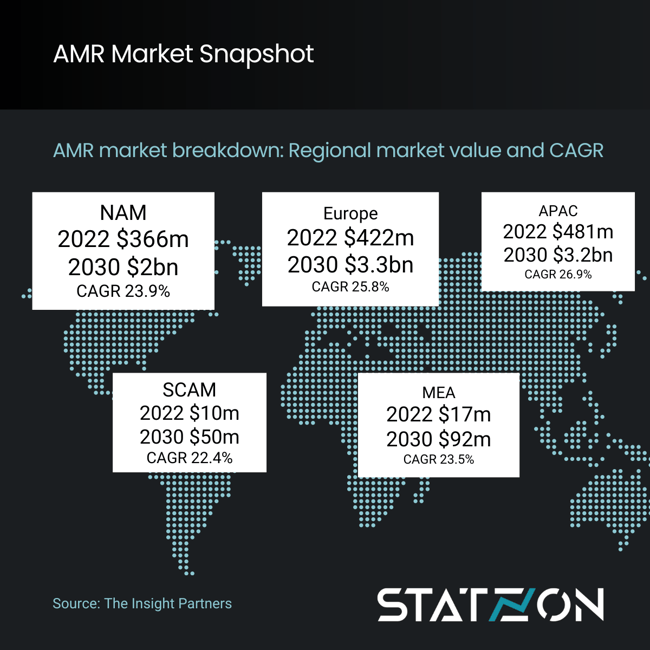 Autonomous mobile robot (AMR) market drivers
The drastic rise of the e-commerce industry during the last couple of years is the main driver for increased AMR demands in the logistics industry. Walmart's online sales, for example, grew 300% at the start of the pandemic. To adapt to this surge of online orders, Walmart added Market Fulfilment Centres, a kind of compact warehouse, to some of their stores. Mobile robots are employed in these centers to fetch groceries and have them ready for pick-up. The growing prevalence of the Internet and smartphones further supports consumers' inclination towards online shopping. As per the India Brand Equity Foundation, the count of online shoppers in India reached 150 million in 2021 and is projected to surge to 350 million by 2026. As pointed out by ABB, the utilization of AMR within the e-commerce sector leads to a 12% enhancement in delivery speed, a 26% decrease in space requirements, and an impressive 99.9% on-time delivery rate.
High personnel costs and wages are other drivers for warehouses to employ more mobile robots. AMR procurement, installation, and maintenance costs are relatively cost-effective. In the long run, investing in AMRs is cheaper than paying employees' wages.
New technology is making AMR deployment in other industries much simpler. One new trend in AMR is the use of fleet management software for smarter and more flexible navigation. This helps AMRs to navigate in more complex settings, such as in the manufacturing sector, which has more segments and complicated activities in its settings compared to warehouses. Fleet management software enables AMRs to visualize and manage paths in real time, resulting in greater flexibility.
Demands for AMRs are also increasing in other industries such as healthcare, agriculture, and entertainment, which will further boost the market growth in the future.


Autonomous mobile robot (AMR) types and market shares
The global AMR market has been segmented by The Insight Partners based on types. This segmentation categorizes the global autonomous mobile robots market into picking robots, self-driving forklifts, and autonomous inventory robots.
In 2022, the picking robots segment commanded a substantial portion of the market, with a value of USD 722 million, accounting for over 50% of the total market share. The self-driving forklifts segment contributed USD 228 million, representing 16% of the market's value during the same year. The autonomous inventory robots segment held a value of USD 452 million, constituting 32% of the market share. Notably, this segment demonstrated the highest CAGR at 27.3%, indicating a promising trajectory for its future growth and significance in the industry.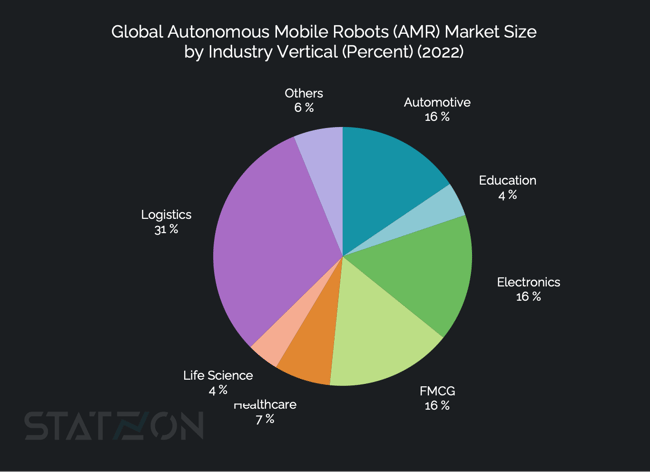 Source: Statzon/ Market Research Future
With the ubiquity of online shopping, it's almost always a guarantee that you will find AMRs in warehouses. AMRs are increasingly popular in the logistics and warehouse industry, with more than 30% of all AMRs in the world being utilized in this sector, as per Market Research Future's market report. This trend is expected to continue as mobile robots, including AGVs and AMRs, remain the mainstay of logistics and warehouse operations. Increased demand for AMRs is also coming recently from other industries as AMRs are getting more popular in other sectors. The automotive, electronics, and FMCG sectors are also substantial segments, each contributing 16% to the overall market value of the global AMR market.
Autonomous mobile robots (AMR) companies
The AMR market is highly competitive, and companies are pursuing different strategies such as R&D initiatives, technology innovations, and industrial collaboration to deliver edges. The competition takes place at the domestic, regional, and global levels for companies to gain a significant market share. Market Research Future recognizes ABB, KUKA, Teradyne, Mobile Industrial Robots (MiR), and Boston Dynamics as the top five AMR companies in the market.
In September 2022 ABB launched its first range of rebranded AMRs following its acquisition of mobile robot leader ASTI Mobile Robotics in 2021. Mobile Industrial Robots (MiR) was acquired by Teradyne in 2018, and in 2022, Teradyne merged AutoGuide Mobile Robots into MiR, creating a comprehensive AMR product line that covers a wide spectrum of payloads, from light to heavy. Also in 2022, MiR partnered with ASTOR and ProCobot to strengthen its position in the Polish market. In August 2023, the company announced its partnership with Chang Industrial, an engineering firm with a focus on automation, to optimize the use of AMR in hospital settings. Early in 2023, KUKA unveiled KMP 600-S diffDrive, a new compact autonomous mobile robot for intralogistics with laser scanners mounted at the front and rear of the machine providing maximum safety while allowing for high speeds in all directions of travel.
Sources: Statzon, Market Research Future global AMR market report, The Insight Partners global AMR market report, KUKA, MiR, ABB, PR Newswire, Robotics & Automation News