Automated Guided Vehicle (AGV) is often touted as the ancestor of mobile robots. It has been around since the 1950s, when the term mobile robot was not yet associated with warehouses and factories. At that time, AGV was more or less a glorified tow truck without a driver.
AGV operates on a fixed route relying on guidance devices such as wire, magnetic tape, laser path, or reflective markers. Changing or adding the routes of AGV can be complex and costly as it would mean changing the infrastructure. Installation relatively takes time since the infrastructure must be provided before AGV can operate.
AGV is considered a basic robot. It can detect obstacles but cannot change its course of action. As a result, AGV may become "stuck" when they encounter an object along its path. This often requires the help of an operator to move the object and restart the AGV again. It is also possible to add AGV as necessary (sometimes called a modular system element), instead of purchasing a fleet of AGVs at once to avoid an incredibly high initial investment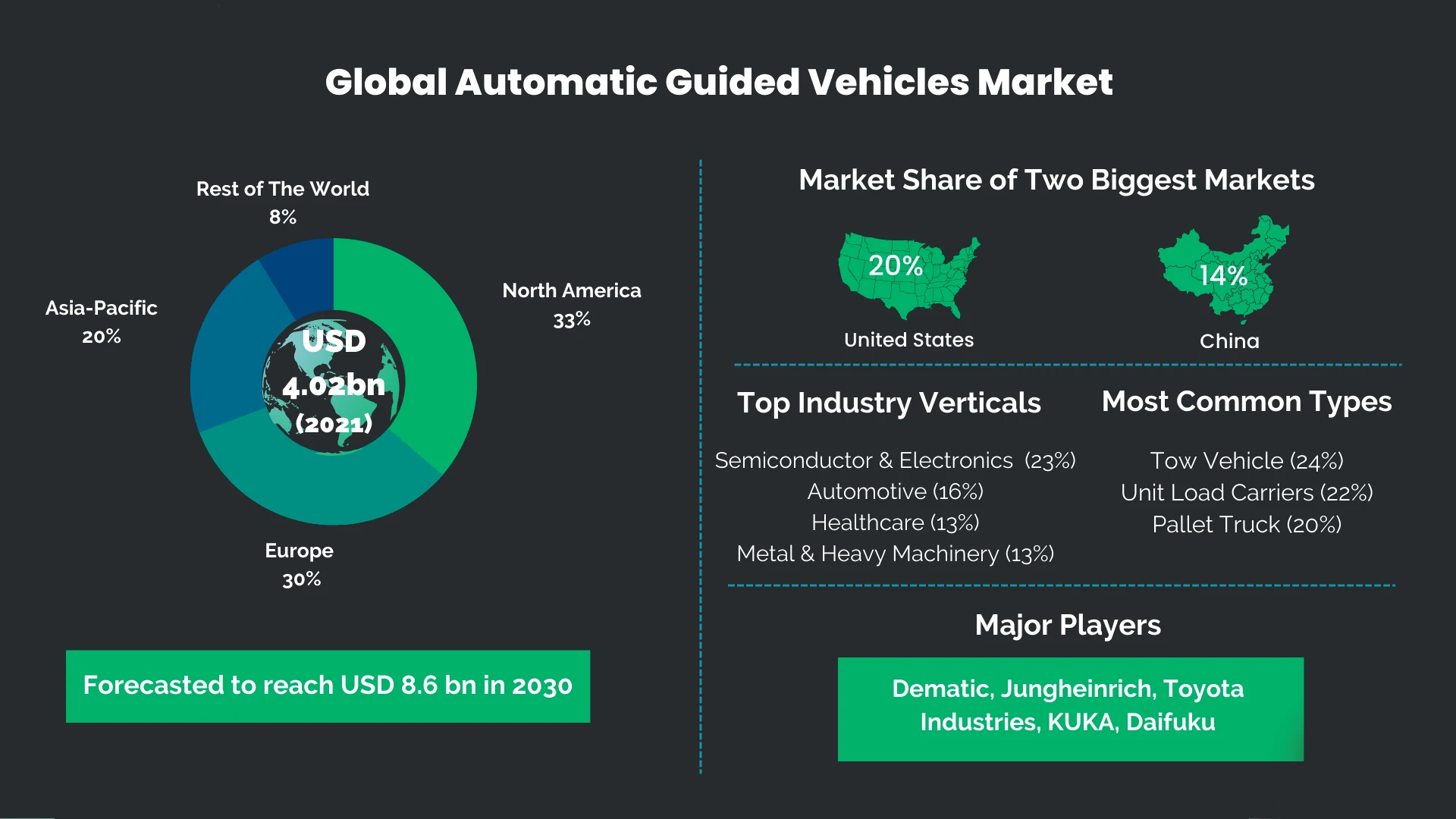 AGV Market Size
According to a market report from Next Move Strategy Consulting, AGV's market value is estimated to be around USD 4.02 billion in 2021 and is expected to grow to USD 8.6 billion by 2030, registering a CAGR of 8.9%.
Demand for AGV will also increase from 122 thousand units in 2021 to 358 thousand by 2030 at 12.8% CAGR.
North America is the leading region in the market with USD 1,3 billion in 2021 and is anticipated to reach USD 2,2 billion by 2030 at 5.8% CAGR. However, Asia Pacific will witness the most rapid growth with a 12% CAGR and an expected market value of USD 3.2 billion in 2030.
China, India, Japan, Australia, and South Korea are the biggest markets in the Asia-Pacific region. The extraordinary rise of the e-commerce industry mainly drives growth in this region. Over the past few years, the e-commerce sector in Asia-Pacific has witnessed tremendous growth due to massive investments from prominent e-commerce companies such as Amazon, Alibaba, and Walmart. This leads to increasing demands for AGVs, especially in warehouse settings. In addition to that, increased manufacturing units by global OEMs have made this region the manufacturing hub with the highest adoption rate of industrial robots, which will likely drive the demand for AGV.
The United States and China are the two biggest forces in the global market. Each has 20% and 14% market shares, respectively. Both countries benefit from the significant rise of the e-commerce business coupled with a strong presence of major automotive and semiconductor manufacturers, the two biggest industries in the AGV market.
AGV Market by Industry Verticals
The top two end-users of AGV are the semiconductor & electronics industry and the automotive industry. Collectively they account for 38% of the global market shares, with the former constituting around 22.9%.
Demand for AGVs has been increasing in the semiconductor and electronics industry, both from companies producing raw materials and those involved in the production of final products.
For the automotive industry, the mass personalization trend in car production is pushing the growth of mobile robots' adoption. This includes the increased use of AGV in the industry. Mass personalization calls for a high volume of products in small or even individual batch sizes. Therefore, production lines and the flow of materials to and away from production lines need to be more flexible and precise. Mobile robots, AGV included, can do this more efficiently than human workers.
Tow vehicles hold the largest market share
Out of the other types of AGV, tow vehicles are leading with USD 982 million market value, accounting for around 24% of the total market share. Tow vehicles are the most productive type of AGV for towing and tugging as they can move a heavier load with multiple trailers than a single fork truck. They are used in pallet operations requiring frequent long-distance deliveries carrying high volumes of load.
The two other types with the biggest market share are unit load carriers and pallet trucks, each with 22% and 20% of shares. Unit load carriers transport cargo around the storage facilities by either pulling or carrying the heavy material. Pallet trucks include wheeled trolleys that are designed to lift and transport pallets.
Major Players in AGV Market
The AGV market is highly competitive, with more than 100 manufacturers worldwide. Leading players are strengthening their positions by using a variety of tactics, including new product releases, partnerships, collaboration, acquisitions, and business expansion.
Next Move Strategy Consulting recognizes at least five biggest players in the market: Dematic with 18% market share, Jungheinrich (15%), Toyota Industries (12%), KUKA (10%), and Daifuku (7%). Another 37% of the market shares are divided amongst many other smaller companies.
Read more about robotics in general.
Sources: Statzon global data on AGV market, Next Move Strategy Consulting 2022 report on AGV market, AGVnetwork, Interact Analysis
Unlimited access to all mobile robot market reports and insights




Mobile robots market data at global, regional, and country level like

market size (market volumes, market values)

forecasts

leading players & market shares

robot types

end-user industries

applications

etc.

Market reports, statistics, company profiles, and news

Download in xls, png, or PDF formats and use them in your work

400 € / month

Preview reports and insights that you get with this subscription