Automated Guided Vehicle (AGV) is often touted as the ancestor of mobile robots. It has been around since the 1950s when the term mobile robot was not yet associated with warehouses and factories. At that time, AGVs were more or less glorified tow trucks without drivers.



AGV operates on a fixed route, relying on guidance devices such as wire, magnetic tape, laser paths, or reflective markers. Changing or adding courses to AGV systems can be complex and costly, as it would require changing the infrastructure. Installation takes relatively long since the infrastructure must be provided before AGVs can operate.
AGVs are considered basic robots. They can detect obstacles but cannot change their courses of action. As a result, AGVs may become "stuck" when they encounter an object along their paths. This often requires the help of an operator to move the object and restart the AGV. It is also possible to add AGVs as necessary (sometimes called modular system elements) instead of purchasing a fleet of AGVs at once to avoid an incredibly high initial investment.


AGV market size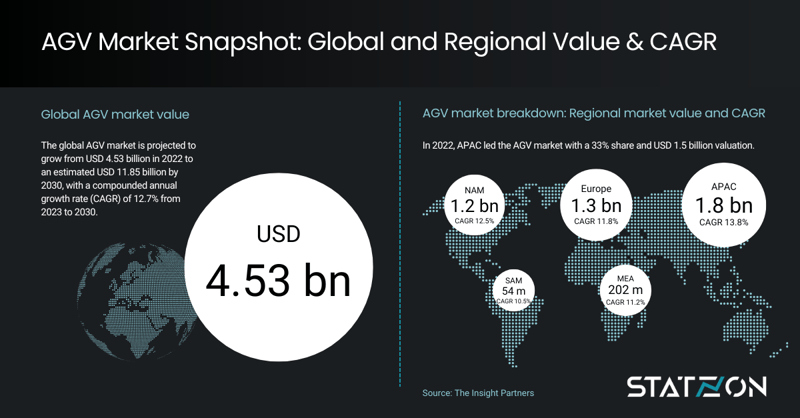 According to a projection by Next Move Strategy Consulting, the global AGV market is predicted to grow to USD 4.8 billion by 2023, and further expand to USD 8.6 billion by 2030. On the other hand, The Insight Partners provides a more positive outlook, stating that the global AGV market achieved USD 4.53 billion in 2022. Their forecast indicates an estimated market value of around USD 5 billion in 2023, and a projected market value of USD 11.85 billion by 2030, showcasing a CAGR of 12.7%.
In 2022, the Asia-Pacific (APAC) region took the lead in the AGV market, commanding a 33% share of the total market and achieving a valuation of USD 1.5 billion. This trend is predicted to persist until 2030, with the APAC region projected to maintain its leadership with an estimated market value of USD 5 billion. The driving force behind this growth is the increasing demand for AGVs in material handling to enhance productivity. APAC's dominance is further underscored by its remarkable growth rate, the highest in the market at 13.8%.
Europe, the second-largest market with a value of USD 1.3 billion in 2022, shows a slightly lower growth rate. Growing at a CAGR of 11.8%, the region is aiming to achieve a value of USD 3.2 billion by 2030. The surge in the retail sector, especially in e-commerce, is fueling this expansion, particularly in automated warehousing solutions. The market concentration is expected to be particularly strong in Western Europe, as this region accounts for the majority of B2C platform turnover.
The APAC region's leadership position is propelled by the presence of significant and densely populated countries, including China, Japan, South Korea, and Indonesia. Among these, China stands as the region's largest market for automated guided vehicles, benefiting from ongoing economic growth and a substantial presence of key market participants. China's market contributed a substantial USD 792.14 million in 2022 and is anticipated to achieve an impressive USD 2.5 billion by 2030, boasting the highest projected CAGR of 15.4% throughout the forecast period among all countries.

On the other hand, the United States takes the lead as the foremost revenue-generating country, boasting a market valued at USD 986 million in 2022, taking up around 22% of the total market. The US market is poised to grow to USD 2.6 billion by 2030. The AGV market's notable expansion in this country is largely driven by the automotive sector.
AGV market share by end-user


Segmented by end users, the automated guided vehicles (AGV) market encompasses a range of sectors, including general, manufacturing, food and beverage, aerospace, retail, healthcare, logistics, automotive, and others. The logistics and automotive industries stand out as the top contributors, collectively accounting for 55% of the global market shares in 2022.
The logistics segment, constituting approximately 33% of the market, was valued at USD 1.5 billion in 2022. This segment is projected to reach USD 4.5 billion by 2030, driven by a robust CAGR of 14.7% during the forecast period. Similarly, the automotive segment, controlling around 22% of the market, was worth USD 985.19 million in 2022 and is expected to reach USD 2.7 billion by 2030, experiencing growth at a CAGR of 13.3%.
For the automotive industry, the mass personalization trend in car production is pushing the growth of mobile robots' adoption. This includes the increased use of AGV in the industry. Mass personalization calls for a high volume of products in small or even individual batch sizes. Therefore, production lines and the flow of materials to and away from production lines need to be more flexible and precise. Mobile robots, including AGV, can do this more efficiently than human workers.
AGV market share by vehicle type and technology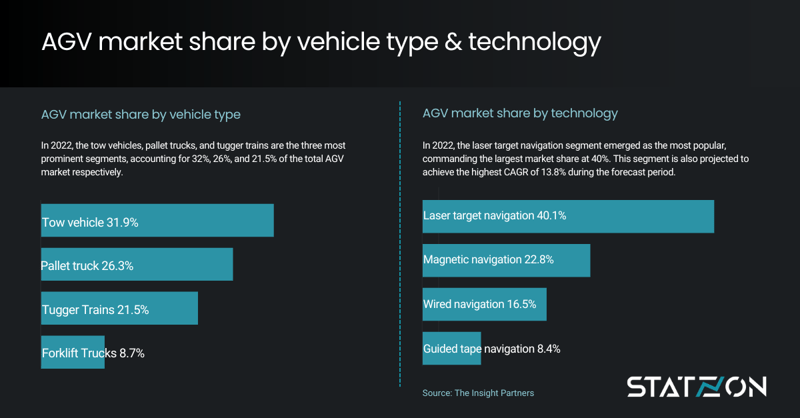 In 2022, the tow vehicles, pallet trucks, and tugger trains are the three most prominent segments, accounting for 32%, 26%, and 21.5% of the total AGV market respectively. Tow vehicle dominance is projected to continue, capturing 35.3% of the overall market by 2030. Tow vehicles are highly efficient in towing and tugging, capable of moving heavier loads with multiple trailers compared to single fork trucks. They find extensive use in pallet operations, particularly for frequent long-distance deliveries involving high-volume loads.
The market value for the pallet trucks segment was USD 1.2 billion in 2022 and is anticipated to grow at a CAGR of 10.7% to reach USD 2.7 billion by 2030. Similarly, the tugger trains segment was valued at USD 977.3 million in 2022 and is expected to experience a CAGR of 12.3%, reaching a market value of USD 2.5 billion by 2030.
Segmented by technology, the AGV market is categorized into wired navigation, guide tape navigation, laser target navigation, and magnetic navigation. In 2022, the laser target navigation segment emerged as the most popular, commanding the largest market share at 40%. This segment is also projected to achieve the highest CAGR of 13.8% during the forecast period. Following this, magnetic navigation represents the second largest segment, constituting 23% of the total market, while wired navigation accounted for a 16% share in 2022.
Major AGV manufacturers


The AGV market is highly competitive, with over 100 automated guided vehicle manufacturers worldwide. Leading players are strengthening their positions by using a variety of tactics, including new product releases, partnerships, collaboration, acquisitions, and business expansion.
Next Move Strategy Consulting has identified Dematic, Jungheinrich, Toyota Industries, KUKA, and Daifuku as the five prominent players in the AGV industry. These companies actively engage in collaborations, mergers and acquisitions, and place a strong emphasis on product development and launches to strengthen their market position.
Moreover, the list of major AGV companies often features other notable names like EK Robotics, Hyster-Yale, SEEGRID, JBT, and several others. AGV Network reports that there are currently at least 245 AGV companies worldwide, with more than 30 companies based in the USA, and over 20 in China.
| | | |
| --- | --- | --- |
| Companies | Origin | Types of robot |
| Daifuku | Japan | Unit Load, Tugger, Pallet Jack, Counterbalance, |
| Hyster - Yale | USA | Tractor, Pallet Jack, Stacker, Forklift Truck, Reach Truck, Very Narrow Aisle AGV |
| JBT | USA | Tractor, Pallet Jack, Stacker, Forklift Truck, Reach Truck |
| Dematic | USA | Tractor, Pallet Jack, Stacker, Forklift Truck, Reach Truck, Very Narrow Aisle AGV |
| KUKA | Germany | Platform |
| Oceaneering | USA | Pallet Mover, Stacker, Counterbalance, Platform |
| Jungheinrich | Germany | Tractor, Pallet Jack, Stacker, Forklift Truck, Reach Truck, Very Narrow Aisle |
| Seegrid | | Tractor, Pallet Jack, Stacker |
| Toyota Industries | Japan | Platform, Tractor, Pallet Jack, Stacker, Forklift Truck, Reach Truck |
| Savant | USA | Platform, Tractor, Pallet Jack, Stacker, Forklift Truck |
| Fetch Robotics | Netherlands | Platform, Pallet Jack |
| Logic Robotics | China | Platform |
| KSEC | China | Platform, Tractor, Pallet Jack, Stacker, Forklift Truck, Reach Truck |
| OMRON | Germany | Platform |
| Agilox | Austria | Pallet Jack, Forklift Truck |
| BALYO | France | Platform, Tractor, Pallet Jack, Stacker, Forklift Truck, Reach Truck, Very Narrow Aisle |
| EK Robotics | Germany | Platform, Tractor, Pallet Jack, Stacker, Forklift Truck, Reach Truck, Very Narrow Aisle |
Sources: Statzon global data on AGV market, The Insight Partners report on AGV market, AGVnetwork,