According to the research firm The Insight Partners, the industrial robotics market size achieved a revenue milestone of USD 14.9 billion in 2022. The market is expected to grow at a CAGR of 9.39% to reach USD 30.5 billion by 2030.
Robots have revolutionized manufacturing in many ways. Automated manufacturing is essential for operations seeking optimal efficiency, safety, and market competitiveness. By replacing manual labor, human workers can focus on higher-level tasks, such as providing valuable knowledge and ideas to higher organizational positions. Deployed correctly, robotics drives improved business operations.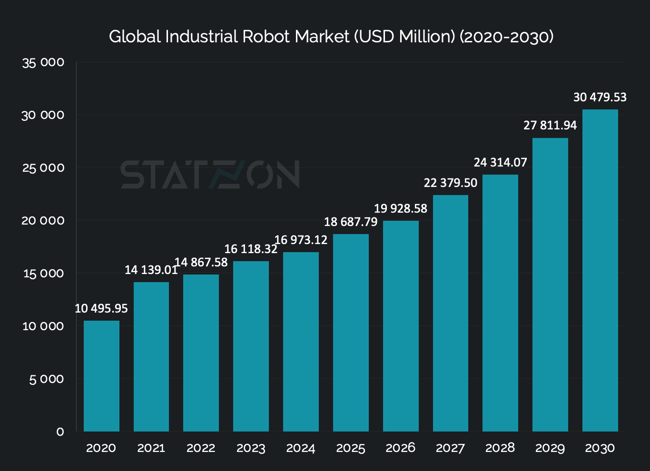 Source: Statzon / The Insight Partners
Industrial robot vs. collaborative robot (cobot)
Collaborative robots, or cobots for short, are a new generation of robots that have made their way into the manufacturing industry. In a sense, cobots can also be considered part of the industrial robot fleet since they are used in production lines. However, compared to traditional industrial robots, cobots are cheaper, smaller, lightweight, more flexible, and they perform tasks in collaboration with human workers. Cobots can be safely operated in proximity to humans, allowing for tasks such as hand-guiding and working in tandem. Cobots are equipped with advanced sensors that can anticipate human movements and complete them.
Collaborative robots are easy to operate and do not require extensive training, making them suitable for companies with short or changing production runs. These robots can be easily reassigned to different tasks, making them a good starting point for small and medium-sized manufacturers who have not yet adopted automation.
Both industrial and collaborative robots are crucial parts of factory automation components. In 2021, industrial robots accounted for 24% of the total factory automation market, and around 5% of factory automation components are collaborative robots, the other components being machine vision, control valves, field instruments, human-machine interface, industrial PC, 3D printing, and sensors.


Industrial robot types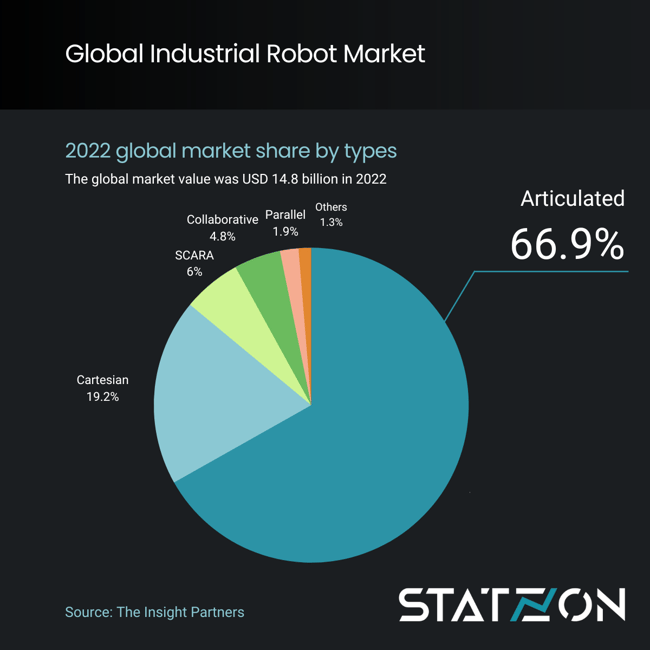 When examining the industrial robot market share by robot type, these robots are divided into six main categories: SCARA, articulated, collaborative, cartesian, parallel, and others. Among them, the articulated robot segment holds a commanding lead, representing 67% of the overall market, which equates to USD 9.9 billion in revenue. With a CAGR of 8.8%, this segment is anticipated to maintain its dominance through 2030, projecting a revenue of USD 19.6 billion by the end of the forecast period.
Following closely is the cartesian robot segment, holding a 19.2% market share and a valuation of USD 5.9 billion. Projections suggest a CAGR of 9.57% for this segment through 2030.
The collaborative robot segment, although relatively smaller, showcased the most rapid growth. With a 14.7% CAGR, it outpaced the growth of other categories. In 2022 alone, there were over 34,000 units shipped, generating USD 715 million in revenue. If this growth continues, the collaborative robot market could surpass USD 2.1 billion by 2030.
Industrial robot applications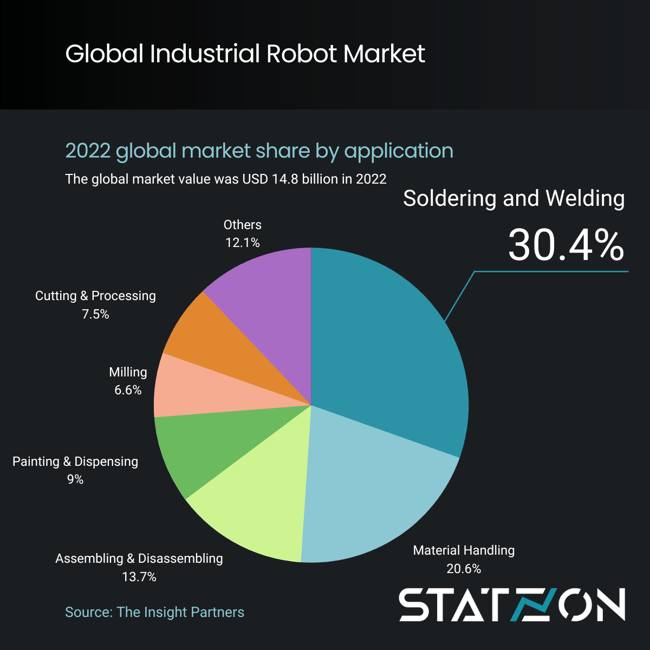 Industrial robot market share, when segmented by functionality, consists of categories such as soldering & welding, material handling, assembling & disassembling, painting & dispensing, and milling, cutting, & processing.
Industrial robots are predominantly used in soldering & welding, as well as material handling applications. Combined, these applications accounted for 50% of the total market in 2022, with soldering and welding taking a 30% share.
Welding and soldering robotics market was valued at USD 4.5 billion in 2022 and is projected to reach USD 8.9 billion by 2030. Meanwhile, the material handling sector had a valuation of USD 3 billion in 2022, with forecasts predicting it to rise to USD 6.5 billion by 2030.
The following significant segments are assembling & disassembling and painting & dispensing, which hold 14% and 12% of the total market respectively.
The automotive sector has historically been the predominant user of industrial robots. However, the International Federation of Robotics (IFR) data reveals a shift in 2020, when the electronics industry surpassed automotive in robot adoption. This trend persisted through 2022. A major catalyst for this shift was the Covid-19 pandemic, which spurred an increase in demand for consumer electronics. By 2022, the electronics sector adopted around 157,000 industrial robot units, marking an increase of 14,000 from the previous year. In contrast, the automotive sector acquired 136,000 units in the same year.
Beyond these two sectors, the IFR designates other significant sectors as the "general industry." This category includes metal & machinery, plastic & chemical products, food, and other unspecified sectors. Notably, nearly half (47%) of all industrial robot installations in 2022 occurred within this general industry category.
Asia is leading the global industrial robot market
The trend of outsourcing manufacturing operations to low-cost countries has brought a multitude of manufacturing companies to the Asia-Pacific region. China and other countries in this region remain attractive investment locations to many international robotics companies.
Asia-Pacific stands at the forefront of the global industrial robot market, holding a substantial 50% share, equating to a market value of USD 7.3 billion in 2022. Following closely, Europe secures the second position with a market share of 30%, translating to a value of USD 4.5 billion in the same year.
IFR World Robotics report further highlights Asia's dominance. In 2022, a staggering 73% of all newly deployed robots were installed in Asia, with China leading the charge. Since 2013, China has been the powerhouse in the global industrial robot market, boasting 52% of all installations in 2022 alone. Following China, Japan stands as the second-largest market for industrial robots, witnessing a 9% surge in robot installations, amounting to 50,413 units.
The United States holds its own as the third-leading country in industrial robot installations, with approximately 40,000 robots set up in 2022.
Industrial robot market share by company
In the realm of industrial robotics, Fanuc, ABB, KUKA, and Yaskawa are the foremost players, securing a significant 57% of the global market share, as highlighted by a 2021 market research report from Next Move Strategy Consulting. Often dubbed "The Big 4," these companies have sustained their dominance despite the entry of numerous new competitors in the market. The sustained prominence of their products, marked by distinct branding and innovative design, underscores their pivotal role in shaping the industrial robot market landscape.
ABB
This company is based in Switzerland and provides electrification, automation, robotics, and motion solutions. ABB is known for its energy-efficient, reliable, and productive robots. The robots can easily be recognized by their white color and distinctive red logo.
KUKA
KUKA robots have a distinctive orange color that can be easily seen. The company is the leading robot supplier for the automotive sector. KUKA's core industries include automotive, electronics, metal & plastic, e-commerce, retail, consumer goods, and healthcare. The company is based in Augsburg, Germany.
Fanuc
Fanuc was founded in 1972 with a headquarter in Yamanashi, Japan. The company specializes in robotics and other automation equipment, particularly CNC machines. Fanuc offers the most extensive product line with over 100 models available. Fanuc's robots are usually known for their bright yellow color.
Yaskawa
Another top player from Japan. The company was founded in 1915 and is now based in Fukuoka. Yaskawa achieved a milestone in February 2021 when the company hit 500,000 industrial robots sold. They produce more welding robots than any other manufacturer and are well known for their arc welding robot line. Yaskawa robots are usually blue and white or have a combination of blue and white colors.
Others
Other important names in the industrial robotics market include Denso Corporation, Mitsubishi, Nachi-Fujikoshi, Panasonic, and Kawasaki Heavy Industries.
Source: Statzon, The Insight Partners' report on global industrial robotics market, IFR