The industrial robot market reached USD 42.1 billion USD in 2021, according to market data provided by MarketsandMarkets. The Covid-19 pandemic has affected the market numbers during the past two years when production is halted temporarily. But the market is expected to recover in the post-pandemic situation with a CAGR of 12.3% to reach a market of USD 75.3 billion USD by 2026.
Robots have revolutionized manufacturing in many ways. Automated manufacturing is essential for operations seeking optimal efficiency, safety, and market competitiveness. By replacing manual labor, human workers can focus on higher-level tasks, such as providing valuable knowledge and ideas to higher organizational positions. Deployed correctly, robotics drives improved business operations.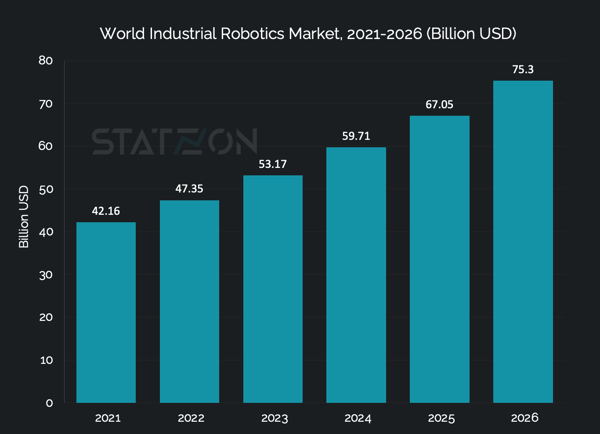 Source: Statzon / MarketsandMarkets

Industrial robot vs collaborative robot (cobot)
Collaborative robots, or cobots for short, are a new generation of robots that have made their way into the manufacturing industry. In a sense, cobots can also be considered part of the industrial robot fleet since they are used in production lines. However, compared to traditional industrial robots, cobots are cheaper, smaller, lightweight, more flexible, and they perform tasks in collaboration with human workers. Cobots can be safely operated in proximity to humans, allowing for tasks such as hand-guiding and working in tandem. Cobots are equipped with advanced sensors that can anticipate human movements and complete them.
Collaborative robots are easy to operate and do not require extensive training, making them suitable for companies with short or changing production runs. These robots can be easily reassigned to different tasks, making them a good starting point for small and medium-sized manufacturers who have not yet adopted automation.
Both industrial and collaborative robots are crucial parts of factory automation components. In 2021, industrial robots accounted for 24% of the total factory automation market, and around 5% of factory automation components are collaborative robots, the other components being machine vision, control valves, field instruments, human-machine interface, industrial PC, 3D printing, and sensors.
Industrial robot types
An industrial robot can be categorized into six different types: SCARA Modular Robot, Articulated Modular Robot, Collaborative Modular Robot, Cartesian Modular Robot, Parallel Modular Robot, and Others. Collaborative modular robot and articulated robot segments are the most significant contributors to the total industrial robot market value.
Collaborative Modular Robot was the leading segment in 2021, with a 27% share of the market. Articulated Modular Robot was in the second position, accounting for 24% of the total market, followed by SCARA Robots with an 18% market share.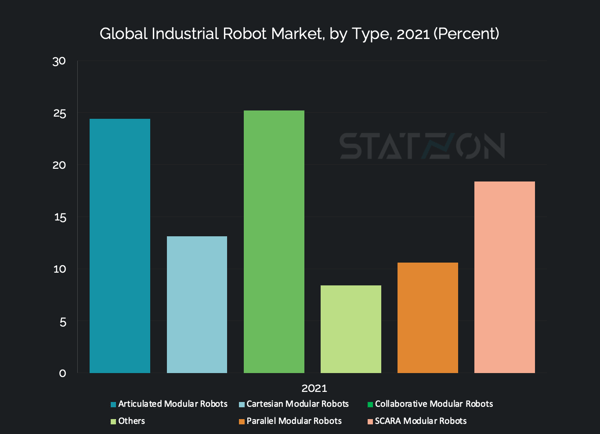 Source: Statzon
Industrial robot applications
The most common applications of industrial robots are material handling, assembling & disassembling, and soldering & welding. The market shares for each function are 27%, 22%, and 21%, respectively. Robots can carry out these functions with an excellent level of precision and standardization. Other applications include painting & dispensing, and cutting & processing, each having an 8% share of the market.
The automotive industry has always been the largest adopter of industrial robots, but IFR's latest data shows the electronics industry took over that position in 2020 and maintained it in 2021. Since 2016, robot demand from the electronics industry has grown by 8% per year on average. The Covid-19 pandemic led to a significant increase in demand for consumer electronics. The industry adopted a total of 136 670 robots in 2021, a 24% increase from the previous year. Meanwhile, the automotive industry adopted 119 405 units of robots, also in 2021. Based on IFR categorization, other major industries in the market are metal & machinery, plastic & chemical products, food, others, and unspecified.
Asia is leading the global industrial robot market
The trend of outsourcing manufacturing operations to low-cost countries has brought a multitude of manufacturing companies to the Asia-Pacific region. China and other countries in this region remain attractive investment locations to many international robotics companies.
Asia-Pacific is leading the market with a 65% share of the market and USD 28.4 billion of market value in 2021. Europe is in second place with a market valued at USD 8.5 billion, or a 19% share of the market, in 2021, based on market data provided by Inkwood Research.
IFR World Robotics report shows even a bigger favor towards Asia. 74% of all newly deployed robots in 2021 were installed in Asia, spearheaded by China, which has dominated the global market for industrial robots since 2013 and accounted for 52% of all installations in 2021. Japan trails behind China as the second-largest market for industrial robots. The number of installations increased by 22% in 2021, totaling 47 182 units.
South Korea has the highest robot density globally, with a ratio of 1 000 industrial robots per 10 000 employees in 2021. Singapore takes second place with a rate of 670 robots per 10 000 employees, and Japan is in third position with 399 robots per 10 000 employees.
Top industrial robot companies
Four big names have been leading the industrial robotics industry for many years. Although many new players are coming to the market, these companies still hold almost 50% of the total market share. The reason they are often dubbed "The Big 4". Their products are so prominent in the market and easily recognizable due to their distinct branding and product design.
ABB
This company is based in Switzerland and provides electrification, automation, robotics, and motion solutions. ABB is known for its energy-efficient, reliable, and productive robots. The robots can easily be recognized by the white color and distinctive red logo.
KUKA
KUKA robots have a distinctive orange color that can easily be seen. The company is the leading robot supplier for the automotive sector. KUKA's core industries include automotive, electronics, metal & plastic, e-commerce, retail, consumer goods, and healthcare. The company is based in Augsburg, Germany.
Fanuc
Fanuc was founded in 1972 with a headquarters in Yamanashi, Japan. The company specializes in robotics and other automation equipment, particularly CNC machines. Fanuc offers the most extensive product line with over 100 models available. Fanuc's robots are usually known for their bright yellow color.
Yaskawa
Another top player from Japan. The company was founded in 1915 and is now based in Fukuoka. Yaskawa achieved a milestone in February 2021 when the company reached 500,000 industrial robots sold. They produce more welding robots than any other manufacturer and are well known for their arc welding robot line. Yaskawa robots are usually blue and white or have a combination of blue and white colors.
Others
Other important names in the industrial robotics market include Denso Corporation, Mitsubishi, Nachi-Fujikoshi, Kawasaki Heavy Industries, and Rethink Robotics.
Source: Statzon, IFR World Robotics 2022
Robotics market guide: The ultimate guide to the ever-evolving robotics market
Statzon's Handbook of Robotics is your ultimate guide to understanding the ever-evolving robotics market and its impact on various industries worldwide. Robotics has been one of the fastest-growing industries in recent years, transforming how we live and work. From manufacturing and healthcare to agriculture and retail, robots are changing the face of businesses and revolutionizing how we approach various tasks. With so much potential and opportunity, staying up to date with the latest trends and insights in the global robot market is essential.
This handbook provides a comprehensive market overview, including key players, emerging technologies, and prospects.