Warehouse Robotics Market Value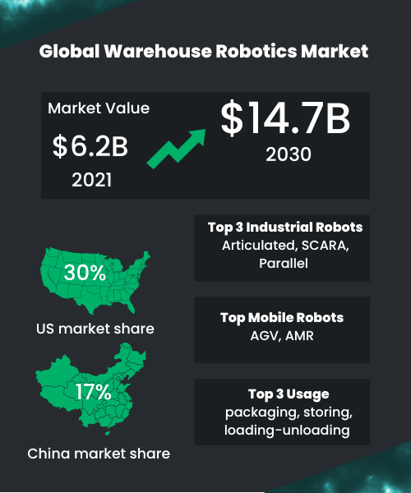 According to a study by Bank of America, robots are likely to perform 45% of manufacturing tasks by 2025. And the rise of artificial intelligence will only accelerate that process as the number of devices connected to the Internet doubles to 50 billion by 2020.
Warehouse robotics is only a portion of overall warehouse automation systems but it is a growing business. The market was valued at 4.7 billion in 2021 and is expected to reach USD 9.1 by 2026, according to data from Markets and Markets. Another estimation came from Next Move Strategy Consulting, this time with a longer forecast period. The firm estimated the warehouse robotics market value to be around 6.2 billion in 2021. This number will grow to 14.7 billion USD by 2030, registering a 10.07% CAGR.
China and United States are the two big driving forces in the market. China gained 1.8 billion USD in the warehouse robotics market during the year 2021. United States market was valued at around one billion USD also during the same year. Together the two countries control nearly 50% of the global market share.
Asia-Pacific as a region has been leading the market for several years. With a market value of 3.5 billion USD, this region controls 56% of the global market share. Countries like Japan, South Korea, and Singapore are some of the early adaptors of robotics technology, while other emerging countries, including Indonesia, Hong Kong, India, Malaysia, and the Philippines, are planning to make a leap in the field of warehouse robotics. As reported by the International Federation of Robotics (IFR) in 2019, Asia is the largest industrial robot market globally.

Industrial Robots Are Leading In Numbers, But Mobile Robots Show Significant Growth.
Industrial robots take up 27% shares of the overall warehouse robotics system. Within this category, articulated robots, SCARA dan parallel robots are the most popular. Other robotic systems commonly used for warehouse automation include conveyors, mobile robots, palletizers, storage, and sortation systems.
Mobile robots make up around 11% of all warehouse robotics, but this segment shows the most rapid market growth at 13% CAGR. Interact Analysis reported over 100,000 mobile robots, both AGVs and AMRs, were shipped globally in 2021. This is a milestone in mobile robot sales owing to the global labor shortage coupled with the vast growth of the e-commerce business.
Although AGVs are still leading in numbers in the mobile robot category, AMR has received a lot of attention lately with massive use in e-commerce and fulfillment centers. Global AMR revenues of $1.6bn finally surpassed those of AGVs by $300m in 2021.
In terms of function, the three biggest usage of warehouse robotics are packaging (34%), storing (30%), and loading-unloading (24%). Other functions may include sorting, picking, and material handling.
Major Players
Some big names operating in the warehouse robotics field are ABB, Amazon Robotics, ATS Automation, FANUC, Fetch Robotics, KUKA, Omron, SSI Schaeffer, Wynright Corporation, and YASKAWA.

Warehouse Robotics Definition
Warehouse robotics can be loosely defined as applications of robotics technology used to obtain warehouse automation. It's a wide-ranging term referring to the use of robots, automation systems, and specialized software to perform various tasks such as material transport, packaging, and palletizing.
Sources:
Statzon, Next Move Strategy Consulting report on warehouse robotics, Interact Analysis, CNN Money