Autonomous Mobile Robots Market Size
Market Research Futures estimated AMR's global market value at around 2.1 billion USD in 2021. This is a slight increase from the previous year when the market experienced a plummet due to the pandemic. However, the AMR market shows promising growth post-pandemic, with a forecasted market value of 7.9 billion USD by 2027, growing at a CAGR of 24.7%.
Asia- Pacific is the current market leader in the global AMR market, with 39% of the total market shares with significant countries such as China, Japan, India, and South Korea. China has been known as the single most prominent user of mobile robots in the automotive sector. Heavy competition between AGV and AMR is obvious in this sector, with AGV still leading in numbers. However, some significant makers like Toyota recently deployed many AMRs in their assembly lines.
Europe claims the second position in the market with 28% of the shares, followed by North America with 24%. Germany is leading in the Europe market, while the United States is the leading country in the North American region and globally, with a 20% share in the global market. United States is the early adopter of AMR and has been massively utilizing this technology for defense and military purposes.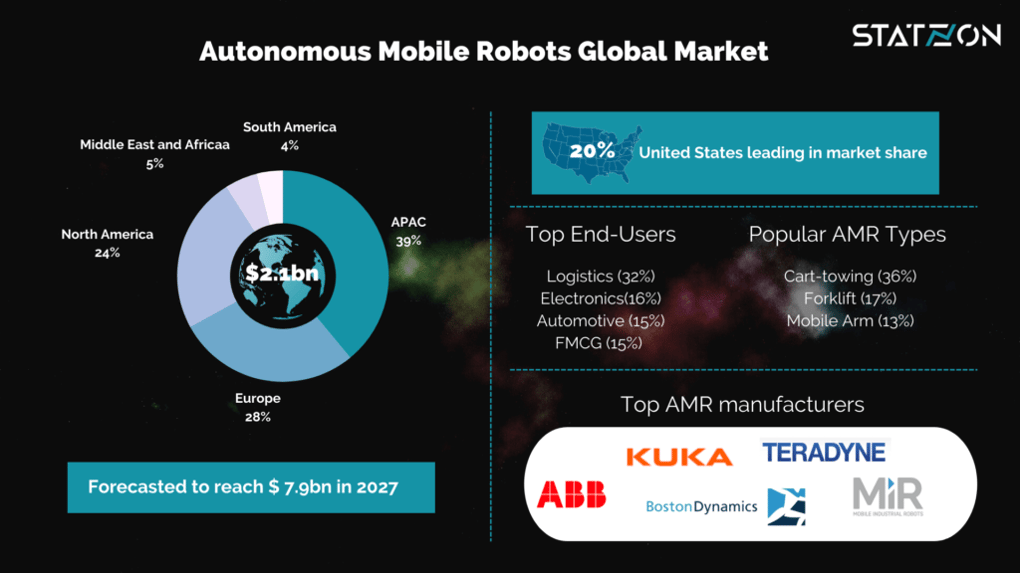 Autonomous Mobile Robots Market Drivers
The drastic rise of the e-commerce industry during the last couple of years is the main driver for increased AMR demands in the logistics industry. Walmart's online sales, for example, grow 300% at the start of the pandemic. To adapt to this surge of online orders, Walmart added Market Fulfilment Centres, a kind of compact warehouse, to some of their stores. Mobile robots are employed in these centers to fetch groceries and have them ready for pick-up.
High personnel costs and wages are another driver for warehouses to employ more mobile robots. AMRs procurement, installation, and maintenance costs are relatively cost-effective. In the long run, investing in AMRs is cheaper than paying employees' wages.
New technology is making AMRs deployment in other industries much simpler. One new trend in AMR is the use of fleet management software for smarter and more flexible navigation. This helps AMRs to navigate in more complex settings, such as in the manufacturing sector, which has more segments and complicated activities in its settings compared to warehouses. Fleet management software enables AMRs to visualize and manage paths in real-time, resulting in greater flexibility.
Demands for AMRs are also increasing in other industries such as healthcare, agriculture, and entertainment, which will further boost the market growth in the future.
Summary of market drivers for AMRs:
Rise of e-commerce
High personnel costs
New technologies and ability to perform more complicated tasks
Increasing demand in other industries

Logistics as the Largest End-user, and Cart-towing Robots as the Most Popular Types of AMRs
Logistics and warehouses are still the main user of mobile robots, both for AGVs and AMRs. More than 30% of all AMRs in the world are utilized in this industry. Increased demand for AMRs is also coming recently from other industries as AMRs are getting more popular in the electronics, automotive, and FMCG sectors.
Cart-towing robots are the most popular type of AMRs, followed by forklift and mobile arms robots with 36%, 17%, and 13% of market shares, respectively. These robots are heavily employed, especially in logistics and warehouse settings.
Autonomous Mobile Robots Companies
The AMR market is highly competitive, and companies are pursuing different strategies such as R&D initiatives, technology innovations, and industrial collaboration to deliver edges. The competition takes place in the domestic, regional, and global levels for companies to gain a significant market share. Market Research Future recognizes ABB, KUKA, Teradyne, Mobile Industrial Robots, and Boston Dynamics as the top five players in the market.
ABB acquired ASTI Mobile Robotics in July 2021 as part of its business expansion plan. This acquisition will also expand ABB's portfolio of robotic systems and services. Mobile Industrial Robots partnered with ASTOR and ProCobot in February 2022 to strengthen its position in the Polish market. A new type of box-moving robot called Stretch was launched in 2021 by Boston Dynamics, while KUKA launched its new iiQoT platform in the same year that enables remote monitoring of robots' conditions for easier system management, maintenance, and problem detection.

Autonomous Mobile Robot (AMR) – What is it?
Autonomous Mobile Robots (AMR) is the evolution of Automated Guided Vehicle (AGV), a much-matured technology that has been used in factories since the 1950s. Autonomous Mobile Robots, as the name suggests, have the independence to make their own decision in a working environment without the need for human intervention. AMRs are equipped with a sensor that enables an autonomous navigation system. They can go around obstacles as they can remap and define a new destination. Very different from AGVs that are bound to fixed infrastructure to move around. Therefore, AMRs are better in a work environment where humans are present due to their flexibility to plan and change their course of action.
If you are interested to learn more about robotics here's a general article about the global robotics market.
Sources:
Statzon, Market Research Future global AMR market report, KUKA, MiR