It was not a long time ago when we saw a futuristic setting on television where people with wounds or sickness are attended to by a robot, instead of a human doctor. This is now a reality in many hospitals and other medical facilities as robots have become an essential extension of healthcare workers. Medical robots can perform surgeries, deliver medicine, and disinfect rooms in mere minutes. They don't get tired and they offer outstanding precision unattainable by humans' range of movement. Moreover, lower level and repetitive tasks in hospitals can now be automated thanks to the use of medical robots, giving healthcare workers the opportunity to up-skill themselves and to focus more on their patients' conditions.
The concept of combining robotics and medical technology has been around since the 1950s, but it took more than 30 years for it to be executed. In 1985, the first surgical robot, PUMA 560, was used to inject a needle into the human brain for a biopsy procedure, a process that poses a high risk of error when done by human hands. Since then, medical robotics has shown tremendous development. Robots are now commonly used in procedures such as prostate cancer surgery, hysterectomy, laparoscopy, and even liver transplant.
Outside the operating room, medical robots are being used for many other applications. Market Research Future categorized medical robots into seven types based on their applications.
| | |
| --- | --- |
| ROBOT TYPE | FUNCTION |
| Surgical robots | Perform high-precision surgical procedures. |
| Rehabilitation robots | Facilitate and support people with bodily dysfunction to practice movements with robotic aid. |
| Non-invasive surgery robots | Offer precise, painless, non-invasive radiation treatment. |
| Pharmacy robots | Dispense medicine, disinfect rooms, handle storing, filling, and labelling of prescriptions. |
| Emergency response robotics system | An autonomous robotic platform capable of undertaking surgical intervention at a rescue site where victims found may require immediate intervention. |
| Logistics robotics system | Automate the process of storing and moving goods as they make their way around medical facilities. |
| Telemedicine robotics system | Enable health consultants to see, hear and speak with patients remotely as if they were at their bedside. |
| Diagnostic and imaging robotic systems | Improve positioning, navigation, and offer a more intuitive visualization in various imaging procedures such as sonography. |

Medical robots market size
The growing application of robotics in the medical field combined with advancements in robotics technology is expected to drive the growth of the medical robots market. Next Move Strategy Consulting estimated the market size for medical robots to be around USD 10. 8 billion in 2021. Accelerating at a 17.1% CAGR, the market size is expected to reach USD 44.4 billion in 2030.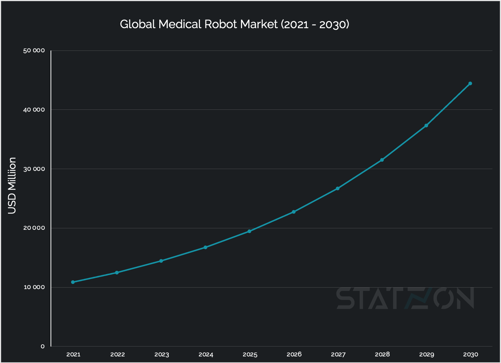 North America is ahead of other regions in terms of market size with the US and Canada leading as countries with the biggest market share globally. The US market is estimated at USD 5.3 billion (49% of the global market share) and Canada at USD 1.2 billion (11% of the global market share). US and Canada are early adopters of medical robots and they have been seeing an increasing number of patients undergoing minimal invasive surgeries, a procedure that is typically performed by surgical robots nowadays. North America market also benefited from the presence of several big names in medical robot manufacturing such as Intuitive Surgery, Auris Health, Zimmer Biomet, and ReWalk Robotics to name a few.
Europe holds around 15% of the global market share with a market value of USD 1.6 billion in 2021. Germany and UK are the two big forces driving the market in this region. The growing number of geriatric populations has led Europe to adopt the use of medical robots to help the elderly with movement limitations and dementia. Meanwhile, the Asia-Pacific market is valued at USD 1.3 billion, taking up around 12% of the market.
Surgical robotics systems dominate the market
In terms of product types, the medical robotics market is segmented into instruments and accessories, robotic systems, services, and consumables. The robotic systems segment contributed the largest revenue to the market with USD 5.5 billion of market value in 2021 or around 51% share of the total market. The market value of this segment is anticipated to reach USD 21 billion by 2030, registering a CAGR of 16.7%. The service segment is anticipated to grow with the highest CAGR of 18.5%.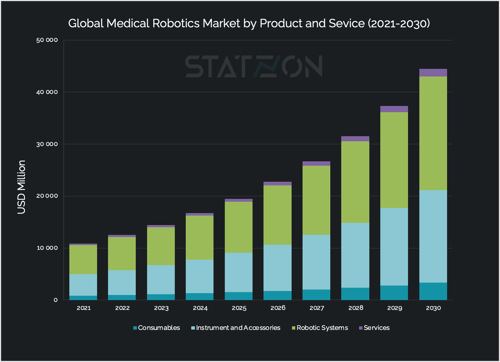 Within the robotics system segmentation, the market is further divided into several types of robots as previously discussed. In this subsegment, surgical robotic systems dominate the market, largely due to their higher price points compared to other types of medical robots. The surgical robotic systems gained USD 3.1 billion in terms of market value in 2021. rehabilitation robots are the second most popular medical robotics in the market which gained USD 700 million in the same year in terms of market value.
Medical robots' end users and applications
The four biggest users of medical robots are hospitals, homecare centers, ambulatory surgery centers, and rehabilitation centers. Each segment contributes a market share of 60%, 5%, 15%, and 8%, respectively, while another 11% of the market share goes to "Other" segment. The "other" segment includes the use of diagnostic robotics. Diagnostic Robotics is a medical triage and clinical predictions platform using AI to make healthcare systems more affordable, efficient, effective, and widely available.
In terms of applications, the laparoscopy segment is the highest contributor in the market with USD 2.3 billion in market value in 2021. This number is anticipated to reach USD 9.1 billion by 2030, registering a CAGR of 16.5%. Da Vinci is the most well-known surgical robotic system used to perform laparoscopic surgery and other minimally invasive surgeries as well. Despite its USD 2 million price tag, the robot is loved by doctors and patients alike for its ease of use and faster recovery times.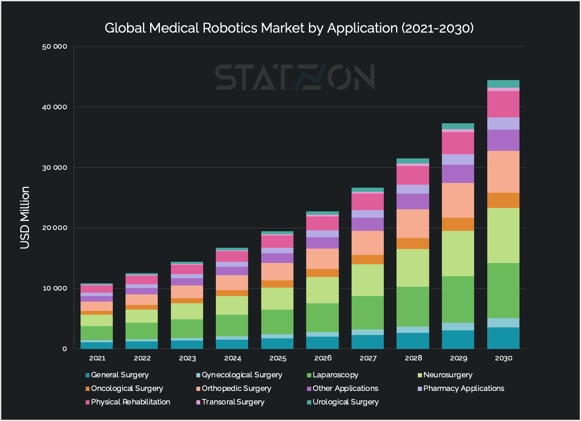 Neuro and orthopedic surgeries are the other two biggest application segments in the market each contributing a market value of USD 1.9 billion and USD 1.5 billion in 2021.
The first application of robotic surgery was in the field of neurosurgery when PUMA 560 was used for brain biopsy purposes. However, due to the complexity of neurological structures and the constrained space that neurosurgeons must work in, neurosurgery has been slow in the adoption of medical robotics. Regardless, utilization of robotics systems in the neurosurgery field has been proven to increase surgical accuracy, allowing surgeons to perform more complicated operations.
Orthopedic surgery began incorporating robotic technology in 1992, with the introduction of ROBODOC. Today we have Mako robotic arm from Stryker, which is famous for its unmatched ability in implant placement during knee replacement surgery without damaging the surrounding tissue.
Sources: Statzon, Next Move Strategy Consulting market research report on medical robotics