Robot vacuums' market value
Robot vacuums have become a standard fixture in many households. These robots are easy to use, small, thus easy to store, and have become more affordable. Robotic vacuum cleaners global market value is estimated to be around 3.7 billion USD in 2021. This number is forecasted to grow to 7,9 billion USD by 2026, registering a 16% growth annually over the forecast period. Factors such as growing interest in smart home systems adoption, rising number of domestic pets, increasing disposable income, and the declining price of robot vacuum as it becomes more mainstream are important factors driving the market growth.
According to Euromonitor International, the average price of a single-unit robot vacuum cleaner was 324 USD in 2020. Robot vacuum currently takes up around 15% of all vacuum cleaners sold in the market. The market share is expected to grow to 17%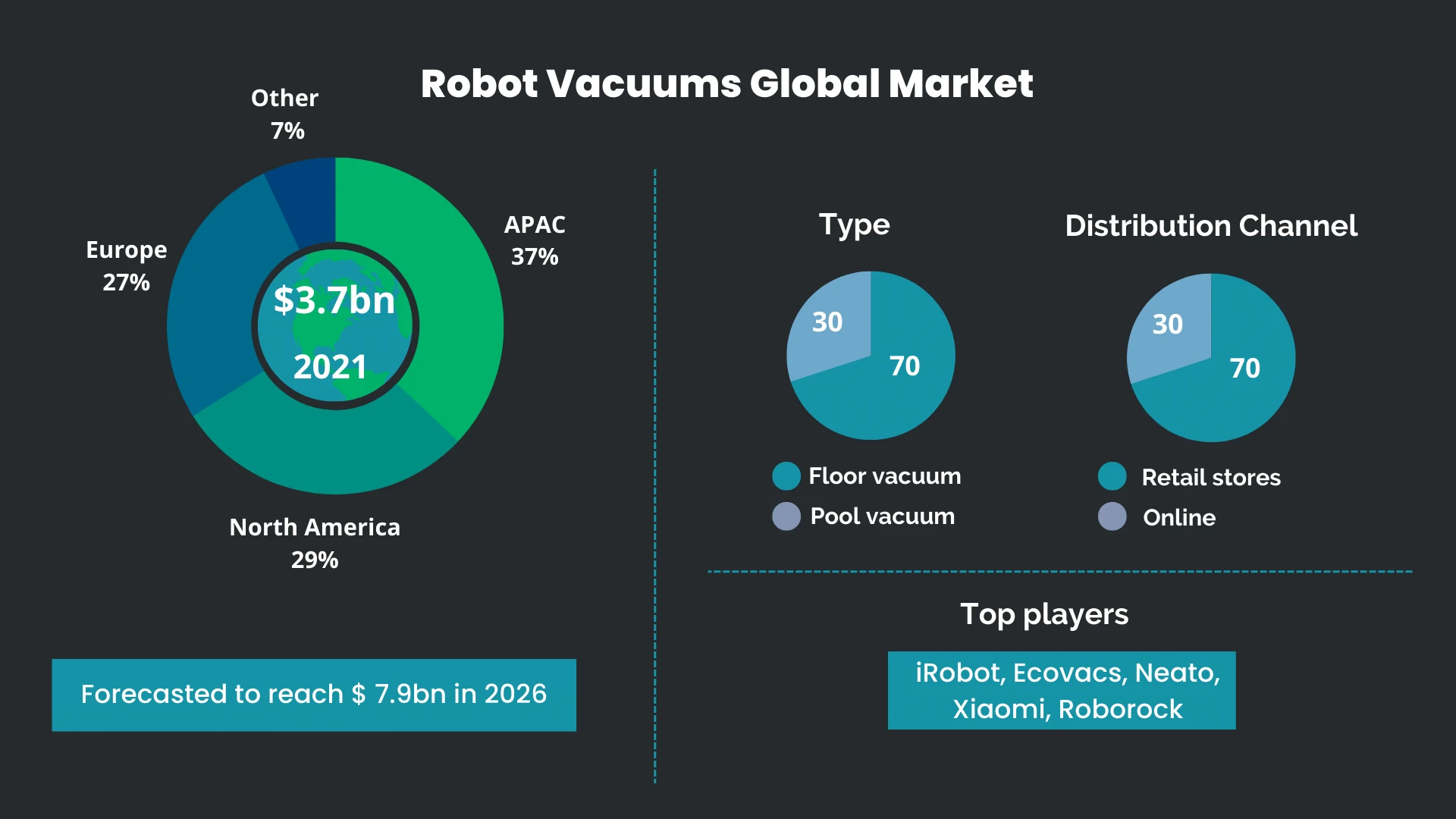 Market segmentation
Robot vacuums are differentiated into floor and pool vacuum cleaners. 70% of all robot vacuums in the market are floor vacuum cleaners. Reducing household chores is the main driver for people to buy these robots.
Retail stores are the preferred distribution channel for robotic vacuums, with around 70% of total robot vacuums being distributed in stores, and the rest, 30%, are sold through the online channel. However, the rise of social media marketing and e-commerce will encourage the growth of the online distribution channel.
Robot vacuums are more prominent in APAC than in any other regional market. APAC contributes around 37% of the total market share. South Korea, Japan, Singapore, and China are the four most lucrative markets.
Top robot vacuum cleaner brands
US-based iRobot Corp is the clear market leader with its famous robot vacuum brand, iRobot Roomba. Euromonitor reported the company is dominating the global market with 46% shares in 2020. Although it is a significant decline from 64% shares in 2016, iRobot still leads the market by far compared to any other brand. The decline can be attributed to the growing market share of Chinese brands such as Ecovacs and Roborock.
iRobot controls more than half of the market in the North American region, nearly half of the market in MEA and Australasia, and a third of the market in Latin America and Western Europe. However, the company's market position is weakest in Eastern Europe and APAC. Ecovacs, Roborock, and Xiaomi are some of the top players in the APAC region. Some other noteworthy brands are Neato, LG, Samsung, Shark, Electrolux, and Midea, among others.
Sources: Statzon global data on robotic vacuum cleaners, iRobot, Business Wire, Min News
Robotics market guide: The ultimate guide to the ever-evolving robotics market
Statzon's Handbook of Robotics is your ultimate guide to understanding the ever-evolving robotics market and its impact on various industries worldwide. Robotics has been one of the fastest-growing industries in recent years, transforming how we live and work. From manufacturing and healthcare to agriculture and retail, robots are changing the face of businesses and revolutionizing how we approach various tasks. With so much potential and opportunity, staying up to date with the latest trends and insights in the global robot market is essential.
This handbook provides a comprehensive market overview, including key players, emerging technologies, and prospects.