Technology has created a way for smarter delivery. Electric mobile robots equipped with sensors, computer vision navigation, AI, and machine learning are now being used as autonomous delivery robots. These robots can map their environment accurately, avoid obstacles, and identify the shortest and fastest routes. With growing concern about climate change and sustainability, delivery robots help reduce the carbon footprints of delivery fleets.
According to Markets and Markets, the delivery robot market is expected to grow from USD 280 million in 2022 to USD 957 million by 2026. Growing at a CAGR of 35.1%. Apollo Research Reports offered a longer forecast period up to the year 2032 in which the delivery robot market value will increase from USD 198 million in 2022 to USD 3.7 billion by 2032, registering a 33.9 CAGR.
The COVID-19 pandemic has undeniably transformed many aspects of our daily lives, especially the growth of the delivery market. The shortage of manpower due to the pandemic, combined with a global shift towards contactless transactions, paved the way for automation solutions like delivery robots. Starship, an Estonian manufacturer of these robots, witnessed a surge in demand, with their units quadrupling during the pandemic. As of January 2021, Starship had shipped a staggering 1 million units globally, up from around 100 thousand in August 2019.
While the pandemic played a significant role in this shift, the surge in e-commerce, even before the pandemic was already influencing the rise of delivery robots. Leaders in the tech industry emphasize the unique advantages of robot deliveries over traditional methods. One of the most notable benefits is the potential to significantly reduce costs in the final mile of delivery, which is traditionally the priciest segment of the shipping process.
Delivery bots, with their autonomous or remotely operated features, can mitigate some of the economic challenges faced by traditional courier services. For instance, they are immune to the increasing wages that standard courier companies often pass on to consumers. Moreover, they are less susceptible to fluctuating fuel prices that have historically affected carriers and their clients. Alongside these financial advantages, other factors like reduced operational and labor costs and increased efficiency further solidify the position of delivery robots in the future of e-commerce logistics.
North America is Leading in the Delivery Robot Market
The presence of delivery robots is highest in the North American region. Apollo Research Reports' data showed that this region accounted for 59% of the global market share with a market value of around USD 118 million in 2022. North America will keep its dominance until the end of the forecast period in 2032, although facing competition from Europe, which will witness the most rapid market growth compared to any other region.
Europe has better readiness in terms of infrastructure for delivery robots to function and better governmental support that encourages the expansion of delivery robot fleet. Delivery robots are seen as a way to reduce transport-related pollution. Aligned with the EU's aggressive move to reach zero net carbon emissions by 2050, an investment of €50 million was given to Starship by The European Investment Bank in January 2022, with the aim to promote a more sustainable form of transportation.
Europe's delivery robot market value reached USD 62 million in 2022. This number is anticipated to grow at a 36.6% CAGR to reach a value of USD 1.4 billion by 2032.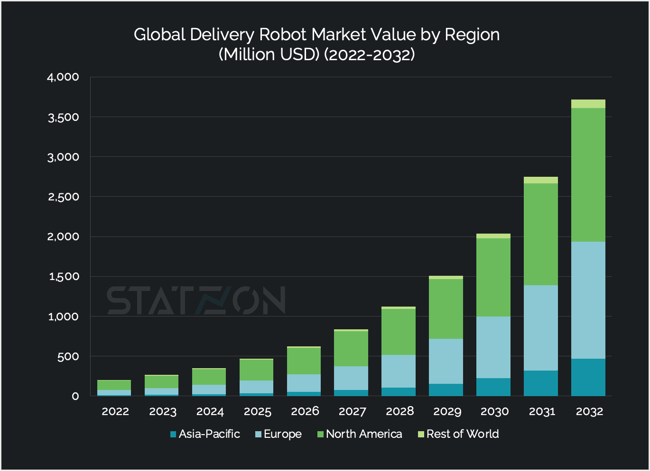 Source: Statzon/ Apollo Research Reports

Delivery Robot Market Segmented by Industry
Retail, food and beverages, healthcare, and postal are the four biggest sectors utilizing delivery robots. The retail segment holds the highest market share in 2022 and registers the highest CAGR over the forecast period. Retail is controlling around 58% of the total market share. The 2022 market value is estimated to be around USD 114 million and will grow at a 33.7% CAGR.
The food and beverage (F&B) segment is the second biggest segment in the market, with a market value of USD 53 million in 2022 or around 27% of the market share. While delivery robots might not have the range of traditional vehicles, they are perfectly tailored for on-demand deliveries of smaller packages, especially from local businesses. This adaptability is evident in the F&B sector where food delivery robots respond swiftly to delivery requests.
Both the retail and F&B segments often face difficulties securing workers due to increased wages. With big names like Walmart and Target now offering more competitive wages beyond the minimum standard, other companies are often left with labor shortages. The retail industry has adopted robotic technology faster than expected since the pandemic hit to deal with the labor shortage problem. Ordering, storing, and delivering processes are now partly handled by robots.
The growing preference for curbside delivery is one example where autonomous delivery robots are being used in the retail and F&B industries. Customers find this option to be very convenient. All they have to do is drive up to the shop's parking lot, tap in a code, and wait for a robot to show up with their order within several minutes.
Smaller, Lower-speed and Three-wheeled Robots are Dominating the Market
In terms of robot type, the three-wheeled segment had the highest market share in 2022, valued at USD 108 million, making up 54% of the market. This preference can be attributed to their adaptability in navigating urban environments, especially for last-mile deliveries of smaller packages. Robots with speeds less than 3 kph, valued at USD 129 million, are favored due to their safety on pedestrian paths, predictability, and regulatory acceptance. Meanwhile, robots with a payload below 10 kg dominate, holding 74% of the market share at USD 147 million, aligning with the frequent demand for smaller package deliveries in urban settings.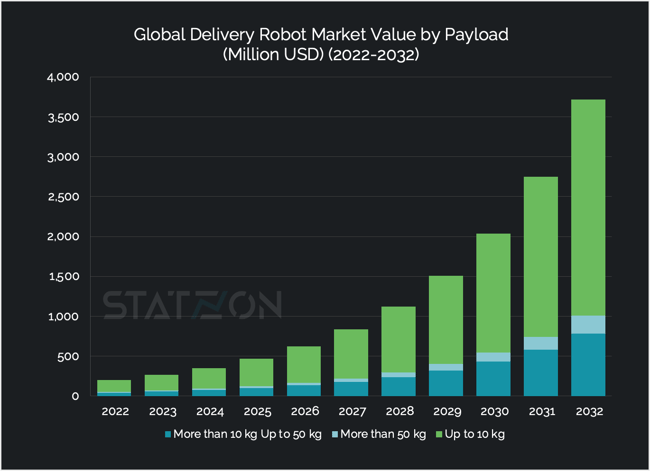 Source: Statzon/ Apollo Research Reports
The landscape, however, is gradually evolving with larger, faster robots poised to become more prevalent. For instance, the emergence of Clevon's Autonomous Robot Carriers (ARCs) in Europe, capable of handling multiple orders and operating at a maximum speed of 25 km/h, illustrates a shift towards higher capacity and speed in autonomous delivery systems.
Sources: Statzon, Robotics247, TechCrunch, Robotics and Automotive News, smartcitiesdive