Technology has created a way for smarter delivery. Electric mobile robots equipped with sensors, computer vision navigation, AI, and machine learning are now being used as delivery robots. These robots can map their environment accurately, avoid obstacles, and identify the shortest and fastest routes. With the growing concern about climate change and sustainability, delivery robots help reduce the carbon footprints of delivery fleets.
According to Markets and Markets, the delivery robot market is expected to grow from USD 212 million in 2021 to USD 957 million by 2026. Growing at a CAGR of 35.1%. Apollo Research Reports offered a longer forecast period up to the year 2032 in which the delivery robot market value will increase from USD 198 million in 2022 to USD 3.7 billion by 2032, registering a 33.9 CAGR.
The covid-19 pandemic is a major historical event influencing the growth of the delivery market. Shortage of manpower coupled with shifted preferences for contactless transactions has given an opportunity for delivery robots to rise. Starship, the Estonian manufacturer of delivery robots, saw demands for their robots quadruple during the pandemic. Starship delivery robots number increased from around 100 thousand units in August 2019 to 500 thousand in June 2020. By January 2021, they reached a milestone of 1 million units of delivery robots shipped around the world.
The growth of e-commerce in recent years is another driver contributing to the growth of the delivery robot market. Other drivers, such as reduced operational costs, reduced labor costs, and increased efficiency, have also played important roles in expanding the market.
North America is leading in the delivery robot market
The presence of delivery robots is highest in North America region. Apollo Research Reports' data showed that this region accounted for 59% of the global market share with a market value of around USD 118 million in 2022. North America will keep its domination until the end of the forecast period in 2032, although facing competition from Europe, which will witness the most rapid market growth compared to any other region.
Europe has a better readiness in terms of infrastructure for delivery robots to function and better governmental support that encourages the expansion of delivery robot fleet. Delivery robots are seen as a way to reduce transport-related pollution. Aligned with the EU's aggressive move to reach zero net carbon emissions by 2050, an investment of €50 million was given to Starship by The European Investment Bank in January 2022, with the aim to promote a more sustainable form of transportation.
Europe's delivery market value reached USD 62 million in 2022. This number is anticipated to grow with a 36.6% CAGR to reach a value of USD 1.4 billion by 2032.

Retail Industry to hold the largest share of the delivery robot market
Retail, food and beverages, healthcare, and postal are the four biggest sectors utilizing delivery robots. The retail segment holds the highest market share in 2022 and registers the highest CAGR over the forecast period. Retail is controlling around 58% of the total market share. The 2022 market value is estimated to be around USD 114 million and will grow at a 33.7% CAGR.
The food and beverages (F&B) segment is the second biggest segment in the market, with USD 53 million of market value in 2022 or around 27% of the market share.
Both the retail and F&B segments often face difficulties securing workers due to increased wages. With big names like Walmart and Target now offering more competitive wages beyond the minimum standard, other companies are often left with labor shortages. The retail industry has adopted robotic technology faster than expected since the pandemic hit to deal with the labor shortage problem. Ordering, storing, and delivering processes are now partly handled by robots.
The growing preference for curbside delivery is one example where delivery robots are being used in the retail and F&B industries. Customers find this option to be very convenient. All they have to do is to drive up to the shop's parking lot, tap in a code, and wait for a robot to show up with their order within several minutes.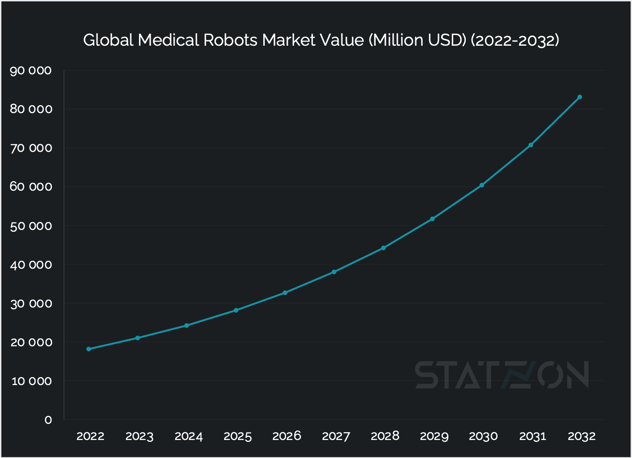 Smaller, lower-speed, and three-wheeled robots are dominating the market
In terms of robot type, the three-wheeled segment has the highest market share in 2022. This segment is estimated to reach a market value of USD 108 million in 2022, translated into 54% of the total market share. Based on the speed limit, delivery robots with less than 3Kph speed are much preferred compared to those with higher speed. The market value of this segment is around USD 129 million, taking up 65% of the market share. And finally, based on payload, smaller robots below the 10 kg category are dominating the market with USD 147 million of market value or 74% of the market share. The rising needs to deliver small products from e-commerce, retail, and F&B industries are the driving force for the growth of this segment.
Read more about the robotics market.
Browse delivery robot data in with a free Statzon account
Sources:
Statzon, Robotics247, TechCrunch, Robotics and Automotive News