As robots penetrate the world outside the industrial settings, we see robots doing things beyond heavy lifting and repetitive tasks. In healthcare and retail sectors, for example, robots are seen to mimic humans to function as caregivers or customer service thanks to the use of Artificial Intelligence (AI) in robotics. The ultimate AI-robotics combination would be for robots to replicate human's ability for independent thinking although this is still somewhat controversial. How intelligent do we want robots to be? Will it have implications for jobs and employment?
Whether or not we have the answer to those questions, the robots are already here. Already in 2014 Pew Research Centres forecasted that robotics and AI would occupy almost every aspect of our daily life by 2025. This could have huge implications on several sectors, most notably healthcare, military, education, and logistics.
Market size of AI robots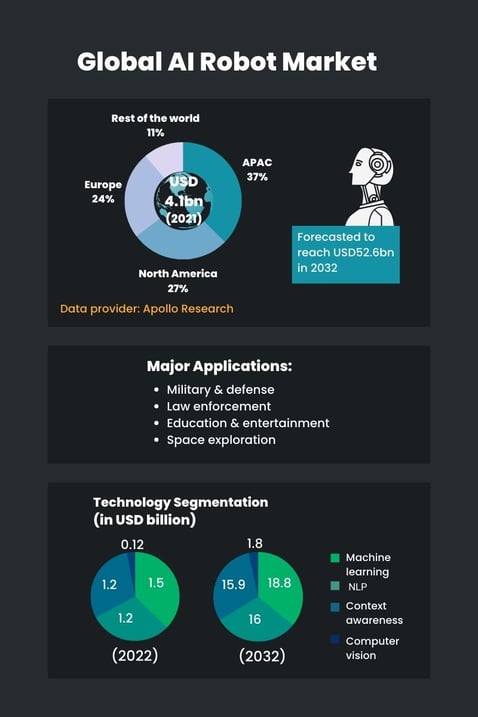 Statzon's database provides many data and estimations on the AI robots market. For example, according to Global Analysis Industry, the AI robots market size was valued at USD 7.4 billion in 2021 and is expected to reach USD 29.2 billion by 2027 growing at a CAGR of 25.7%. The market growth is mostly driven by the surging demands for AI robots in the industrial, automotive, retail, military, and healthcare sectors.
Another analysis from Markets and Markets valued the global AI robots market at USD 6.9 billion in 2021. The market value is projected to hit USD 35.3 billion by 2026, registering a 38.6 CAGR. On the other hand, Apollo Research came with a global market value estimation of USD 4.1 billion in 2022, which is expected to reach USD 52.6 billion by 2032 with a 29.7% CAGR.
Integrating AI, machine learning, and industrial robotics in industrial settings leads to higher productivity and reduced programming time. Manufacturers are moving away from standard industrial robots' rigid, inflexible capabilities. AI robots can monitor their performance and accuracy. They can also avoid downtime by indicating maintenance even before it was scheduled.
Based on the report from Apollo Research, APAC is leading the market in the AI robotics market with 37% of the market share or USD 1.5 billion in market value for the year 2022. North America and Europe respectively gain 27% and 24% market share. Another 11% share is attributed to the rest of the world. APAC will continue its dominance in the AI robots market until the end of the forecast period in 2032.
APAC leadership is strongly endorsed by China, the world's largest market for industrial robots. In China, the robot density in manufacturing industries reached a benchmark of 246 robots per 10,000 employees in 2020. Other countries in the regions like Japan and South Korea are also famous for their high density of industrial robots. India is an emerging market in the region that has doubled its robot density in just five years.
AI robots are widely used in military settings
Major market applications of AI robots include law enforcement, military & defense, public relations, personal assistance and care, education & entertainment robots, research & space exploration, agriculture, healthcare, industrial, stock management, and others.
According to Apollo research, Military & defense has the biggest market size in the application segment, with a value of USD 1 billion in 2022. This segment will also witness the most significant growth with a 29.7% CAGR during the forecast period. The military & defense market value is expected to increase to USD 13.5 billion by 2032.
Integrating robotics and AI are utilized in the military for many purposes like facial recognition, language translator, mine detector, scanning for intruders, and assistance in war zones, among others.
Human instruction is still needed for sensitive functions such h as releasing weapons, but AI technology coupled with advanced sensors would enable the robots to autonomously decide about selecting and engaging targets without human intervention. This is worrying scholars and policymakers as this function can dehumanize warfare and make robots more dangerous.
Law enforcement, education and entertainment, and space exploration are other areas where AI robots are commonly utilized. These segments gain a market share of 17%, 11%, and 10%, respectively.
AI robots are used for surveillance, fraud prevention, and even saving lives in the law enforcement field. Robots are trained to diffuse bombs or to find people and formulate a plan on how to save them during disasters such as hurricanes or earthquakes.
The OVObot is one example of an AI robot's application in the educational field. This robot functions as a learning assistant for children to be used in school or at home. It guides children through subjects such as math, history, and science.
Space exploration is not new to robotics technology. The Soviet Union (USSR) launched the first robotic spacecraft in 1951. Embedding AI to robotics has led to the creation of Cimon 2, an AI-powered, empathetic robotic assistant that helps astronomers in their space travel by understanding and predicting the needs and emotions of the crew.
Cimon 2 is programmed to be able to hear, see, speak and understand. Its "eyes" are two cameras with facial recognition technology, and it is equipped with five other cameras that help with orientation and can be used for documentation. Nine microphones function as ears that can comprehend voices and identify directions.
Machine learning leads the market in the technology segment.
Based on the technology, the market for AI robots is segmented into computer vision, machine learning, context awareness, and Natural Language Processing (NLP).
Machine learning is leading in this segment with a 37% market share in 2022 or USD 1.5 billion in market value, according to the Apollo Research report. It is also anticipated to increase significantly in the future with a 28.7% CAGR. Machine learning is an integral part of AI. It is the process of giving a system the ability to automatically learn and improve based on the data given to them. A huge amount of information is fed to the robotic system to give robots their autonomous ability.
Sources: Statzon, Forbes, Pew Research, IFR, IFR, The Guardian, ABC News,