Global Industrial Robot Market Projected to Reach $86.6 bn by 2030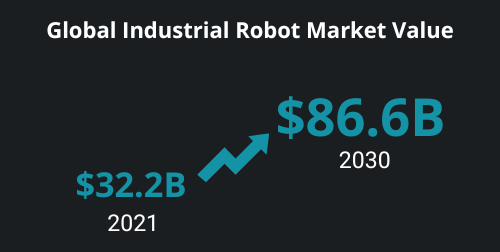 According to Next Move Strategy Consulting market research report, the global market value for industrial robots was estimated at around 32.2 billion USD in 2021. This number has been largely affected by the Covid-19 pandemic during the past two years when production is halted temporarily. But the market is expected to recover in post-pandemic situation with a CAGR of 12% to reach a market value of 86.6 billion USD in 2030.
Industrial robots market drivers and challenges
Demand for industrial robots is driven mainly by the need for industrial automation as the cause of the high cost of energy and human labor. Electronic sectors show more interest in utilizing these robotic systems as they enable companies to increase throughput, allow miniaturization, and reduce lead times. In addition, the robots' ability to perform high-precision jobs will help fill the gap created by the skilled labor shortage.
New research and innovations keep emerging in the robotics industry. With the market expected to see exponential growth post-pandemic time, numerous start-ups are joining the market that will further boost the industrial robot market's growth. Moreover, increasing governmental support in terms of funds and regulation is another important driver in the market.
However, although industrial robots are proven to increase productivity, some challenges such as high initial investment cost, the complexity of installation and system engineering can hinder companies from adopting this technology. In addition, cybersecurity threats, strict governmental regulations, and safety issues are other concerns for companies to think about.
Key market trends and drivers attributing to growth of industrial robots market include:
Increasing demand for industrial automation
High cost of energy & human labour
Shortage of skilled labour
R&D in the robotics field
Increasing government support
APAC is the current market leader, but Europe has the most rapid growth
The trend of outsourcing manufacturing operations to low-cost countries has brought a multitude of manufacturing companies to the Asia-Pacific region. China and other countries in this region remain attractive investment locations to many international robotics companies. Europe ranks close to APAC's leading market position in 2020 and is projected to have the fastest growth during 2020-2025.
Industrial robotics market by function and type
The most common functions of industrial robots are soldering and welding, material handling, and assembling-disassembling. The market shares for each function are 25%, 23%, and 20%, respectively. Robots can carry out these functions with an excellent level of precision and standardization.
Automotive and manufacturing industries are the two most common settings where industrial robots can be found. More than 40% of the total robots in the market are utilized in these two industries. The presence of industrial robots is getting more common in other industries such as logistics, food and beverage, healthcare, aerospace, and entertainment.
Based on types, collaborative modular robots and articulated robots are the most significant contributors to the industrial robots market value. Collectively they accounted for 49% of the total market share in 2021, with the former constituting around 25% share and the latter 24%.
Articulated robots or robotic arms are robots with rotary joints. They can perform spot welding and arc welding needed in the automotive industry. Such robots can also be used for handling heavy automotive parts.
Collaborative robots, also known as cobots, are human-scaled machines capable of performing jobs in tough or difficult environments. They work closely with humans and provide an enhanced level of productivity, mobility, and output.
Other types of industrial robots include:
Cartesian robots help in movements of payloads in a horizontal space. This type of robot is used widely for CNC machine tending and 3D printing applications.
SCARA (Selective Compliance Assembly Robot Arms) is commonly used for assembly and pick-and-place operations, in which high accuracy and high speed are required. They are mostly used in the manufacturing sector.
Parallel Modular robots have two or more arms that are connected to each other. This kind of robot has popular usage in picking and packaging in factories. Some robots can execute up to 300 picks per minute.
Industrial robot density is the highest in Asia.
The manufacturing industry's average robot density was 113 robots per 10,000 employees in 2019, according to the International Federation of Robotics (IFR). The average density in Asia was 118 robots per 10,000 employees, which is explained by the heavy number of installations in years past. North America had an average of 114 robots per 10,000 employees and Europe 103. 9% of companies in Denmark were utilizing industrial robots, the highest percentage within the EU currently, as reported by Eurostat.
Top industrial robot companies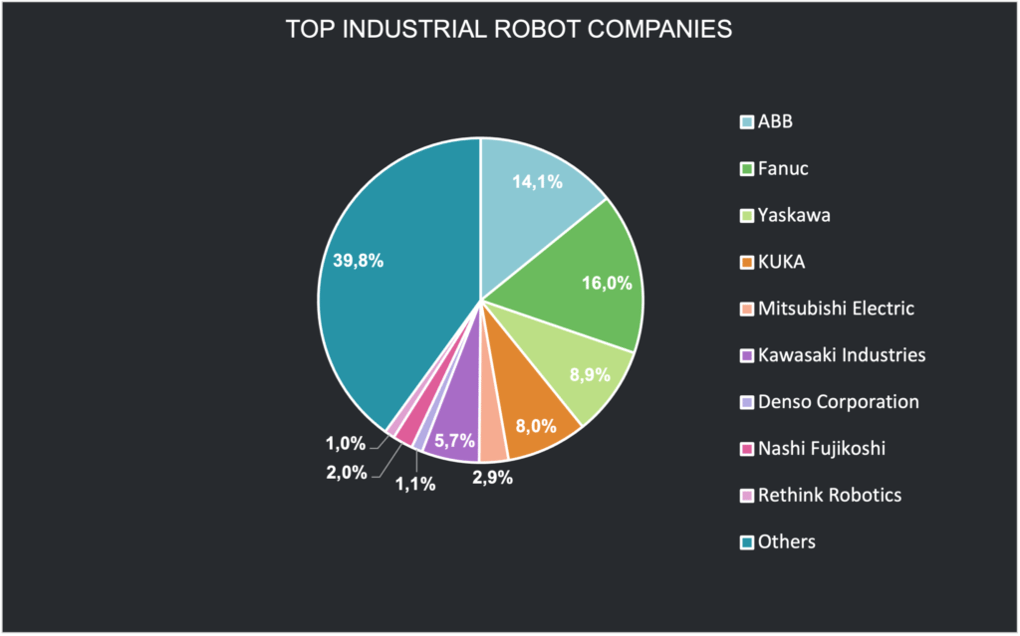 Four big names have been leading the industrial robotics industry for many years. Although many new players are coming to the market, these companies still hold almost 50% of the total market shares. A reason why they are often dubbed "The Big 4". Their products are so prominent in the market and easily recognizable due to their distinct branding and product design.
This company is based in Switzerland and provides electrification, automation, robotics, and motion solutions. Their annual revenue Is known for their energy efficient, reliable, and productive robots. The robots can easily be recognized by the white color and distinctive red logo. ABB's revenue in 2020 is roughly around 2.9 billion USD.
KUKA robots have a distinctive orange color that can easily be seen. They are the leading robot supplier for the automotive sector. KUKA's core industries include automotive, electronics, metal & plastic, e- commerce, retail, consumer goods, and healthcare. The company is based in Augsburg, Germany, and has an annual revenue of around $3 billion
Fanuc was founded in 1972 with a headquarters in Yamanashi, Japan. The company specializes in robotics and other automation equipment, particularly CNC machines. Fanuc offers the most extensive product line with over 100 models available. Their robots are usually known for their bright yellow color. The company's revenue in 2020 is roughly around 4.6 billion USD.
Another top player from Japan with a revenue of 3.8 billion USD, Yaskawa, was founded in 1915 and now is based in Fukuoka. Yaskawa achieved a milestone in February 2021, when the company reached 500,000 industrial robots sold. They produce more welding robots than any other manufacturer and are well known for their arc welding robot line. Yaskawa robots are usually colored in blue or white.
Other
Other names in the industrial robotics market are Denso Corporation, Mitsubishi, Nachi-Fujikoshi, Kawasaki Heavy Industries, and Rethink Robotics.
Unlimited access to all industrial robot market reports and insights




Industrial robots market data at global, regional, and country level like

market size (market volumes, market values)

forecasts

leading players & market shares

robot types

end-user industries

applications

etc.

Market reports, statistics, company profiles, and news

Download in xls, png, or PDF formats and use in your work

400 € / month

🔎 Preview reports and insights that you get with this subscription

Other subscription options