Despite global economic challenges, the IFR World Robotics 2023 report unveils a promising outlook in the industrial robot installation landscape. The industrial robot installation numbers registered a YoY growth rate of 5% to exceed 553,000 units worldwide in 2022. Moving forward, the market is set to further expand by 7%, approaching the 600,000 unit milestone in 2023.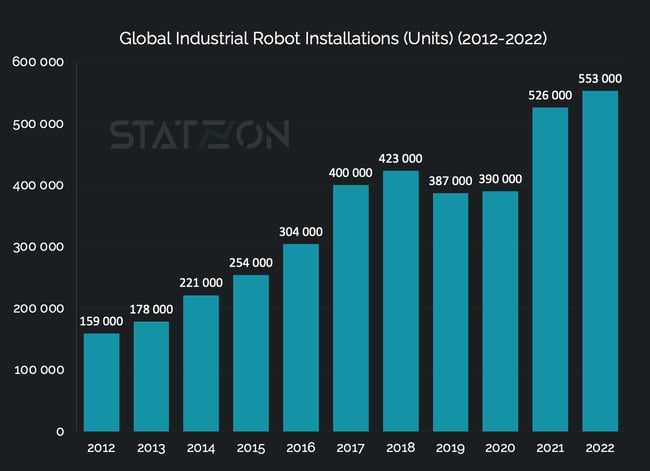 Source: IFR

China, a powerhouse in the global market, remains a dominant force in the robotics industry. The nation's advancements in robotics not only chart its own course but also resonate globally, influencing the sector's worldwide trajectory. In 2022, China set a new record with 290,258 robot installations, marking a 5% growth from the previous year. The country's operational stock surpassed 1 million units in 2021 and grew to 1.5 million units in 2022, marking a 22% increase. China stands as the sole country to achieve this milestone, propelled predominantly by its electrical and electronics sector, with the automotive and metals and machinery industries trailing closely behind. This continuous expansion attracts both domestic and international robot suppliers, further bolstering China's status as a major player in global robotics.
Industrial robot regional market
Asia still dominated the industrial robotics scene in 2022, accounting for 73% of all new robot deployments, while Europe and the Americas held 15% and 10% of the market, respectively. Japan, the second-largest market for industrial robots after China, experienced a 9% rise to 50,413 installations, exceeding its pre-pandemic numbers. The Republic of Korea, though showing modest growth, remains the world's fourth-largest robot market, following the United States, Japan, and China. Meanwhile, Singapore, despite its small size, witnessed a significant 68% spike in installations, placing it 10th among countries embracing robotic technology.
The European Union remains a major player with 70,781 unit installations, marking a 5% growth in 2022. Germany stands out as one of the top five adopters worldwide, holding a significant market share of 36% within the EU (4% globally), despite a 1% decrease in installations to 25,636 units. Italy and France follow suit with 8% and 13% growth, installing 11,475 and 7,380 units respectively. Post-Brexit UK also saw a modest 3% increase in industrial robot installations.
The Americas witnessed an 8% rise in industrial robot installations. The United States, as the top market in the region, was responsible for 71% of the region's robot installations. The number of robot installations in the country increased by 10% compared to 2021 to reach 39,576 units, narrowly missing the previous high of 40,373 units set in 2018.
Notably, Mexico and Canada had a mixed performance. In Mexico, installations experienced a 13% increase, amounting to 6,000 units, while in Canada, there was a 24% decrease in demand, with 3,223 units installed. This shift in Canada was primarily attributed to a decline in the automotive sector, its leading robot adopter.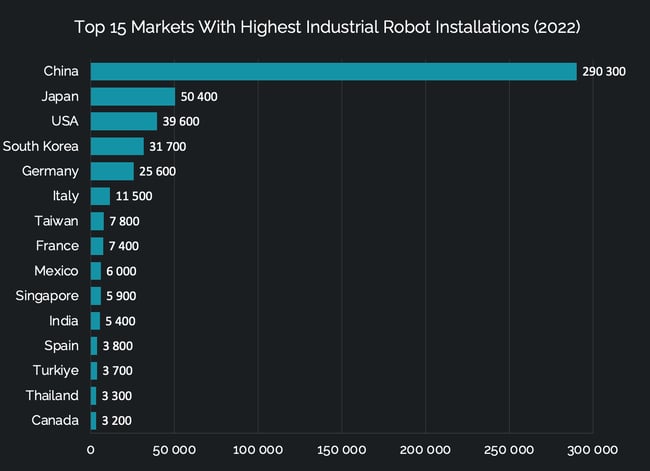 Source: IFR
Upward trajectory of collaborative robot share
Over recent years, collaborative robots, or cobots, have seen a steady rise in their market presence. In 2022 cobots have achieved a 10% market share in the industrial robotics market. There was a significant 31% jump in installation from 42,000 units installed in 2021 to 55,000 in 2022. The growth in installation exhibits a 37.9% CAGR from 2017 to 2022.
In contrast, traditional industrial robots experienced a dramatic jump in installations in 2021, rising by 33% compared to the previous year (2020), increasing from 363,000 to 484,000 units. Nevertheless, in 2022, the growth rate tapered off, with installations rising only slightly by 14,000 units, leading to a modest YoY growth rate of 2.89%. Throughout the period spanning from 2017 to 2022, traditional robots demonstrated a consistent CAGR of 28.06%.
IFR World Robotics 2023 on technological trends
IFR World Robotics 2023 report highlights how cloud computing, 5G mobile networks, machine vision, and artificial intelligence are key to improving industrial robotics for better performance and fully digital production.
The integration of cloud computing and 5G mobile networks is fostering new business models in industrial robotics, notably Robotics as a Service (RaaS) and Cloud Robotics. These models, facilitated by 5G's high-speed, low-latency communication, allow for real-time data processing and analytics, significantly reducing costs and enhancing the accessibility of robotic systems. Furthermore, cloud robotics simplifies the robots by offloading computational tasks to the cloud, making robotic systems more affordable and accelerating their adoption across various sectors.
Machine vision continues to be a key trend, simplifying programming and aiding in shape detection, which is crucial for guiding grippers in complex environments. This technology improves the adaptability and flexibility of robotic systems across a myriad of industrial settings.
The emergence of Artificial Intelligence (AI) in the market is driving smarter, faster, and more efficient automation. AI expedites programming, enhances maintenance protocols, and supports sustainability by optimizing resource utilization. Through learning from experience, AI is not only making industrial robotics more capable but also contributing to more sustainable and efficient production processes.
Industrial robot adoption by customer
IFR report highlights the leading industries in adopting robotics, with the electronics sector at the forefront, boasting 157,000 global installations—a 10% increase from the previous year. Known for its long-standing advocacy for robotics, the automotive sector experienced a 16% surge in installations in 2022 compared to the last year, accumulating a total of 136,000 installations. Specifically in the US, 2022 saw a remarkable rise in robot sales within the automotive sector, driven by a revival in orders from automotive firms. The year marked a 47% increase in industrial robot installations, rebounding from a minor dip in 2021. Notably, the automotive industry was a significant player in US robot sales, accounting for nearly 40% of the total 39,600 units sold. In 2022, this sector procured 14,427 robots, marking a significant rise from the 9,584 robots acquired in the previous year, 2021.
Conversely, the metal and machinery, plastic and chemicals, and food industries observed a downturn in robot installations, recording declines of -3%, -6%, and -2%, respectively.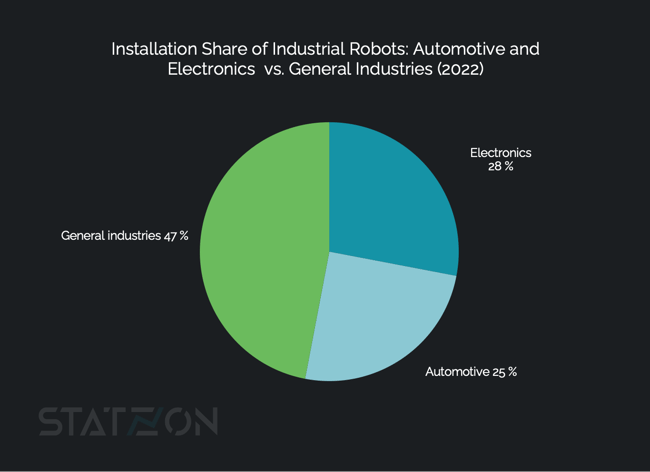 Source: IFR
Service robots to address labor shortage
Job openings in Europe, especially in the EU show the bigger worldwide issue of not having enough workers. Changes in population and a lack of trained workers mean there's a big need to get more done with less. Service robots are stepping in to help. In 2022 alone, the number of new professional service robots went up by 48% to 158,000 units. This increase, compared to a 12% drop in consumer service robots, shows a growing interest in using robots for professional work.
One notable application is in cleaning. With a dwindling number of cleaning staff in various sectors, there's a growing inclination towards using floor cleaning robots. However, transitioning to these robots presents challenges. Their high acquisition costs pose a significant barrier for many service providers.
There's also a growing interest in mobile robots for everyday indoor environments, especially in logistics, due to a severe staff shortage in the aftermath of COVID-19. These robots operate in dynamic settings, often teeming with people, making their deployment technically challenging. Safety concerns, fire protection regulations, and the need for user-friendly interfaces for non-technical staff are paramount. Typically, humans remain integral to the process, either placing objects onto the robot or clearing obstacles.
Field robots are also becoming more popular in farming. Key drivers for this trend include the shortage of skilled workers and environmental challenges. These robots are designed to help in agriculture by continuously providing vital information, emphasizing prevention over symptom treatment However, getting these robots to work completely in autonomous mode is harder than initially anticipated.
Source: IFR World Robotics 2023, Euronews