Battery is the fifth largest segment within the electrical equipment market accounting for 6% of the total market share. The other segments are lighting equipment, power generation, transmission & control equipment, household appliances, and wires and cables.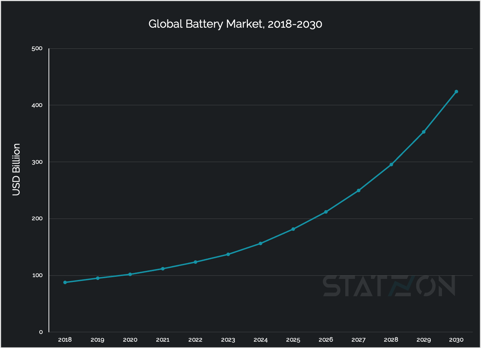 The global battery market was valued at USD 84 billion in 2021, according to market data from The Business Research Company. The firm predicted that the market would grow to USD 139 billion by 2026, registering a 10.6% CAGR. This is an acceleration from the previous five-year period, where the market grew at 7.75% CAGR.
Inkwood Research, another firm within Statzon's data providers network, gave a higher estimation of the market where it reached USD 112 billion in 2021 and will hit USD 424 billion by 2030, growing at a more confident CAGR of 16.68% over the forecasted years of 2022 to 2030.
The market growth can be attributed to trends happening during recent years, most notably, the increased demand for clean energy, the move to gradually phase out fossil fuels, the rise of electric vehicles, higher penetration of marine batteries (batteries specifically designed to be used on boats) and factory automation that enables faster and more efficient production of batteries.
The market for primary and seconda

ry batteries
The battery market is segmented into primary and secondary batteries.
Primary batteries are small single-use batteries that generate electricity from the chemical reactions between the terminals and electrolytes. Typically, these are used in portable devices that require low current such as flashlights and watches.
Secondary batteries are rechargeable batteries mostly used in automotive, household, and industrial applications. This segment is dominating the market with an 84% share of the market and worth around USD 70 billion in 2021, while the primary battery segment gained around 16% of the market share, valued at USD 14 billion.
Lithium-ion and lead-acid batteries are the most popular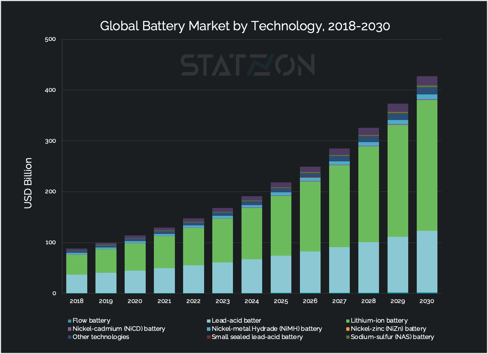 Based on technology, Inkwood Research divided the battery market into 10 segments, of which the lithium-ion batteries held the largest market share in 2021, accounting for 49% of the market, valued at USD 54.6 billion. This segment will also grow the fastest, accelerating at a 19.5% CAGR. In 2030, the market for lithium-ion batteries is predicted to reach USD 257 billion, based on the forecast by Inkwood Research.
Lithium-ion batteries are an eco-friendlier alternative to traditional sources of energy, which has significantly boosted their usage in electric vehicles and grid storage facilities. The market for these batteries will also be boosted by the manufacturing, railway, and solar power sectors as the need for storage and power backup is likely to increase in the future.
The lead-acid battery is the second biggest segment in the market. In 2021 this segment is controlling around 38% of the market share, valued at USD 43 billion. This segment will experience a growth at 13% CAGR, and its market value will reach USD 121 billion by 2030. The reliability and affordable price of lead-acid batteries make them suitable for both consumer and industrial applications.
Another two big segments worth mentioning are the zinc-manganese dioxide battery segment which gained a market value of USD 5 billion in 2021 (4.5% of the total market share), and the nickel-metal hydrate (NiMH) battery segment, with USD 3.1 billion worth of market value or around 3% share of the total market.
A closer look at the lithium-ion battery market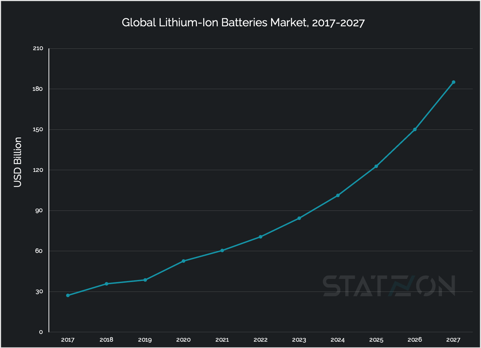 Lithium-ion batteries are part of our daily lives, commonly found on consumer electronics such as laptops, tablets, or mobile phones. A lithium-ion battery is a rechargeable battery that uses lithium ions as the main component of electrochemistry. This type of battery is popular for being lightweight and compact. It needs minimal maintenance and stands up well to repeated charging. Small lithium-ion batteries are widely used in portable electronic devices such as watches or mobile phones, while large ones have been developed to power electric vehicles.
As previously written, Inkwood Research estimates that lithium-ion batteries account for 49% of the total battery market, with a revenue of USD 54.6 billion in 2021. Markets and Markets valued the global lithium-ion battery market at USD 44.5 billion in 2022 and forecasted the market to grow to USD 135.1 billion by 2031, at a CAGR of 13.1%. Astute Analytica offered a more optimistic forecast where the market is valued at USD 60.3 billion in 2021 and projected to reach USD 185 billion by 2027, registering a 20.5% CAGR.
Lithium-ion battery usage in robotics and e-mobility
The growth of the lithium-ion battery market can be attributed to the increased use of these batteries in electric vehicles and the field of renewable energy. During the last several years, the sales of electric vehicles have experienced exponential growth. Euromonitor reported the registration of electric cars has grown more than triple between the years 2017 to 2021, from 3.7 million units to 11.8 million units. Next Move Strategy Consulting reported the e-mobility market size has reached USD 279 billion in 2021 and is anticipated to grow eightfold by 2030 to reach USD 2.3 trillion in which electric cars, electric motorcycles, electric bikes, electric skateboards, and electric wheelchairs are included within the term e-mobility.
The market growth of lithium-ion batteries electric is further augmented by other sectors, such as consumer electronics, medical applications, and grid storage. Lithium-ion batteries are currently the dominant storage technology used to support power grids in large facilities to ensure a steady supply of renewable energy.
Lithium-ion batteries are also closely related to the robotics field. The battery is the primary source of power for robots. Although other kinds of batteries are also being used to power robotics movements and functions, lithium-ion batteries are considered better than others due to their lightweight and high capacity. Most robots are still using lead batteries, however, since they are the most affordable option out there. Still, the number of robots powered by lithium-ion batteries is increasing nowadays. For example, the global market for the lithium-ion battery for autonomous mobile robots (AMR) is growing from USD 699 million in 2021 to USD 2.7 billion by 2029.
Lithium-ion battery segmentations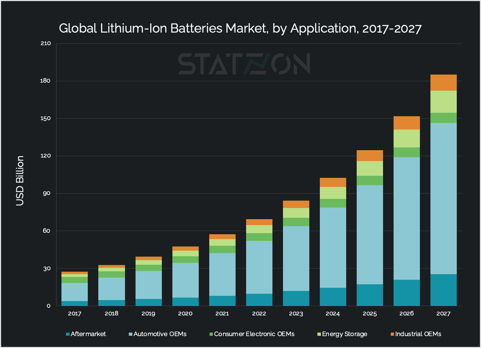 In terms of application, the automotive segment held the largest revenue share of over 51% in 2021, with a market value of USD 32.3 million. This segment will also witness the most lucrative growth over the forecast period with a 24.6% CAGR. Lithium-ion batteries are integral to the electric and hybrid electric vehicle market. Increased demands for electric vehicles subsequently expand the lithium-ion battery market. Growing awareness of renewable energy and zero-emission movements in Europe and North America has also favored the growth of both the electric vehicle and lithium-ion battery markets.
On the basis of type, Lithium Nickel Magnesium Cobalt (Li-NMC) segment accounted for the largest revenue share in 2021, controlling over 36% market share. Li-NMC is preferred by several big automotive manufacturers as it has the lowest self-heating rate compared to other types of lithium-ion batteries. Lithium Ferro Phosphate (LFP) and Lithium Cobalt Oxide (LCO) are the second and third biggest segments in the market, each with 31% and 19% market share, respectively.
When it comes to capacities, the 3 000 – 10 000 mAH segment is dominating the market, and it will keep its domination until the end of the forecast period since it is also the segment that has the most rapid growth. Growing at 22.3% CAGR, the market value for this segment will grow from USD 34.7 billion in 2021 to USD 116.2 billion by 2027, meaning it will expand its market share from 57% in 2021 to 64% by 2027.
Key players in the global battery market
The market for batteries is highly fragmented, with the top ten biggest companies having a grip on more than 50% of the market. These companies are also involved in the usage and distribution of batteries. Samsung SDI, LG Chem, BYD, TDK, Panasonic, Yuasa, and A123 systems are some companies that made it to the major player list in the market.
Find more insights about the batteries market with a free Statzon account!
Sources:
Statzon, Interact Analysis, Battery University