Wireless charging is elevating electric mobility (e-mobility) to new heights, revolutionizing electric vehicle (EV) ownership by making recharging effortless and seamlessly integrated into daily life. Unlike conventional wired connections, wireless charging significantly amplifies the convenience, efficiency, and appeal of e-mobility for both individual drivers and vehicle fleets.
How does wireless EV charging work?
At its core, wireless charging for electric vehicles eliminates the need for physical cables and plugs to recharge an electric vehicle. Instead, it operates on the principle of electromagnetic fields, enabling the transfer of energy between a ground-based charging pad (or one embedded in the ground) and a corresponding receiver positioned beneath the vehicle. To initiate charging, the vehicle simply needs to be parked over the charging pad, and the energy transfer occurs through the air. This innovative technology streamlines the charging process by eliminating the need for manual plugging and unplugging, creating a smoother and more user-friendly experience. However, it's important to note that current implementations often require the installation of fixed charging pads at designated locations.
The potential benefits of wireless charging are impressive. In theory, this technology could lead to reduced maintenance costs and a more efficient charging experience. Yet, its present cost remains higher compared to conventional cable-based solutions. However, industry players are betting on scaling up production to drive down costs in the near future. Additionally, the challenge of standardization has been a hurdle to its widespread adoption in the mass market.
Despite these challenges, automakers are firmly committed to exploring the potential of wireless charging. Tesla, for instance, has showcased its interest in this technology through its acquisition of the German inductive-charging company, Wiferion. In a similar vein, Hyundai's Genesis is conducting real-world tests with 23 wireless charging pads in South Korea. Meanwhile, Volkswagen is pushing the boundaries by aiming for 300-kilowatt wireless charging in trials at its innovation hub in Knoxville, Tennessee.
Empowering dynamic charging with wireless EV charging roads
Charging stationary EVs without a plug is a step forward, yet dynamic induction charging takes it even further. This entails embedding charging coils into the road, making it a wireless EV charging road, enabling cars to charge while in motion Carmakers are enthusiastic about testing this advanced technology.
Current wireless charging roads are still quite short in distance and targeted for short-distance travel vehicles such as shuttle services around a facility or public transport uses such as the one in Gumi, South Korea. Similar test areas for electric roads are also limited in length, such as the 4 km route established in 2020 from Visby to the airport in Sweden's Gotland County.
However, Sweden is embarking on the creation of what they term a "permanent e-motorway." This road, set to be built by 2025 along the E20 route, marks the initial phase of a broader strategy aiming to electrify over 3,000 kilometers of Swedish roads.
Global market overview for wireless EV charging
The wireless EV charging market was valued at USD 13.1 million in 2022 and is expected to reach USD 567.7 million by 2030, with a CAGR of 55.6% from 2023 to 2030, based on a market report from Next Move Strategy Consulting.
The wireless electric vehicle charging market is hindered by slower charging rates and higher technology costs compared to traditional cable chargers. Furthermore, wireless charging devices are subject to distance constraints.
The Asia-Pacific (APAC) region is set to lead this growth trajectory, contributing significantly with a value of USD 6.799 billion in 2022. By the year 2030, it is expected to surge to an impressive USD 218.891 billion, reflecting a remarkable compound annual growth rate (CAGR) of 49.8% from 2023 to 2030.

China leads both the APAC and global markets, holding approximately 38% of the total market share. Chinese firms have outpaced their global counterparts in patent applications for EV charging and battery swapping, submitting 41,011 patents from 2010 to 2022. Despite limited individual rankings, the collective efforts of Chinese companies resulted in almost 50% more applications than Japanese firms, which came in second with 26,962.
Shifting the focus back to the regional markets, Europe claims the second position, even though its market value in 2022 was notably smaller (at USD 3.9 billion) compared to APAC. However, the European market's growth outpaces that of APAC, with a robust CAGR of 59.4%. Meanwhile, the North American market is projected to experience even more accelerated growth, targeting a CAGR of 62.1%.
Wireless EV charging market segmented by charging type
The stationary wireless charging segment is currently at the forefront of the market with a market value of USD 11.3 billion in 2022. Predictions indicate it will escalate to USD 457 billion by 2030, showcasing a noteworthy 54.3% CAGR between 2023 and 2030. Meanwhile, a significant number of advancements are underway in the development of dynamic wireless charging systems. This segment's growth outpaces that of the stationary category. In 2022, the dynamic charging segment reached a valuation of USD 1.8 billion and is on track to achieve USD 110 billion by 2030. This progress is characterized by the highest CAGR of 62.1%.
Israeli wireless charging startup Electreon has captured attention by achieving an impressive feat: driving a hybrid RAV4 with an 18 kWh battery non-stop for an astounding 1,942 km over 100 hours. Although conducted on Electreon's 200m test track, this accomplishment directly addresses crucial challenges in EV adoption, notably range anxiety and battery capacity limitations.
The wireless EV charging technology showcased a remarkable extension, surpassing the current real-world maximum EV range by at least 26 times. The 18 kWh battery was never fully depleted, as the electric road continuously charged the vehicle while it circled the track. This record-setting demonstration not only underlines the robust potential of wireless charging but also highlights its seamless adaptability. Even with just 25% of the track electrified, this technology offers an endless range for any EV. This shared charging platform accommodates multiple users simultaneously, spanning from small passenger vehicles to large e-trucks, while remaining adaptable to various battery technologies.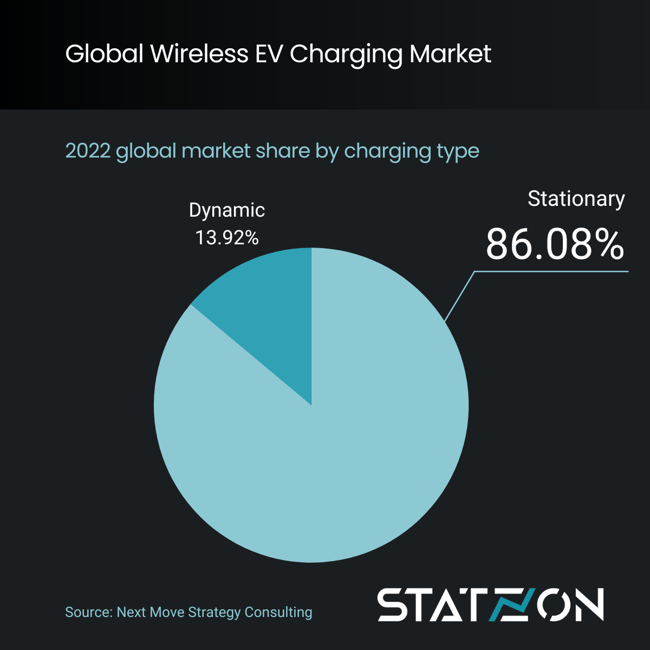 Wireless EV charging market segmented by power supply
Based on power supply, the market is segmented into 3–10 KW, 11–50 KW, and more than 50 KW.

The 3–10 KW segment held a major market share in 2022 with a market value of USD 5.7 billion, growing at a CAGR of 57.4% to reach USD 21.9 billion by 2030.

The 11–50 KW power supply segment came close in second position, contributing USD 5.4 billion to the total market. This growth of this segment is predicted to take over the 3-10 KW leadership position as it will reach USD 24.6 billion by 2030.

Over 50 KW is the smallest segment among all, contributing to the market a market value worth USD 1.9 billion in 2022.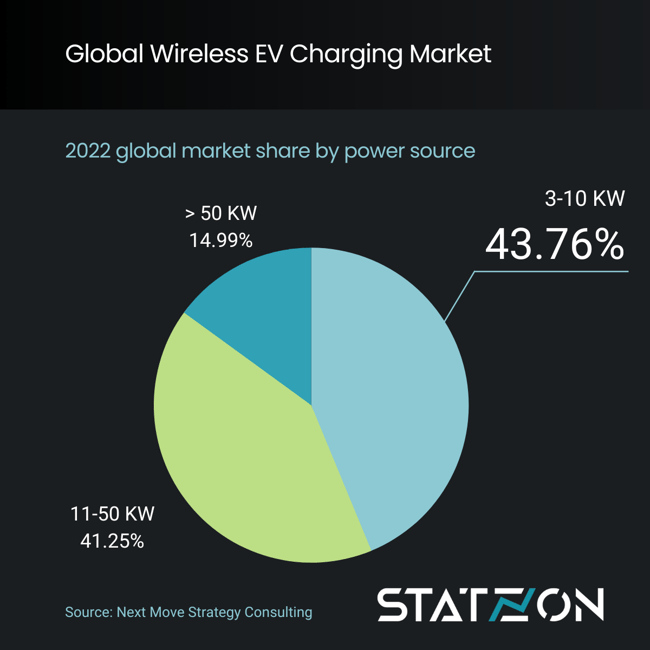 Wireless EV charging market segmented by application
Based on application, the wireless charging for electric vehicle market is segmented into commercial charging stations and home charging units.
The commercial charging station sector is poised to experience an impressive CAGR of over 57.4%. This growth is driven by the increasing necessity to establish EV charging infrastructure in public spaces, the surging demand for commercial wireless charging systems in China, and the widespread adoption of such systems in Europe. The rapid expansion of this segment is heavily influenced by the prevalence of large commercial garage parking facilities and densely populated urban regions.
Commercial charging units gained USD 10.7 billion while the home charging segment gained USD 2.8 billion in 2022 with a slightly lower CAGR of 55%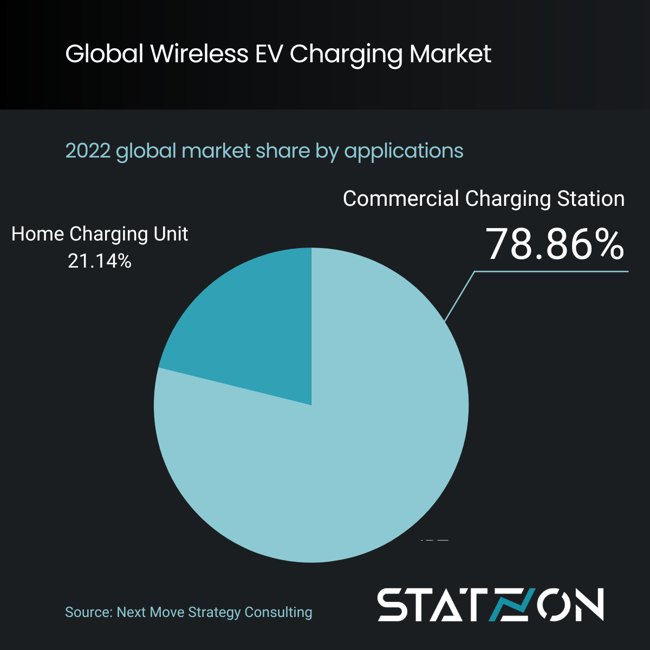 Wireless EV charging market segmented by charging mechanism
Based on the charging mechanism, the market is classified into Inductive Power Transfer (IPT), Magnetic Gear Wireless Power Transfer (MGWPT), and Capacitive Wireless Power Transfer (CWPT).
IPT segment is the highest contributor to this market with a market value of USD 6.5 billion in 2022, and is anticipated to reach USD 247 billion by 2030, registering a CAGR of 52.91%. Similarly, the Magnetic Gear Wireless Power Transfer segment, currently at USD 4.4 billion, is projected to reach USD 206.2 billion by 2030. The CWPT segment, which stood at USD 2.1 billion in 2022, is anticipated to reach USD 114 billion by 2030 with the highest CAGR of 59.9%.
The IPT segment takes the lead in this market, starting at USD 6.5 billion in 2022 and is expected to hit USD 247 billion by 2030, showcasing a 52.91% CAGR. Similarly, the MGWPT segment, valued at USD 4.4 billion for the same year, is projected to reach USD 206.2 billion by 2030. The CWPT segment is the smallest in the market, stood at USD 2.1 billion in 2022 and is set to reach USD 114 billion by 2030, boasting the highest CAGR of 59.9%.
IPT and MGWPT segments collectively accounted for about 83.9% share of the global wireless EV charging market in 2022, with the former constituting around 49.9% share.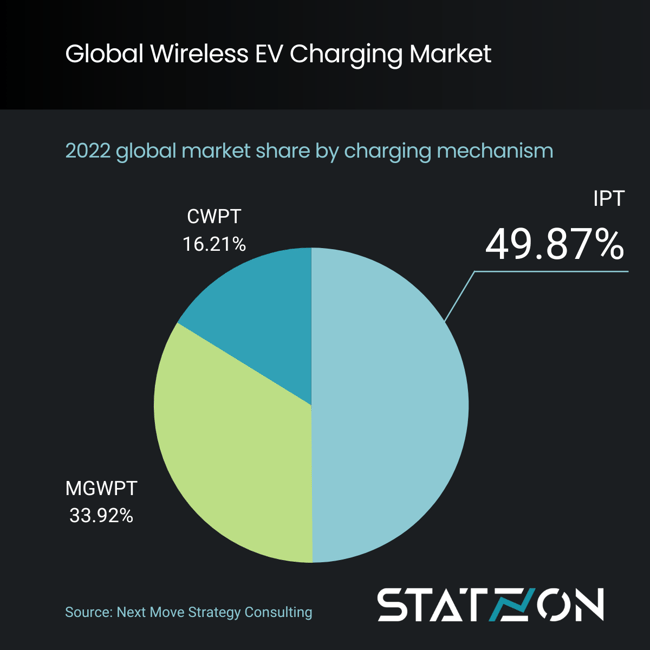 Top w
ireless EV charging companies.
The market for wireless EV charging is dominated by start-ups and more established companies.
Established in 2007, WiTricity has spent over a decade refining its magnetic resonance wireless technology, emerging as a vital player in the EV stationary wireless charging sector. As a spin-off from MIT, they've leveraged licensed MIT intellectual property to advance their innovations.
Similarly, Plugless Power played a pioneering role in promoting wireless concept throughout the 2010s. Another notable contender is InductEV, recognized for its wireless EV charging solutions tailored to accommodate trucks, buses, and other electric commercial vehicles.
Based on Next Move Strategy Consulting calculations, WiTricity has the biggest slice of the market pie, with a 26% share of the total market. The Chinese company, QingDao TGOOD is in the second position with a 17% share while InductEV is in the third position with 13%.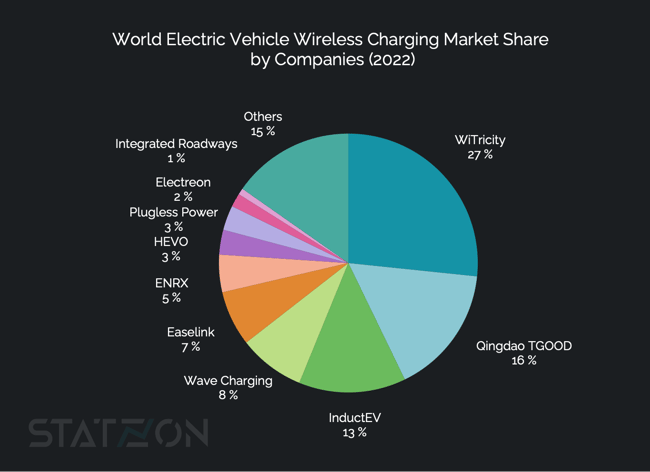 Source: Next Move Strategy Consulting
Sources: Statzon, Next Move Strategy Consulting market report on Wireless EV Charging, Bloomberg, Business Insider, Korea Herald, Euronews, Nikkei Asia