Like any other device or technology that can be charged, electric vehicles (EVs) need a charger to keep their batteries charged. EV charging infrastructure is a system of stations that connects EVs or plug-in hybrids to a source of energy, allowing them to be recharged. Different types of chargers offer varied current and voltage levels to suit vehicle-specific battery requirements.
The growth of EV charging stations can be attributed to the rapidly accelerated production and sales of EVs during the past decade. The global policy support for zero-emission vehicles also helps accelerate EV sales in the market.
The EV charging market is expected to grow well in the coming year. In 2021 alone, the market size reached USD 8.8 billion, based on market research conducted by The Insight Partners. This number is forecasted to grow to USD 23.4 billion by 2028 with a steady 15% CAGR.
Major corporations are investing significantly in R&D to create faster EV charger types for public charging stations. This will later help the push for the migration of more drivers toward EVs.
APAC leading in market size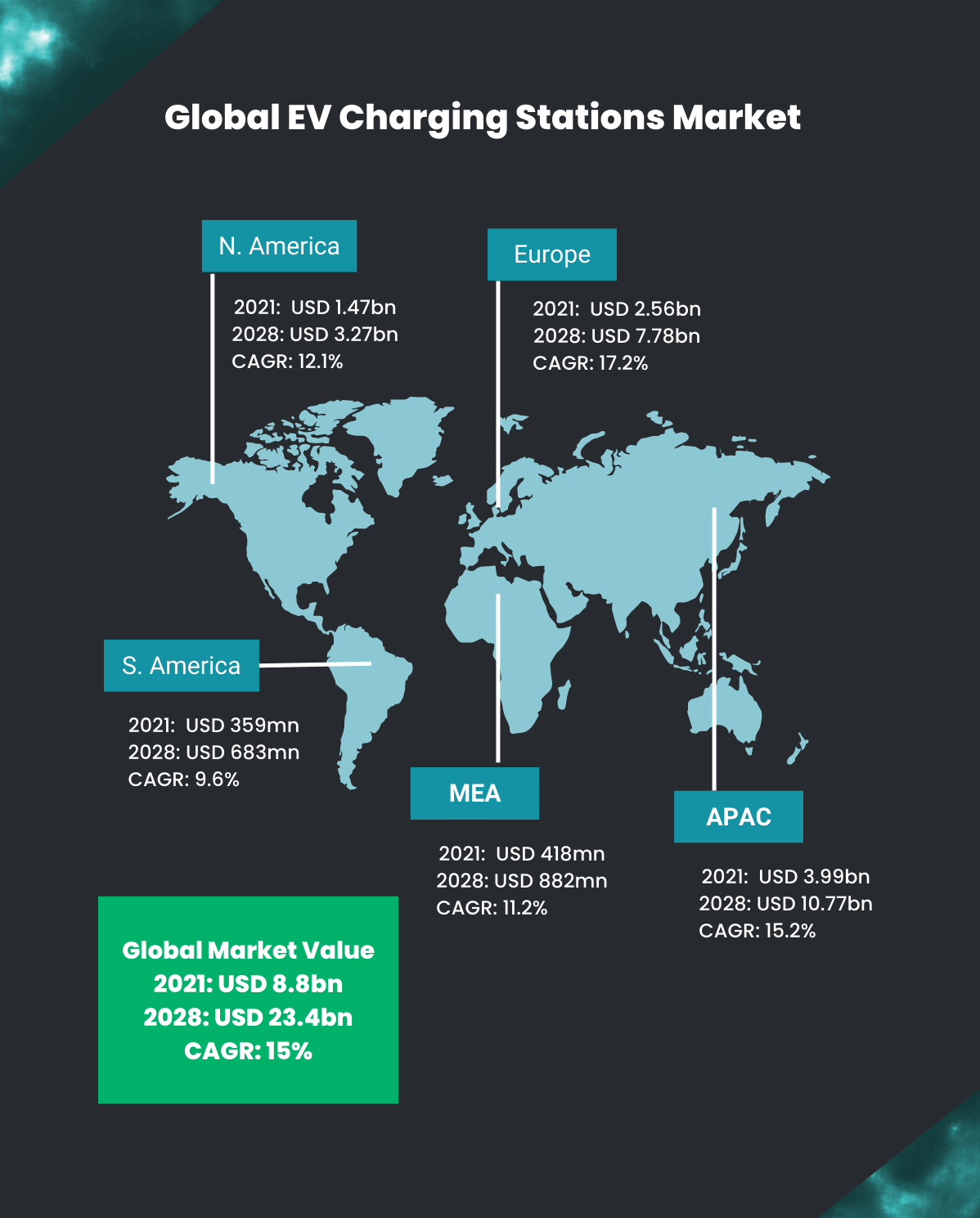 With USD 4 billion in market size or 45% share in the global market, APAC is the leading region in EV charging station market. The region is expected to keep its leadership position in 2028 with a market value of USD 10.8 billion, registering a 15.2% CAGR.
China and India are the two biggest markets in this region, each with a market value of USD 1.6 billion and USD 945 million in 2021.
China has long been a leader in the field of electric vehicles. The country does not actually have big EV automakers, but it takes its transition to electrification very seriously. With strong governmental assistance for EV ownership and infrastructure, China currently has the most EV charging stations in the world, with an estimated 2.2 million charging stations across the country.
India market, on the other hand, shows the most rapid growth globally at 18.3% CAGR. By 2030, the Indian government wants to electrify 70 percent of its commercial vehicles, 30 percent of private automobiles, 40 percent of buses, and 80 percent of two-wheeler and three-wheeler sales. This simultaneously will accelerate the growth of charging stations market in the country.
Europe is the second biggest region in the market with the most rapid growth of 17.2% CAGR. With USD 2.6 billion in market value in 2021, Europe controls around 29% of the global market share. The European market is expected to grow to USD 7.8 billion by 2028.
The annual "Making the Transition to Zero-Emission Mobility" survey published by ACEA in 2021 found that Europe's EV infrastructure is not equally dispersed. There are more than 220 thousand EV charging points in Europe, 70% of them are located in three nations: The Netherlands, Germany, and France. On the contrary, these three countries account for only 23% of the overall surface area of the region, providing the need for a substantial installation of more charging stations.
Public charger stations will show a significant increase
The Insight Partner and Market Research Future, two reputable research companies, partnering with Statzon, reported that AC charging is the most prevalent charging technique due to its low cost of manufacture and installation. Moreover, an AC charging station is compatible with home or workplace electricity outlets. Around 80% of EV owners charge their vehicles overnight at home using AC power.
AC charging segment currently controls 75% of the market share, leaving the rest 25% share to DC charger stations.
DC charging stations are widely adopted in public or commercial settings. This type of charging is getting more attention lately for its high-speed charging capacity. Market Research Future reported a 41% annual growth in the DC charging market size during the forecast period of 2021-2027.
Due to the rapid expansion of EV usage in countries like China, Japan, and South Korea, the APAC region now has the highest number of DC charging stations. It is also the region where this segment is expected to grow the fastest.
The penetration of EV charging infrastructure is significantly high in residential spaces. This is in line with the high prevalence of AC chargers, which are the preferred option for most residential use. However, access to public EV charging is a crucial factor in the purchase of electric vehicles around the world; therefore, the number of public charging stations is forecasted to increase in line with the growing adoption of EVs. The market for public chargers is expected to increase at a CAGR between 34.5% - 42%, based on forecasts by The Insight Partner and Market Research Future.
The APAC region will continue to deploy public chargers at a significant rate with the rising ownership of EVs. China alone had over 1. 4 public EV chargers in 2022, making it the country with the largest EV charging network worldwide.
Major Players in EV Charging Stations Market
Tesla is currently having the fastest growth in EV charging stations market. Within the past several years, its market share has increased steadily with the expansion of its distribution channels, technology advancement, and entry into new product categories.
Some other big names that have significantly increased their share of the market are Siemens, ABB, Schneider Electric, Shell, Webasto, and Charge Points.
Sources: Statzon, Gizmochina
Electrifying the Future: A Comprehensive Handbook on the EV Market
Some highlights from the handbook:


How Much Cleaner Is E-Mobility Compared To Conventional Transport Mode?
Barriers To EVs' Adoption
China Dominates The Global Electric Bus Market
Asia Pacific Leads The Global Electric Scooter Market, But Europe Shows The Strongest Growth Potential
Us And China Racing To Top Position on Autonomous Vehicles
Which Countries In Europe Have The Most Electric Cars?