Statzon's aggregated data shows that the global surgical robot market is valued at around 5.4 billion USD. This number is expected to grow with a CAGR of +13.8% to reach 15 billion USD in 2028. In addition, innovations in the industry are expected to reduce the cost of the systems over the coming years. Thus, market penetration is expected to increase.
Key market trends and drivers attributing to growth include:
The complexity of surgical procedures

Increased funding for medical robot research

Cost efficiency in patients' post-operation rehabilitation

Growing rates of cardiovascular diseases in American adults

The aging population and increasing demand for healthcare automation

Countless robotic advantages, such as heart surgeries that keep the sternum intact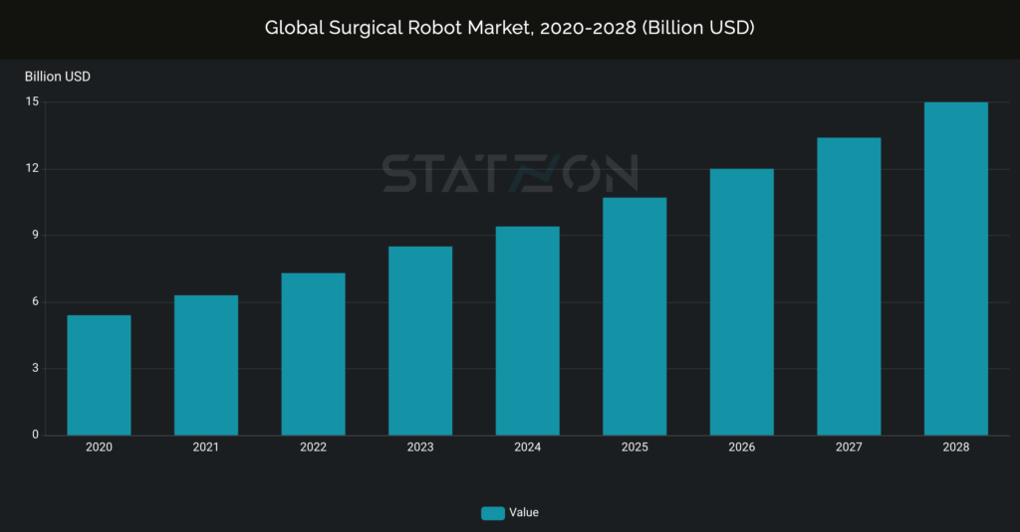 Robotic surgery systems help to automate the process of surgeons performing minimally invasive surgeries (MIS). The systems consist of equipment, accessories, software, and distinct services.
The advantages of robotic surgery include factors such as increased operational efficiency and accuracy, diminished post-surgical complications in patients, along with a decreased risk of infection and blood loss. Other significant benefits include:
Shorter recovery time.

Accessibility to distinct body parts.

A lesser number of scars.
On the contrary, high installation costs; concerns regarding safety, software malfunction and integration; and requirements for skilled personnel are some of the factors that challenge the market's growth.
Fastest-growing surgical robot market regions & countries
The global robotics surgery market is dominated by three regions: North America (57% share of the market), Europe (20%), and Asia-Pacific (17%).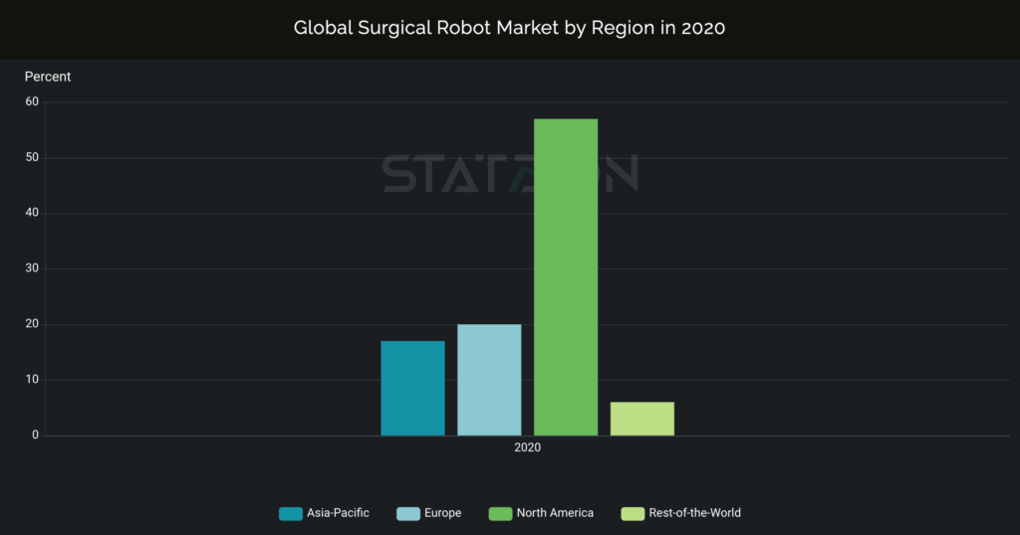 The North American region was valued at 3.1 billion USD in 2020. The United States has influenced the market share growth in the North American region in several ways. For instance, the country is a pioneer adopter of robotic surgery and home to some of the largest surgical robot companies. Additionally, the active participation of academia and collaborations with corporates have also influenced the growth of the region's market.
Asia-Pacific market is estimated to grow significantly. The region was worth around 918 million USD in 2020 and is forecasted to grow considerably during the forecast period. The rapid growth there is linked to rising demand from key markets, such as China and Japan, the increasing patient pool in India, governments that have begun to cater advanced healthcare services, and R&D done in collaboration with governments and universities.
India, Indonesia, China, and Thailand are the four fastest-growing surgical robot markets, with India having the most rapid market growth in Asia. Based on Inkwood Research forecast, the country is expected to grow by 15% annually to reach 260 million USD in 2028. Moreover, China's surgical robot market, the most significant and most valuable in the Asia-Pacific region, will reach 1.1 billion USD in 2028.
Surgical robotics types, applications & end-users
Surgical robotics types
Based on the type of surgical robotics, surgical instruments & accessories hold the largest share (49%) of the market. They were valued at around 2.6 billion USD in 2020. Robotic systems take up 33% of the market, which is followed by services (18% of the share). Surgical instruments & accessories are disposable by their nature and utilized extensively in surgical operations. These factors primarily drive the growth in this segment, and thus they are expected to hold a firm market dominance.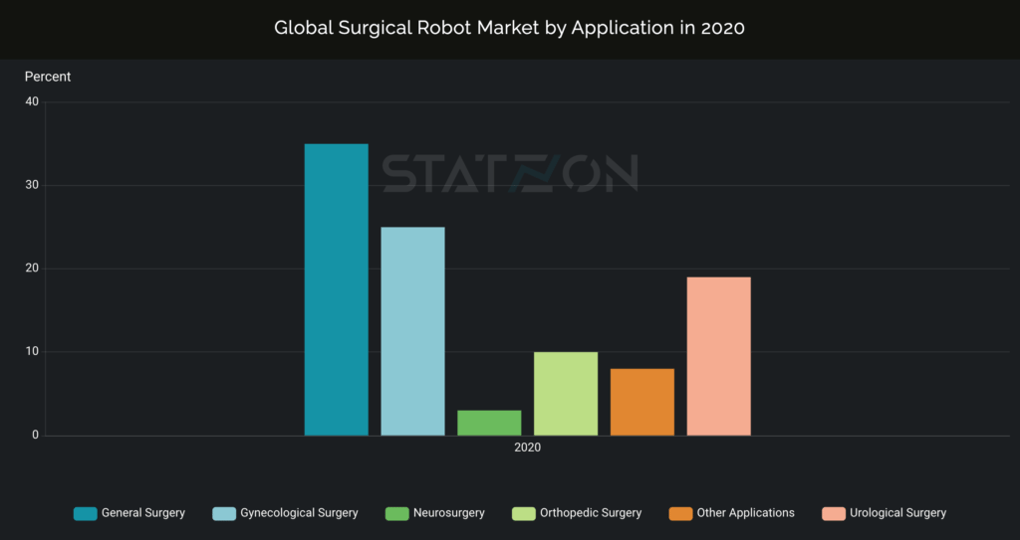 Surgical robotics applications
Based on application, the market is segmented into general surgery (35% market share), gynecological surgery (25%), urological surgery (19%), orthopedic surgery (10%), neurosurgery (3%), and other applications (8%). General surgery is valued at around 1.9 billion USD and is expected to grow at the highest rate during the forecast period until 2028.
General surgery comprises a broad range of surgery, such as gastrointestinal tract, trauma to the abdomen and thorax, and skin and breast conditions. The large share and high growth of this segment can be attributed to factors, such as modern robotic instruments enabling improved minimally invasive surgery (MIS), and better visual capacity given by 3D monitors.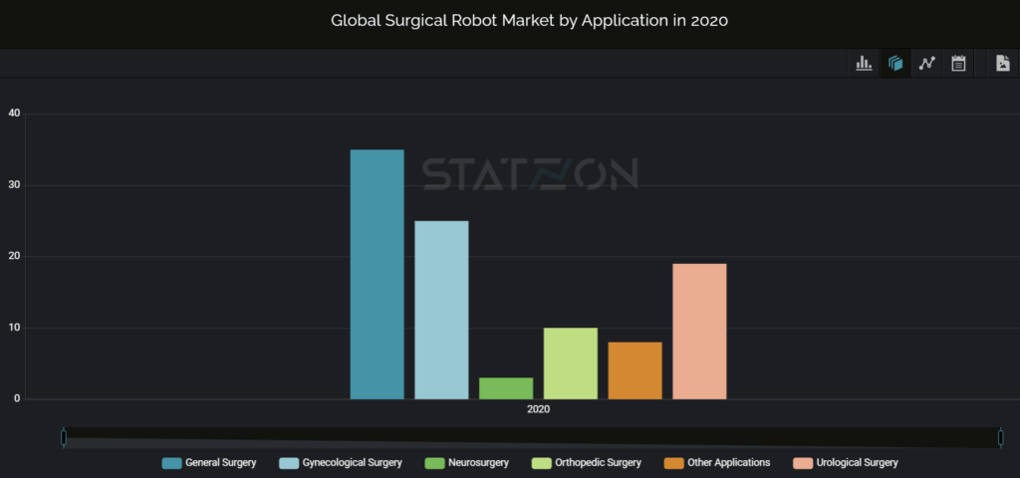 Surgical robotics applications
The gynecologic market segment is currently valued at 1.4 billion USD. A variety of conditions, including cancer, fibroids, and endometriosis, can affect the female reproductive system. The most common gynecologic cancers are cervical, endometrial (uterine), and ovarian cancer. Women with these and other conditions can be treated with a robot-assisted hysterectomy (the surgical removal of the uterus). It is the second-most common surgical procedure for reproductive-aged women in the United States. Approximately one-third of all U.S. women will have a hysterectomy by the age of 60.
The urological application in robotic surgery is valued at around 1 billion USD. Robotic urological surgery can be used to treat several diseases and conditions, including prostate cancer, kidney cancer, kidney obstruction as well as kidney, ureter, and bladder reconstruction. A robotic prostatectomy operation, for instance, allows a surgeon to safely remove a cancerous prostate while avoiding nerves and muscles surrounding it. The benefits to patients include experiencing significantly less pain and blood loss and quicker recovery times. The robot-assisted prostatectomy, for example, requires 2-3 weeks to recover from traditional "open surgery" recovery time meanwhile may last for two months.
Surgical robotics end-users
Based on end-users, the robotic surgery market is fragmented into hospitals and ambulatory surgical centers. Hospitals dominate the end-user segment with 86% of the market share, worth around 4.6 billion USD. Hospitals as end-users have significant advantages, such as working conditions that allow improved focus and higher operational accuracy, as well as increased adoption of surgical robots. This leaves ambulatory surgical centers with a 14% share of the market.
Leading robotic surgery companies
Some of the companies among the key players in the surgical robot market include Medtronic, Zimmer Biomet Holdings, Smith & Nephew, and Intuitive Surgical. Compared to other leading companies offering surgical robotics, these four companies have yielded significantly high revenue during the two latest financial years.
1. Medtronic Plc
Founded: 1949
Legal headquarters: Dublin, Ireland
Operational headquarters: Minneapolis, Minnesota, USA
Revenue: 28.9 billion USD (2020)
Medtronic Plc is one of the biggest medical device companies in the world. With operations in over 150 countries, foreign sales generate nearly 50% of the total sales. The company acquired Mazor Robotics Ltd., an Israel-based spine surgery innovator, in 2018, and Digital Surgery, a London-based surgical A.I. company, in 2020. Medtronic (MDT) is traded on NYSE.
The four main business units of Medtronic consist of: the minimally invasive therapies group, the diabetes group, the restorative therapies group, and the cardiac and vascular group. The company's wide selection of products treats 70 health conditions, including cardiac devices, insulin pumps, surgical tools, and patient monitoring systems.
Medtronic currently offers the Mazor X Stealth Edition robotic guidance platform for spinal surgery, which was co-developed with the previously acquired Mazor Robotics. The platform consists of features such as customizable implant selection, optimal implant trajectories, and 3D analytics.
According to a Medtech Insight in 2020, Medtronic's in-house robotic-assisted platform Hugo RAS Surgery System is currently in development. However, its safety and effectiveness are yet to be established. The system is set to rival da Vinci SP by Intuitive Surgical, Inc. Medtronic is also looking to enhance the existing Mazor X robotic system.
2. Zimmer Biomet Holdings, Inc.
Zimmer Biomet Holdings, Inc.
Founded: 1927
Based in: Warsaw, Indiana, USA
Revenue: 8 billion USD (2019)
Zimmer Biomet Holdings, Inc. designs and manufactures orthopedic reconstructive implants, along with supplies and surgical equipment for orthopedic surgery. More than half of the company's revenue is generated from the sales of large joints, and an estimated 20% accounts for trauma & extremities, with the remaining sales mostly related to the spine and dental products. Zimmer Biomet (ZMH) is traded on NYSE.
The company's robotic solution, ROSA one, was designed to be surgeon-centric, accurate, and consistent. The ROSA Knee System is used to perform Total Knee Arthroplasty (TKA). The assisting features include bone resections, assessing soft tissues, and facilitating implant positioning.
The ROSA ONE Brain application is a dual platform offering both brain and spine modalities in one system, decreasing tech acquisition costs. It is used to assist in diverse neurosurgical procedures, such as stereo electroencephalography (SEEG), deep brain stimulation (DBS), stereotactic biopsy, as well as in ventricular and transnasal endoscopy.
3. Smith & Nephew plc
Smith & Nephew plc is a designer and manufacturer of orthopedic devices, sports medicine, ENT technologies, and wound-care solutions. Approximately half of the company's total revenue comes from the USA, around 30% is from other developed markets, and emerging markets account for the remainder. Smith & Nephew (SN) is traded on London Stock Exchange.
The company offers two types of handheld robotics: the NAVIO and CORI surgical platforms. They are both small and portable, hence ideal for ambulatory surgery centers.
2020 launched CORI platform is intended for knee & total knee arthroplasty. CORI comes with new camera tech (over four times faster than the older NAVIO platform) and offers more efficient cutting tech (twice the cutting volume).
CORI's handheld milling technique uses two control modes: exposure and speed control, which automatically adjust to execute patient-specific plans. The enhanced robotic software delivers image-free smart mapping of bone and cartilage. The software does not require C.T. or MRI.
4. Intuitive Surgical, Inc.
Founded: 1995
Based in: Sunnyvale, California, USA
Revenue: 4.5 billion USD (2019)
Intuitive Surgical, Inc is a developer, producer, and marketer of a robotic system that assists in minimally invasive surgeries (MIS). The company also provides disposable accessories, instrumentation, and warranty services for the system. Intuitive Surgical (ISRG) is traded on Nasdaq-GS.
The company's surgical platform da Vinci System has been installed in approximately 1,500 hospitals in the U.S. Additionally, more than 5,500 da Vinci Systems can be found in hospitals worldwide.
Intuitive Surgical offers three surgical system models to choose from:
Da Vinci Xi features the most advanced instrumentation, vision, and incorporated table motion.

Da Vinci X is the cost-conscious choice with Xi-model's architecture.

Da Vinci SP for narrow access surgery, with a single arm equipped with multi-articulated instruments and a 3DHD camera.
All three systems share the following components that vary depending on the model: a patient cart, a surgeon console, and a vision cart.
Robots have been used in to assist surgery since the 1980s. Surgical robots are mainly used in minimally invasive surgeries as they enable precise manipulation of surgical instruments beyond human ability in a small operation space. Robotic surgery offers better accuracy, precision, dexterity, tremor corrections, and scaled motion that translated into more successful surgeries.
If you want to know more about the robotics market and different applications, check out this article.
Further insights
Interested in the most detailed and up-to-date data about the global surgical robot market, different regions, individual countries, market players, applications, end user industries, prices etc.?
Get your free report Now!