What are collaborative robots? How are they different than industrial robots?
Collaborative robots, or cobots, are the latest robotics technology in industrial settings. Cobots, as the name suggests, are designed to share workspace and have direct interaction with humans. contrast to traditional industrial robot applications in which robots are isolated from human contact.

Cobots are also smaller than typical industrial robots which makes it easier for them to mimic human movement. Thanks to their advanced sensor, cobots can anticipate movements to seamlessly work together with humans.
To reach the desired application, cobots are often taught by example. An operator first controls the robot's movements to go through the steps of a specific task. The cobot then memorizes the movements and performs them again and again with perfect execution.
Global collaborative robots market value
The global collaborative robot market was valued at around USD 760 million in 2022 based on the latest research by Apollo Research Reports. Growing at an amazing 40.5% CAGR, the market is projected to hit USD 22.6 billion by 2032. The rest of the numbers in this article are based on Apollo Research Reports' study on the global collaborative market.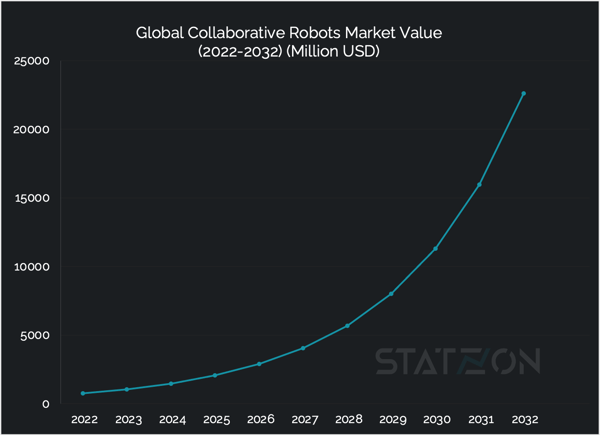 Source: Statzon/ Apollo Research Reports
By 2025, collaborative robots are predicted to represent around 10% of total industrial robot sales, but they are unlikely to have significant penetration in sectors with high speed and precision requirements and no need for human interaction, according to a prediction by Interact Analysis. When users engage with a cobot, its speed is slowed in order to embrace safety, the reason why cobots are often not suitable for applications that need great speed. Also, programming with hand guidance may be convenient, but it becomes dependent on human gestures, which may not be the best choice in all situations.
Key drivers for cobots market growth
Perhaps, the main driver for the market to grow is the technological shift aimed to transition from position-controlled robots that lack awareness of external forces, to torque-controlled robots and/or robots equipped with sensors capable of detecting the presence of humans and external forces. The shift requires the development of new robotic technologies that includes new actuators (especially variable-stiffness actuators), advanced sensors, new robot designs, control algorithms and peripherals.
In addition to this shift, cobots offer low capital investment and high ROI, making them more appealing than traditional industrial robots. Cobots also have a wider range of applications in the industry, as they can be easily repurposed and utilized for multiple activities. Moreover, cobots can be designed, implemented, and deployed more quickly than traditional industrial robots.
Europe has the biggest market share, but North America and APAC are catching up
Europe held the largest share of the collaborative robot market in 2022. Europe starts from a strong position in robotics. Many of the early adopters of collaborative robots were from European countries, in fact, the first commercial cobot was launched by the German company KUKA in 2004: the KUKA LBR iiwa.
Cobots market in Europe had a valuation of USD 286 million in 2022. The market is projected to attain a value of USD 6.7 billion by 2032, growing at a compound annual growth rate of 37.3%.
The North American cobots market was slightly behind Europe in terms of market value, lagging behind by USD 26 million. However, the market in North America is developing at a slightly quicker CAGR (39.5%) than that of Europe, eventually displacing Europe as the global leader by 2032 with a market value of USD 7.2 billion. North America and Europe are estimated to account for around 71% of the global cobot market.
It is also interesting to note that the cobot market in Asia Pacific is accelerating the highest CAGR of 47.3%.
Cobots payload capacity
The collaborative robots market is divided into three payload capacity categories: up to 5kg, up to 10kg, and above 10kg. In 2022, the "up to 5kg" segment dominated the market with 44% market share due to its lightweight, flexibility, and ability to handle collaborative tasks like picking, placing, and testing. First-time users usually prefer low payload capacity cobots, because they are more affordable and take up less space than robots with higher payload capacity.
Cobots with "up to 10kg" payload gained 35% in terms of market share while cobots with "above 10kg" payload gained 21%.
In June 2022, Universal Robots unveiled their latest innovation, the UR20 cobot that can carry payloads of up to 20 kg. The robot is designed to provide 30% more torque, 20 kg payload, and with a 1,750 mm reach. With faster, smaller wrists and design for uptime, the UR20 is intended to be both safer and more flexible. UR 20 is expected to reach the market by Q2 2023.
Cobots market segmented by application
Cobot application segments can be differentiated into eight different categories, according to Apollo Research Reports: material handling, assembly, welding and gluing, dispensing, pick & place, quality testing, machine tending, and others. Out of those, the assembly segment is the highest contributor to the cobot market, with USD 302 Million in 2022, and is anticipated to reach USD 8.8 billion by 2032. The market for this segment is encouraged by the automotive, metal and machinery, and eletronics industry that deal a lot with the assembly and disassembly of customized spareparts. The assembly segment controlled 40% share of the market in 2022.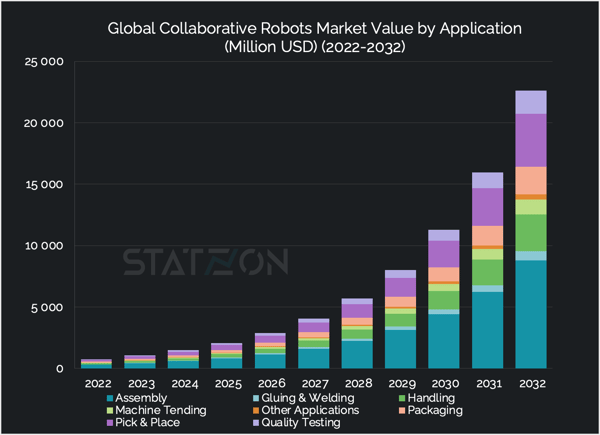 Source: Statzon/ Apollo Research Reports
The second biggest application segment in the market is pick and place with a 20% share of the total market in 2022, followed by handling (13%) and packaging (11%). The pick and place function is particularly useful for automating repetitive tasks that involve moving objects from one place to another, such as in manufacturing and logistics.
Machine tending and quality testing segments are expected to show major growth with a projected CAGR of approximately 42-43%. In 2022, machine tending accounted for 5% of the market share, while quality testing made up 7%.
Collaborative robot market by end-user
The manipulator arms and grippers on cobots are key components that allow them to perform a wide range of tasks. The arms are typically designed with several joints, allowing them to move in a similar way to a human arm. The grippers can be customized to handle different types of objects, such as small parts, food items, or delicate objects. This makes cobot a highly adaptable technology with a multitude of potential applications in various industries and settings, including healthcare, agriculture, food processing, construction, service robotics, and even household tasks.
However, industrial environments often offer a more structured and controlled environment that is better suited for the use of robots, in comparison with a home or other public places, because industrial settings typically involve repetitive tasks that can be easily automated, and the environment can be designed to meet the specific needs of the robot.
Automotive and furniture and equipment industries are the two important end-users of cobots each with 24% and 20% shares of the market, respectively. Cobots are utilized in the automotive sector not only by major vehicle manufacturers but also by numerous OEMs that sell automotive parts to these car makers. The automotive industry contributed USD 186 million to the overall value of the cobot market in 2022, while the furniture and equipment industry contributed USD 150 million.
Other big spenders for collaborative robots came from the metal and machinery sector, food and beverage, and electronics. Each of these sectors held 16%,13%, and 12% share of the market, respectively.
Top collaborative robot companies
Universal Robots is considered the most renowned company in the cobot industry, having introduced their initial cobot in 2008. As one of the largest providers of robots globally, they previously had a dominant market share, however, the market has since become more diverse with numerous new companies and startups entering the scene, resulting in intensified competition. FANUC, a prominent name in the industrial robot industry, began manufacturing collaborative robots in 2015, despite being renowned for their traditional robots. Likewise, other major players in industrial robotics, such as ABB, KUKA, and Yaskawa, have now developed their own range of cobots.
In the start-up category, we have Rethink Robotics which has a mission of creating safe, affordable, and easily deployed solutions for the collaboration between humans and robots. This was first materialized in 2012 with the Baxter cobot. There's also Techman, a relatively new entrant but already a leader in the combination of cobot and vision technology.
Other established players in the market include Doosan, Locus Robotics, AUBO, and Stäubli, among others. The cobot market is highly competitive with key players vying for a larger market share through both organic and inorganic strategies, such as business expansions, product launches, partnerships, collaborations, and acquisitions.
Sources: Statzon, Robotics247, europa.eu, Interact Analysis, Techbriefs