Global collaborative robots market value
The global collaborative robot market was valued at around 1.2 billion USD in 2021 based on Statzon aggregated data. Also, in the same year, the sales volume of cobots reached a total of 32.300 units. The market value experienced a significant increase from the previous year, and this trend is expected to continue in the future with a 40% CAGR during the next five years.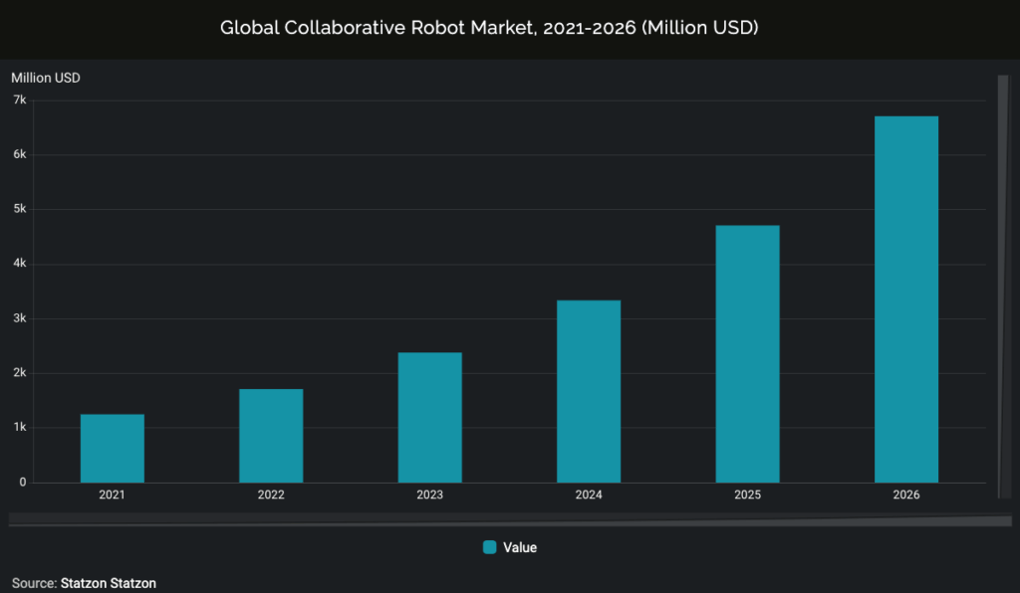 Key drivers for cobots market growth
The demand for automation is a key driver for the industrial robot market to grow. This also applies to the cobots market. But cobots offer low capital investment and a high ROI, making them more attractive than traditional industrial robots. Cobots also have a more comprehensive range of applications in the industry. They can be easily repurposed and utilized for multiple activities. They can also be conceived, implemented, and deployed more quickly than regular robots.
The adoption of new digital industrial technologies such as 5G, industrial IoT, and many others also contribute to the fascinating growth of the cobots market.
North America has the most significant market share but is faced with rapid growth from the APAC region.
North America and Europe combined are expected to account for about 62% of the global cobot market. American and European manufacturing companies were the early adopters of cobots by introducing Industry 4.0 manufacturing principles. North America controls 33% of the global market share in 2021, followed by Europe in the second position with a market share of 29%. However, Asia Pacific is the fastest-growing region, where growth stems from factors such as a growing need for automation and increased demand throughout diverse industries. The top 5 fastest emerging markets are all coming from Asia, with India expected to have the most rapid growth.
Cobots market share by application and end-users
The Cobots application market segment is usually differentiated into six categories: material handling, assembling and disassembling, welding and soldering, dispensing, processing, and others. Out of the six, material handling and assembling & disassembling categories are the most common type of applications, accounted for almost 50% of the market share.
Material handling cobots boost efficiency to produce greater quality at a faster rate. More companies are adopting these robots for various material handling purposes such as packaging, palettizing, pick and place, and machine tending. Assembly and disassembly applications are an everyday use of cobots in the automotive industry as cobots can manipulate assembly tools like a nut runner. They can also move materials to and from assembly stations using a special gripping attachment.The electronic and automotive industries are the two important end-users of cobots, with 32% and 18% shares of the market, respectively. Cobots are utilized in the automotive sector by major vehicle manufacturers and numerous OEMs that sell automotive parts to these car makers.
Cobots with payload capacity up to 5kg account for 45% of the market. However, cobots with a payload capacity between 5 to10kg are the fastest-growing segment until 2026. Advances in robotic hardware enable cobot companies to produce higher payload cobots with long reach without sacrificing accuracy, speed, or repeatability.
Universal Robots, the leading cobots manufacturer
There are more than 50 cobot manufacturers globally, but only a small number of the companies have so far deployed cobots on any meaningful scale level. Denmark-based Universal Robots is the clear market leader with a 52% market share. Universal Robots emphasized creating robots that are lightweight and, more importantly, very simple to program and reprogram by people who are not necessarily experts in robotic systems.
Other companies in cobot market have less than a 10% share of the market. FANUC and Techman Robotics each have an estimated 9% market share, whereas Rethink Robotics holds around 6%, AUBO Robotics 5%, and ABB 4%.
Collaborative robots – how are they different than industrial robots?
Collaborative robots, or cobots, are the latest robotics technology in industrial settings. Cobots, as the name suggests, are designed to share a workspace and have direct interaction with a human. Contrast to traditional industrial robot applications in which robots are isolated from human contact.
Cobots are also smaller than typical industrial robots, which makes it easier for them to mimic human movement. Thanks to their advanced sensor, cobots can anticipate movements to seamlessly work together with humans.
To reach the desired application, cobots are often taught by example. An operator first controls the robot's movements to go through the steps of a specific task. The cobot then memorizes the movements and performs them again and again with perfect execution.
If you want to know more about the robotics market and different applications, read our insight article about the robotics market
Interested in the global cobot industry in more details?
Download Statzon's FREE industry report now!
Get your free report now!