Global EV Outlook
International Energy Association (IEA) Global EV Outlook 2023 recorded over 10 million units of EVs sold in 2022, a 55% increase from 2021. Around 14% of all global car sales were electric in 2022 and EVs take 3.1% of all cars running on the world's roads, making the total number of EVs more than 25 million units globally.
China, Europe, and the US are the three main regions where EVs are more accessible compared to other parts of the world. E-mobility has not yet taken off in developing countries. One reason is that, until recently, EVs have been simply too expensive compared to ICEs. This has presented a significant obstacle to adoption, both for governments in developing countries attempting to switch their fleets to more sustainable options and for consumers considering purchasing personal vehicles.
The number of public charging points worldwide reached 2.7 million, with over 900 000 new installations, indicating a 55% increase in comparison to the previous year. This growth is comparable to the pre-pandemic growth rate, which was around 50% between 2015 and 2019.
Europe EV sales 2022
Europe has an ambitious goal to become a climate-neutral continent by 2050. In October 2022, The Council and the European Parliament reached a provisional political agreement aiming at a 100% carbon dioxide emission reduction target for new cars and vans by 2035. Although this legislation still needs to be approved formally to become law in the EU, approval by the Council and European Parliament is expected, with only minor changes.
Sales of new electric cars in Europe have been experiencing a consistent and impressive rise annually, starting from a modest 600 units in 2010 and reaching a remarkable milestone of one million in 2020. The momentum continued to surge in 2021, with Europe selling 2.3 million electric cars. Building upon this growth, the region saw a 13% increase in sales, reaching 2.6 million electric car units sold in 2022. Notably, the European Union accounted for a significant portion, with 76% of the total sales in 2022 occurring within its member countries.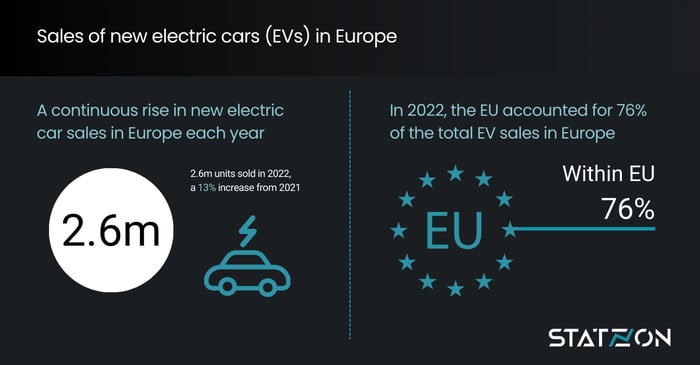 Source: Statzon/ IEA
In 2021, Europe experienced a notable upsurge in the adoption of electric vehicles, leading to a remarkable increase in their market share from 10% to 18% in just one year. Although electric vehicle sales continued to rise in 2022, the pace of market share growth appeared to slow down, with only a 3-percentage point increase compared to 2021.
From 2016 to 2021, Europe experienced the fastest annual growth rate in electric car sales among all regions, averaging at 61%. This surpassed China's rate of 58% and the US's rate of 32%. Nevertheless, when Europe's adoption rate seemed to slow down, China witnessed a remarkable surge in EV adoption in 2022, with the EV market share soaring from 16% to 29% within a single year.
Overall, there were about 7.8 million electric cars on European streets in 2022, more than four times the stock in 2019. The EU-27 accounted for 73% of the total stock.
BEVs constituted 44% of the total electric car stock, while the remaining portion belonged to PHEVs. In comparison, BEVs held a clear dominance in China and the US, accounting for over 80% and 70% of all electric vehicles in those respective countries. However, the sales of PHEVs experienced a decline from 1.1 million units in 2021 to 1 million units in 2022. Consequently, the proportion of PHEVs in overall electric car sales decreased from 48% in 2021 to 38% in 2022.
It is worth highlighting that despite PHEVs emitting lower emissions than conventional gasoline vehicles, they are often excluded from the majority of reports concerning electric cars or vehicles with lower emissions.
Public charging station availability
Most EV users usually install home EV charging stations. However, the number of publicly available charging stations have been increasing throughout the years to cope with the soaring market demand for electric vehicles.
In 2022, more than 600,000 public slow charging points were installed worldwide, with China accounting for 360 000 of them, resulting in a total of over 1 million slow chargers in the country. Europe claimed the second spot with a total of 460 000 slow chargers in 2022, marking a 50% increase from the previous year.
Regarding fast chargers, the global count saw a rise of 330 000 in 2022, with China contributing nearly 90% of the growth. In Europe, the overall stock of fast chargers surpassed 70 000 by the end of 2022, indicating a 55% increase compared to 2021. Projected data suggests that by 2025, approximately 1.3 million charging stations will be accessible to the public in Europe, with expectations of this figure expanding to 2.9 million by the year 2030.
According to information obtained from European Alternative Fuels Observatory (EAFO), the European Union (EU) had a total of 498 000 charging points by the end of Q1 2023. Out of this total, AC chargers accounted for a significant 89%, leaving the remaining 11% allocated to DC chargers. It's worth noting that ultra-fast chargers, with speeds surpassing 350kW, constituted less than 1% of the overall publicly available charging points.
In the first quarter of 2023, the Alternative Fuels Infrastructure Regulation (AFIR) underwent revision, establishing guidelines for the extent of electric vehicle (EV) charging availability throughout Europe. This regulatory update demonstrates a clear commitment to advancing public charging infrastructure development across the continent.
As an illustration, by 2025, the European Union's Member States are required to ensure the presence of a fast-charging station within a maximum distance of 60 kilometers in each direction along the main European routes. This directive emphasizes the importance of enhancing the accessibility of fast-charging facilities for EVs across key travel routes
The Netherlands leads the way in the implementation of electric vehicle (EV) charging infrastructure, closely followed by France and Germany. Italy and Spain also secure spots in the top 5 rankings. Notably, Spain experienced exceptional growth in its public charging infrastructure, with a remarkable 223% increase in 2022 compared to the preceding year.
Which countries in Europe have the most electric cars?
When it comes to the highest number of electric cars (both BEV and PHEV combined), Germany takes the lead in Europe, boasting over 1.9 million electric vehicles traversing its roads as of the end of 2022. France secures the second position with 990 000 units, while the United Kingdom drops to third place with 950 000 electric cars. Norway ranks fourth with 790 000 electric cars, followed by the Netherlands in fifth position with 530 000, and Sweden in sixth position with 440,000 electric vehicles.
Countries with the highest market share for new electric car sales in 2021 in Europe are Norway (88%), Iceland (70%), Sweden (54%), Denmark (39%), Finland (38%), the Netherlands (35%), and Germany (31%) followed by Belgium (26%), Switzerland (25%) and UK (23%).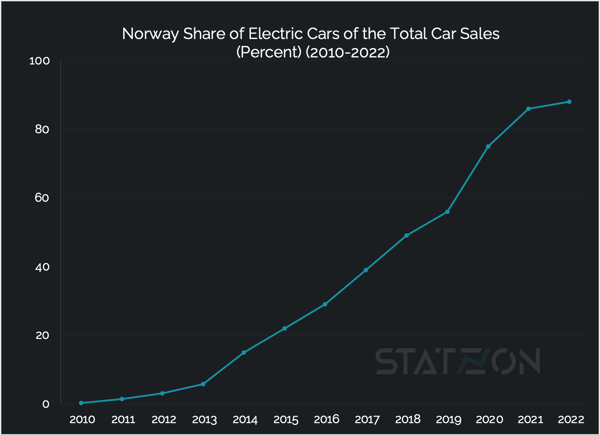 Source: Statzon/ IEA
In Norway, battery electric vehicles (BEVs) dominated the electric car market, representing an impressive 90% of total electric car sales in 2022. Germany emerged as the frontrunner in PHEV sales, with 360 000 units sold, representing a significant 43% share of all electric car sales in the country. Finland, on the other hand, saw PHEV sales reach a notable 52% of the overall electric car sales in 2022.
Which countries in Europe have the biggest EV charging network?
The Netherlands, France, and Germany are the top three countries with the highest penetration of public chargers (both slow and fast chargers combined), with each country having 124 300, 83 700, and 77 000 charger points, respectively, in 2022. In fact, the three countries account for more than 60% of all public charging points available in the EU. United Kingdom is in fourth place with 50 600 units, followed by Italy with 37 500 public charging points for the same year.
Italy has shown the biggest growth in charging infrastructure installation in 2022, with a significant increase of 69% from 22 000 units to 37 500 units of charging points in the country. This indicates a positive trend towards the adoption of electric vehicles in Italy and a commitment to developing the necessary infrastructure to support them.
Following Italy, France, the Netherlands, and Austria have also made significant strides in expanding their charging infrastructure networks. France recorded a growth of 54% from 2021 to 2022, while the Netherlands and Austria both experienced a growth of 49% during the same period.
Norway boasts the highest ratio of public fast charging points compared to the total number of publicly available charging points within the country. Out of approximately 24,000 public charging points in Norway, 38% of them are dedicated fast charging points.
Electric bus market share
Europe's efforts to electrify its public transport fleet face a considerable gap compared to China's impressive achievements. While Europe has set ambitious goals for zero-emission transportation, China has surged ahead by adding a staggering 54 000 new electric buses to its fleet in 2022, bringing the country's total to over 770 000 electric buses. In stark contrast, Europe's acquisition of electric buses in 2022 amounted to less than 5 000 units. Although Europe experienced a notable growth rate of 62% in electric bus sales from 2020 to 2021, the momentum slowed down considerably with a growth rate of only 21% from 2021 to 2022. Closing the gap between Europe and China's electrification efforts in the public transport sector remains a significant challenge on the path to achieving sustainable and zero-emission transportation.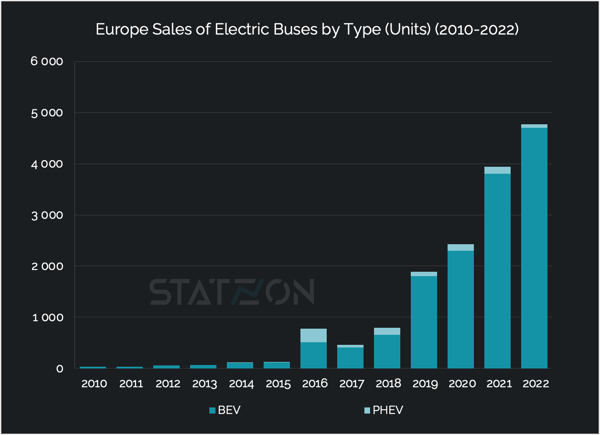 Source: Statzon/ IEA
Certain countries demonstrated varying degrees of success in the adoption of electric buses. Finland stood out with an impressive 67% sales share of electric buses, indicating a significant shift towards electrification in its bus fleet. Similarly, Norway showcased a remarkable commitment to decarbonizing its bus fleet, as its share of electric bus sales skyrocketed from 9% in 2021 to an impressive 44% in 2022.
Some other countries such as Greece, Iceland, and Austria still have below 3% share for the sales of electric buses in 2022, still a long way to go to comply with the Clean Vehicles Directive that mandates at least 41 percent of bus acquisitions made by 31 December 2025 must be clean vehicles for the EU country members.
EV market outlook for Europe
Europe's future holds immense importance as it strives to maintain its leading position as a leader in zero emission movement. A significant milestone is anticipated to be achieved by 2025, with an expected count of 13 million BEVs on European roads. Subsequently, STEPS projection estimates a stock of 37 million BEVs in Europe by 2030, indicating a substantial surge in EV adoption across the continent.
The next monumental shift is predicted to occur by 2035, as 100% of newly sold cars in Europe are expected to be electric. This signifies a transformative moment for the automotive industry, emphasizing the accelerated transition towards sustainable transportation.
In parallel, the development of charging infrastructure is a crucial aspect of facilitating the widespread adoption of EVs. The EV Charging Masterplan proposes the installation of a total of 6.8 million public chargers for passenger cars, 0.7 million for LCVs, and 0.1 million for trucks and buses by 2030. Future projections demonstrate that the numbers outlined in the EV Charging Masterplan are not only ambitious but also highly feasible. STEPS conservative projection indicates a total of 9.6 million charging points in Europe by 2030, and the more progressive APS projection estimates over 10 million charging points, demonstrating the determination to build an extensive and reliable charging network across the continent.
Sources: Statzon/ IEA EV data
Electrifying the Future: A Comprehensive Handbook on the EV Market
Some highlights from the handbook:
How Much Cleaner Is E-Mobility Compared To Conventional Transport Mode?
Barriers To EVs' Adoption
China Dominates The Global Electric Bus Market
Asia Pacific Leads The Global Electric Scooter Market, But Europe Shows The Strongest Growth Potential
Us And China Racing To Top Position on Autonomous Vehicles
Which Countries In Europe Have The Most Electric Cars?