Global EV Outlook
EEA Global EV Outlook 2022 recorded 6.6 million units of EVs sold in 2021, double the amount from the previous year, a record in EV sales history. Almost 10% of all global car sales were electric in 2021 and EVs take 1,4% of all cars running on the world's roads, making the total number of EVs close to 16.5 million globally.
China, Europe, and the US are the three main regions where EVs are more accessible compared to other parts of the world. E-mobility has not yet taken off in developing countries. One reason is that, until recently, EVs have been simply too expensive compared to ICEs. This has presented a significant obstacle to adoption, both for governments in developing countries attempting to switch their fleets to more sustainable options and for consumers considering purchasing personal vehicles.
Publicly accessible chargers worldwide approached 1.8 million charging points in 2021, a third of that number were fast chargers. Nearly 500 000 chargers were installed in 2021, which is more than the total number of public chargers available in 2017.
Europe EV sales 2021
Europe has an ambitious goal to become a climate-neutral continent by 2050. In October 2022, the Council and the European Parliament reached a provisional political agreement aiming at a 100% carbon dioxide emission reduction target for new cars and vans by 2035. Although this legislation still needs to be approved formally to become law in the EU, approval by the Council and European Parliament is expected, with only minor changes.
Europe has been witnessing a steady increase in the number of new electric car sales annually, from 600 in 2010 to about 1,061,000 units in 2020.
In 2021, Europe experienced a notable boost in the adoption of electric cars and vans, in which sales of electric cars reached almost 1.7 million units, a 50% increase from 2020. This led to a rise in EV sales share from 10% to 17% in just one year.
Between 2016 and 2021, EV sales in Europe grew at 61% per year on average, which was the highest in any region in the world. This growth rate is higher than that of China, which had a CAGR of 58%, and the US, which had a CAGR of 32%.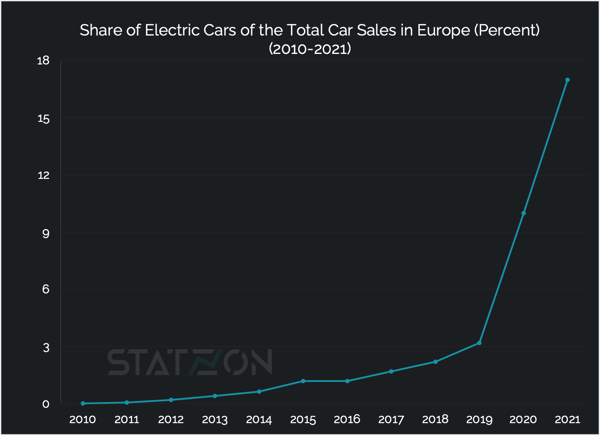 Source: Statzon / International Energy Agency (IEA)

Overall, there were about 5.5 million electric cars on European streets in 2021, tripling the stock of 2019. BEVs accounted for 55% of all electric car stock while the rest was attributed to PEVs. As a comparison, BEVs are clearly dominating in China and US with 80% and 65% share, respectively, out of the total electric car stock in those two countries.
Non-plug-in hybrids took up around 19% of the total sales of new cars in 2021. These cars use both a traditional gasoline engine and an electric drive system, but they are powered exclusively by gasoline. Although they produce lower emissions compared to gas-only vehicles, they are not included in most reports about electric cars or lower-emission cars.
Public charging stations availability
Most EV users usually install home EV charging stations. However, the number of publicly available charging stations has been increasing throughout the years to cope with the soaring market demand for electric vehicles.
Europe had over 370 000 publicly available charging points in 2021. The number is expected to grow to 1.3 million by 2025 and 2.9 million by 2025.
Slow chargers accounted for around 300 000 of all publicly available charger points in 2021. The availability of public fast chargers is a lot less, but this type of charger is being rolled out much faster. There will be close to 50 000 units of fast chargers in 2021, 30% more than in the previous year. On average, the European Union offers five fast public chargers for every 100km and one public charging point per 7.5 EVs.
Source: Statzon / International Energy Agency (IEA)
A 2014 EU-appointed commission mandated a ratio of 10 EVs per public charging point (PCP) and most countries within the EU already fall under that recommendation. Countries like the Netherlands, Spain, Lithuania, and Italy reached a ratio of 5 EVs or less per PCP. Sweden and Finland will need to improve their situation since they still exceeded 10 EVs per PCP in 2021.
Which countries in Europe have the most electric cars?
Germany leads in terms of numbers with more than 1.3 million electric cars roaming the country's roads for the year 2021. The United Kingdom is in second place with 750 000 units, followed by France (720 000), Norway (630 000), the Netherlands (390 000), and Sweden (300 000).
Countries with the highest market share for new electric car sales in 2021 in Europe are Norway (86%), Iceland (72%), Sweden (43%), Denmark (35%), Finland (31%), the Netherlands (30%), and Germany (26%) followed by France (19%), Italy (9%) and Spain (8%).
BEVs accounted for 65% of new car sales in Norway for 2021. PHEV sales share was the highest in Iceland (36%), Sweden (25%), and Norway (22%).
The Netherlands, Germany, and the United Kingdom are the top three countries with the highest penetration of public chargers, with each country having 85 000, 54 000, and 51 000 units, respectively, in 2021. Italy is in fourth place with 22 000 units, followed by Norway with almost 20 000 units of public chargers for the same year.
In terms of fast charging, the top five countries with the highest number of public fast charging points are Germany with 9200 units, the United Kingdom with 7700 units, Norway with 6 200 units, France with 4 500 units, Spain with 2600 units, and the Netherlands also with 2600 units.
Electric bus market share
Transitioning to electric public transport is often considered the initial step towards a more environmentally friendly transportation system. Despite an ambitious zero-emissions goal, Europe is still way behind China when it comes to electrifying the public transport fleet. China acquired 86 000 new electric buses for their fleet in 2021, making it a total of over 650 000 electric buses in the country. All European Union countries combined only had around 9000 units in 2021, based on a report by ICCT. But growth looks promising for Europe. Sales of electric buses reached 3000 in Europe for the year 2021, a 67% increase from the previous year. Although the sales share of electric buses in Europe is still relatively small, around 10% in 2021, this will change soon, with many European countries committed to reaching 100% zero-emission bus fleets by 2035.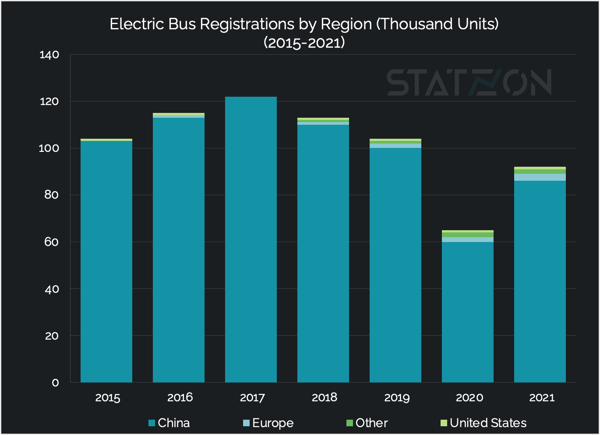 Source: Statzon / International Energy Agency (IEA)
Some countries are doing better than others in 2021, such as Finland with its 50% sales share of electric buses, the Netherlands with 45%, and Denmark with 35%. Some other countries such as Greece and Portugal still have below 2% share for the sales of electric buses in 2021, still, a long way to go to comply with the Clean Vehicles Directive that mandates at least 41 percent of bus acquisitions made by 31 December 2025 must be clean vehicles for the EU country members.
Europe's CO2 emissions from new passenger cars
Passenger cars are responsible for 12% of CO2 release in Europe, and total domestic transport makes up 22% of greenhouse gas emissions in the continent. EU regulation sets a fleet-wide target of 95 g/km for 2020-2024. This target will get even stricter for 2025-2030.
The average emissions from new passenger cars registered in Europe slightly increased in 2017-2019, up to 122.3 g/km, but then fell to 107.5 g/km in 2020 but picked up again in 2021 to reach 114.7 g/km for EU-27 + Norway. This is still above the 95 g/km target set in 2020. Only several countries kept their emissions from new passenger cars to stay below the target.
In 2021, the average CO2 emissions from new passenger cars in the Netherlands were 95.1 g/km, 92,6 g/km in Denmark, 88.3 g/km in Sweden, and 80.3 g/km in Iceland. The rapid adoption of electric cars is the main reason these countries have such low emissions levels. Norway set a ground-breaking record with an average CO2 emission of only 27.6 g/km. The country's sales share of electric cars is 86% for the year 2021.
Also in 2021, automakers faced a momentous change. This is the first year manufacturers' CO2 performance was determined using the WLTP instead of the New European Driving Cycle (NEDC). The Worldwide Harmonized Light-Duty Vehicles Test Procedure, or WLTP is seen as a more precise depiction of consumption and emissions during everyday usage, considering the specific vehicle model, equipment, and options.
The 2020 fleet-wide target of 95 g/km over the NEDC was converted to manufacturer-specific WLTP targets based on manufacturers' average vehicle mass and average WLTP to NEDC CO2 emissions ratio in 2020. Flexible compliance mechanisms, such as super-credits and eco-innovation credits, were also translated to WLTP in 2021. Based on this new calculation, the European Environmental Agency data shows the average CO2 emission from new passenger cars is 115 g/km, which is 16 g/km lower than the previous year.
According to EU legislation, manufacturers can act individually or group together as pools to meet their CO2 emission targets. All manufacturer pools appeared to have met their 2021 targets except for two pools, Mazda-Subaru-Suzuki-Toyota and Renault-Nissan-Mitsubishi, that required flexible compliance mechanisms to do so.