Which countries in Europe have the most electric cars?
When it comes to the highest number of electric cars (both BEV and PHEV combined), Germany takes the lead in Europe, boasting over 1.9 million electric vehicles traversing its roads as of the end of 2022. France secures the second position with 990 000 units, while the United Kingdom drops to third place with 950 000 electric cars. Norway ranks fourth with 790 000 electric cars, followed by the Netherlands in fifth position with 530 000, and Sweden in sixth position with 440,000 electric vehicles.
Countries with the highest market share for new electric car sales in 2021 in Europe are Norway (88%), Iceland (70%), Sweden (54%), Denmark (39%), Finland (38%), the Netherlands (35%), and Germany (31%) followed by Belgium (26%), Switzerland (25%) and UK (23%).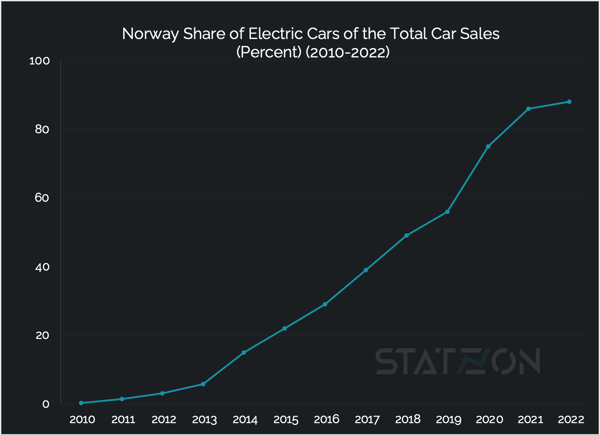 Source: Statzon/ IEA
In Norway, battery electric vehicles (BEVs) dominated the electric car market, representing an impressive 90% of total electric car sales in 2022. Germany emerged as the frontrunner in PHEV sales, with 360 000 units sold, representing a significant 43% share of all electric car sales in the country. Finland, on the other hand, saw PHEV sales reach a notable 52% of the overall electric car sales in 2022.
Which countries in Europe have the biggest EV charging network?
The Netherlands, France, and Germany are the top three countries with the highest penetration of public chargers (both slow and fast chargers combined), with each country having 124 300, 83 700, and 77 000 charger points, respectively, in 2022. In fact, the three countries account for more than 60% of all public charging points available in the EU. United Kingdom is in fourth place with 50 600 units, followed by Italy with 37 500 public charging points for the same year.
Italy has shown the biggest growth in charging infrastructure installation in 2022, with a significant increase of 69% from 22 000 units to 37 500 units of charging points in the country. This indicates a positive trend towards the adoption of electric vehicles in Italy and a commitment to developing the necessary infrastructure to support them.
Following Italy, France, the Netherlands, and Austria have also made significant strides in expanding their charging infrastructure networks. France recorded a growth of 54% from 2021 to 2022, while the Netherlands and Austria both experienced a growth of 49% during the same period.
Norway boasts the highest ratio of public fast charging points compared to the total number of publicly available charging points within the country. Out of approximately 24,000 public charging points in Norway, 38% of them are dedicated fast charging points.
Electric bus market share
Europe's efforts to electrify its public transport fleet face a considerable gap compared to China's impressive achievements. While Europe has set ambitious goals for zero-emission transportation, China has surged ahead by adding a staggering 54 000 new electric buses to its fleet in 2022, bringing the country's total to over 770 000 electric buses. In stark contrast, Europe's acquisition of electric buses in 2022 amounted to less than 5 000 units. Although Europe experienced a notable growth rate of 62% in electric bus sales from 2020 to 2021, the momentum slowed down considerably with a growth rate of only 21% from 2021 to 2022. Closing the gap between Europe and China's electrification efforts in the public transport sector remains a significant challenge on the path to achieving sustainable and zero-emission transportation.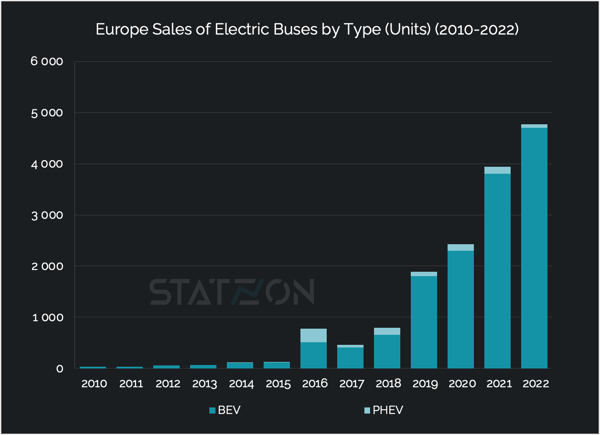 Source: Statzon/ IEA
Certain countries demonstrated varying degrees of success in the adoption of electric buses. Finland stood out with an impressive 67% sales share of electric buses, indicating a significant shift towards electrification in its bus fleet. Similarly, Norway showcased a remarkable commitment to decarbonizing its bus fleet, as its share of electric bus sales skyrocketed from 9% in 2021 to an impressive 44% in 2022.
Some other countries such as Greece, Iceland, and Austria still have below 3% share for the sales of electric buses in 2022, still a long way to go to comply with the Clean Vehicles Directive that mandates at least 41 percent of bus acquisitions made by 31 December 2025 must be clean vehicles for the EU country members.
EV market outlook for Europe
Europe's future holds immense importance as it strives to maintain its leading position as a leader in zero emission movement. A significant milestone is anticipated to be achieved by 2025, with an expected count of 13 million BEVs on European roads. Subsequently, STEPS projection estimates a stock of 37 million BEVs in Europe by 2030, indicating a substantial surge in EV adoption across the continent.
The next monumental shift is predicted to occur by 2035, as 100% of newly sold cars in Europe are expected to be electric. This signifies a transformative moment for the automotive industry, emphasizing the accelerated transition towards sustainable transportation.
In parallel, the development of charging infrastructure is a crucial aspect of facilitating the widespread adoption of EVs. The EV Charging Masterplan proposes the installation of a total of 6.8 million public chargers for passenger cars, 0.7 million for LCVs, and 0.1 million for trucks and buses by 2030. Future projections demonstrate that the numbers outlined in the EV Charging Masterplan are not only ambitious but also highly feasible. STEPS conservative projection indicates a total of 9.6 million charging points in Europe by 2030, and the more progressive APS projection estimates over 10 million charging points, demonstrating the determination to build an extensive and reliable charging network across the continent.
Sources: Statzon/ IEA EV data