Europe EV charging station market
Europe is currently ranked second to China in terms of e-mobility. However, China's statistics far exceed those of Europe and any other region in the world. In 2021, China had already installed 1.2 million EV charger points, whereas Europe couldn't even reach half of that number in 2022. Overall EV charging station market reached USD 8.4 billion in China, in 2021. In Europe electric vehicle charging station market was valued at USD 3.4 billion for the same year. Despite this, Europe's EV charging infrastructure market is booming at a rate that surpasses China's.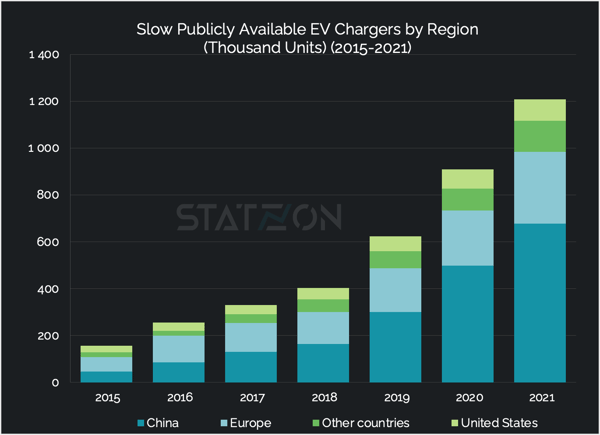 Source: Statzon/ IEA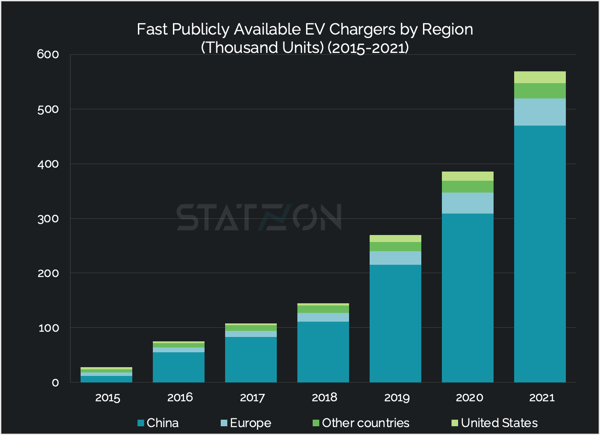 Source: Statzon/ IEA
There are things that China did a lot earlier than others to make EVs and EV charging infrastructure ubiquitous in the country. The Chinese government began subsidizing electric car sales in 2010 and also enforced a standard plug for EV charging, which led to the high adoption of EVs. Europe has recently drafted some ambitious targets for EVs to align with its "Fit 55 Package", the EU's initiative to reduce emissions by at least 55% by 2030 (compared to 1990 levels). Emissions from the transport sector have been rising since the 1990s, accounting for nearly 20% of total EU GHG emissions.
The European Parliament aimed high in October 2022 by voting for a regulation on alternative fuels infrastructure (AFIR) to ensure a smooth transition to renewable zero-carbon fuel. The regulation highlights the need to increase the power level of public charging, stimulate fast charging deployment, and enable swift deployment of electric charging infrastructure for heavy-duty vehicles.
Where do people charge their electric cars?
Residential charging
In Europe, 70% of EV charging occurs at home or work, where charging outlets have lower power output and longer charging durations, resulting in lower costs. This makes charging at home and work the most economical option for EV customers. However, providing charging solutions for residents living in apartment buildings, which represent 46% of EU inhabitants, can be challenging, as reported in ChargeUp Europe's State of the Industry 2022 publication. The main obstacle is the shared parking garages, which receive electricity from the common area meter, making it difficult to install personal EV chargers. In addition, local regulations often prohibit direct connections between charging stations in parking garages and corresponding flats. The ongoing revision of the Energy Performance of Buildings Directive (EPBD) presents an opportunity to address this issue.
Almost 80% of residential EV chargers in Europe (90% if we include Benelux) were sold in DACH (Germany, Austria, Switzerland) and France corresponding with the existing distribution of EVs in these countries.
Residential EV chargers are AC chargers with charging power between 7.4 and 22 kW. Each charging point receives more than four charging sessions per week, totaling an average of 100 kWh/week. Higher than 95% of home charging sessions take place between 12 pm and 8 am.

Workplace charging
It's critical to offer workplace charging, especially for individuals without access to a home charger. Nordic countries and France have the highest share of workplace charging at 60% combined, followed by Benelux and DACH. Workplace chargers usually offer AC charging with a capacity of 22 kW. Despite its significance, workplace charging constitutes less than half of the total residential charging units.
Each workplace charging point receives more than eight charging sessions on average for each week, totaling 400 kWh/ week. Around 75% of workplace charging sessions happen between 8 am and 4 pm, with the remaining 25% happening between 4 pm and 12 am.
Public charging
Public charging options include AC and DC charging points. The majority of publicly available charging infrastructure are AC charging stations with a maximum of 22 kW power. Countries with a high density of charging points tend to offer more AC chargers than DCs.
The latest data from European Alternative Fuel Observatory (EAFO) recorded over 479 000 public charging points in European Union in 2022, with a distribution of 12% DC chargers and 88% ACs. There are more than 420 000 AC chargers in 2022, a 54% increase from the previous year. DC chargers saw a 90% increase as the number grows from around 30 000 in 2021 to 57 000 in 2022.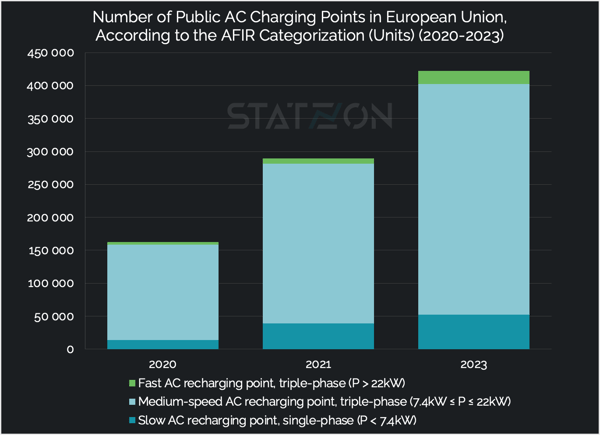 Source: European Alternative Fuels Observatory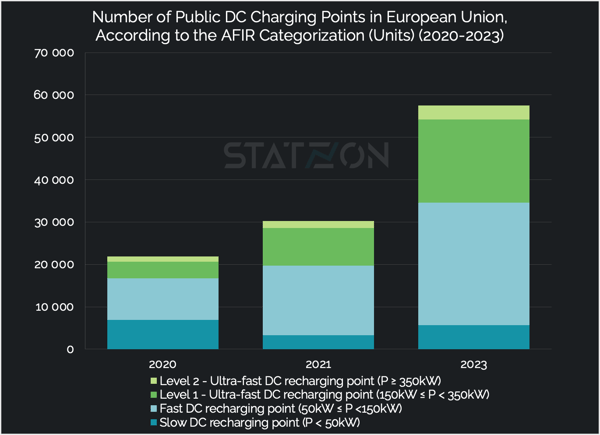 Source: European Alternative Fuels Observatory
Charging points can also be categorized as "fully" public or "semi-public". Fully public charging points are typically found on the street or along highways and are available 24/7. Semi-public charging points are located on private property and have access restrictions, such as limited hours or the required use of associated facilities. Examples include charging points in car parks, underground garages, supermarkets, and hotels.
A recent study by GridX recorded a total of 137 258 charging stations across 28 countries (25 EU countries plus Norway, UK, and Switzerland). Most of these stations (46%) have two charging points. This is followed by charging stations with four charging points (19%), then one and three charging points as the third most common (10%). Only 14% of stations have five or more chargers, and only 1% can serve 20 or more vehicles simultaneously.
A few stations have 100 charging points or more. But these stations are exceptions, certainly not the norm, as only 0.03% of charging stations fall into this category. 0.15% of stations provide 50 or more charging points.
Uneven distribution of

charging infrastructures
ACEA's findings published in June 2022 revealed a disparity in the distribution of public EV charging points across the EU. In 2021, half of the charging infrastructure is located in just two countries, the Netherlands and Germany, which make up only 10% of the EU's land mass, leaving the remaining 90% to share the remaining 51.2% of charging infrastructure.
The situation slightly changed in 2022. While the Netherlands and Germany still host nearly 40% of all public chargers in the region, other countries have begun to catch up with their deployments. Nevertheless, the issue of disparity still persists, albeit to a lesser extent.
ACEA's data also points to a clear divide between western and eastern Europe, with western Europe enjoying huge advantages in terms of infrastructure compared to its eastern counterpart. This notion is backed by a gridX report on EV charging infrastructure. Measuring the number of charging points per 100 000 people, gridX's data estimated an average of 92 charging points per 100,000 inhabitants across 28 European countries. However, more than half of the countries in the research do not reach that ratio.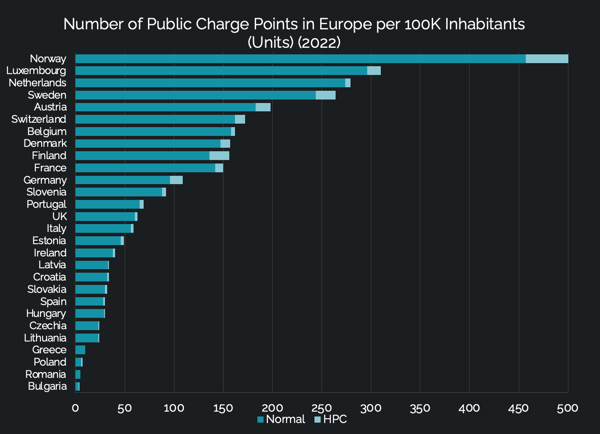 Source: Statzon/ gridX
Norway, Luxemburg, the Netherlands, Sweden, and Austria as the top 5 countries with the best infrastructure providing 538, 310, 279, 265, and 198 charging points, respectively, per 100 000 inhabitants. Countries with less than 92 charging points on average are mostly located in the eastern and southern parts of Europe with Poland, Bulgaria, and Romania having less than 10 charging points per 100 000 inhabitants.
12 countries in the eastern and southern parts of the region noticeably indicate delayed e-mobility progress. All of them have less than 300 EVs or less than 60 CPs per 100 000 inhabitants. These countries are Italy, Estonia, Croatia, Latvia, Hungary, Czechia, Spain, Latvia, Lithuania, Greece, Poland, and Romania.
The unequal distribution of EV infrastructure correlates with a discrepancy in the adoption of EVs between affluent and less affluent European countries. Four western European nations with high GDPs, namely Sweden, the Netherlands, Finland, and Denmark, account for nearly 75% of electric car sales in the EU. The remaining quarter of sales is spread across 23 member states.
Countries with a GDP of EUR 46 000 or more are expected to have a 15% or higher market share of EV sales, whereas countries with an average GDP of below EUR 17 000 are likely to have a market share of less than 3%, 2021 data shows. The fact that the average EV price has risen certainly could slow down the rate of EV adoption in lower-income countries. The average price of EVs in Europe climbed up from EUR 48 942 (USD 48 757) in 2015 to EUR 55 821 (USD 55 610) in 2022.
Are there enough EV charging points in Europe?
EV sales have been growing a lot more ambitious than the deployment of charging infrastructure. At the end of 2022, Europe has close to 2 million EVs, a 17-fold increase since 2016, paired with a 6-fold increase in charging point quantity since 2016. It's evident that the deployment rate of infrastructure is falling far behind the exploding demand for EVs.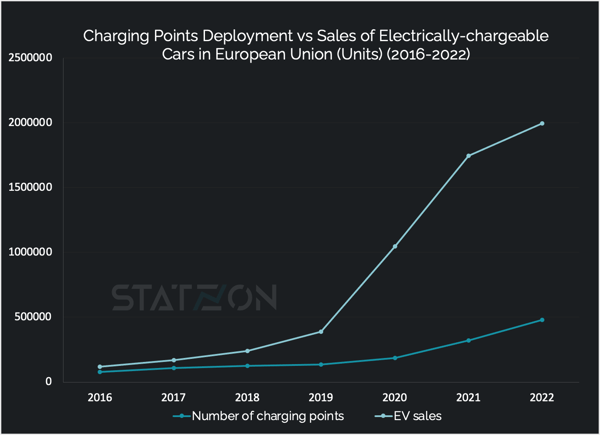 Source: ACEA
An analysis from McKinsey suggests that the European Union will need at least 3.4 million operational public charging points by 2030 to enable a complete switch from ICEs to EVs. This figure includes 2.9 million public chargers for passenger cars, 0.4 million for light commercial vehicles, and 0.1 million for trucks and buses. It does not include the estimated 29 million residential and workplace chargers.
An average of 6 000 public charging stations per week would need to be deployed throughout the EU from 2021-2023 to achieve this target and with only 1600 installations per week in 2021, according to McKinsey, the EU is currently way behind the target rate. We have around 407 weeks left until the end of 2030, with 2.9 million charging points to be installed. The two countries with the fastest public charging installation pace in the EU are France (400/ week in 2021) and Germany (200/ week in 2021), still, they would need to speed up their pace in the future.
More charging points, more grid power
Major improvements to the grid system will be required for proper distribution of electricity to the millions of new charging stations in the future. According to McKinsey's estimation, EVs electricity demand could potentially rise from nine terawatt hours (which is less than 1% of EU total electricity consumption) in 2021 to 165 terawatt hours in 2030. Even though EV-specific electricity demand is predicted to increase by nearly 40% annually, it is only taking up about 6% of the total electricity consumed in the EU.
The Electric Vehicle Charging Infrastructure Masterplan
Does McKinsey analysis seem feasible? Or is it too ambitious?
Actually, the analysis was provided for the European Automobile Manufacturers' Association (ACEA) which then developed a proposed guideline called The Electric Vehicle Charging Infrastructure Masterplan. This masterplan lays out an even more aggressive deployment target for the EU to achieve the Fit 55 Package. It covers all EU-27 countries and various vehicle types with a focus on access to charging infrastructure and driving range for electric vehicles (passenger cars, light commercial vehicles (LCVs), trucks, and buses). An estimation of EUR 280 billion needs to be invested by 2030 to install charging points, upgrade the power grid, and build renewable energy capacity for EV charging. The total investment will go up to approximately EUR 1 000 billion by 2050 for a complete transformation to electric road mobility in all EU member countries.
In accordance with the Fit 55 Package, the 2030 goal is to reduce passenger cars' and LCVs' emissions by 55% and emissions from trucks and buses by 30%. To achieve this goal, EV share should be ramped up to 17% for passenger cars, 13% for LCVs, and 3.5% for trucks/buses. That's an estimated 42.8 million EVs (BEVs and PHEVs), 4.4 million electric LCVs, and 0.3 million electric trucks and buses on the road by the end of 2030.
A rapid rollout of charging infrastructure is crucial to realize this goal. An imbalance in the number of charging points and EVs would only hinder customers from leaving ICEs behind. The EV Charging Masterplan recommends a total of 6.8 million public chargers for passenger cars, 0.7 million for LCVs, and 0.1 million for trucks and buses should be installed by 2030. This means that deployment rates must increase from less than 2,000 public charging points per week in 2021 to over 23 000 per week in 2030, with an average deployment of 14 000 per week between 2021 and 2030. A lot higher than McKinsey's 6 000 installations per week recommendation.
Market share distribution between EV charging operators
The biggest charging operators in Europe are active in multiple countries, with the top 10 running their business in at least 6 countries (except for Aral Pulse, which is branded as BP plus in four countries). Some of these companies are included in Statzon's Top EV Hottest Charging Companies list.
The EV maker, Tesla, wins the market share when it comes to charging capacity. A leader in fast charging networks, Tesla is well known for its 480-volt Supercharger that can charge with a speed of up to 250 kW. Towards the end of 2022, Tesla celebrated a milestone of 10 000 Supercharger installations in Europe. gridX estimated 2070 MW of charging capacity was supplied by Tesla in 2022 in Europe. That's around 13.1% of the total demand in Europe for Tesla only, with no other operators reaching a 5% share of the market.
IONITY and EnBW stand in second and third place with 697 MW and 580 MW charging capacity, respectively, in 2022. Way below Tesla's number. Previously criticized for limiting its network to its customers only, Tesla now starts to open some of its Supercharger stations to all EVs. More market share for Tesla can be expected from this practice.
The market is less concentrated when the number of charging points determines the share. Although Tesla is still in the number one place with around 19 000 charging points in gridX's research of 28 European countries, its market share is only 4.1%. Enel X and Virta are right behind Tesla, each with a 3.2% share of the market.
Sources: Statzon, ACEA (1), ACEA (2), ACEA (3), EAFO (1), EAFO (2), McKinsey, Jato, gridX
Electrifying the Future: A Comprehensive Handbook on the EV Market
Some highlights from the handbook:
How Much Cleaner Is E-Mobility Compared To Conventional Transport Mode?
Barriers To EVs' Adoption
China Dominates The Global Electric Bus Market
Asia Pacific Leads The Global Electric Scooter Market, But Europe Shows The Strongest Growth Potential
Us And China Racing To Top Position on Autonomous Vehicles
Which Countries In Europe Have The Most Electric Cars?