Are there enough EV charging points in Europe?
EV sales have been growing a lot more ambitious than the deployment of charging infrastructure. At the end of 2022, Europe sold close to 2 million BEVs, a 17-fold increase since 2016, paired with a 6-fold increase in charging point quantity since 2016. It's evident that the deployment rate of infrastructure is falling far behind the exploding demand for EVs.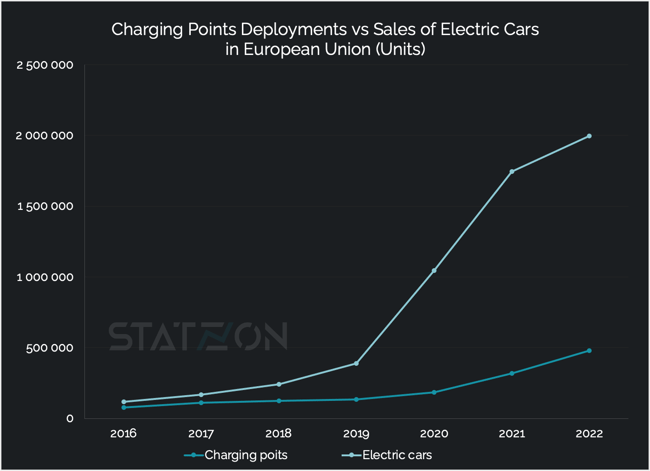 Source: ACEA
An analysis from McKinsey suggests that the European Union will need at least 3.4 million operational public charging points by 2030 to enable a complete switch from ICEs to EVs. This figure includes 2.9 million public chargers for passenger cars, 0.4 million for light commercial vehicles, and 0.1 million for trucks and buses. It does not include the estimated 29 million residential and workplace chargers.
An average of 6,000 public charging stations per week would need to be deployed throughout the EU from 2021-2023 to achieve this target and with only 1,600 installations per week in 2021, according to McKinsey, the EU is currently way behind the target rate. We have around 407 weeks left until the end of 2030, with 2.9 million charging points to be installed. The two countries with the fastest public charging installation pace in the EU are France (400/ week in 2021) and Germany (200/ week in 2021), still, they would need to speed up their pace in the future.
More charging points, more grid power
Major improvements to the grid system will be required for the proper distribution of electricity to the millions of new charging stations in the future. According to McKinsey's estimation, EV electricity demand could potentially rise from nine terawatt hours (which is less than 1% of EU total electricity consumption) in 2021 to 165 terawatt hours in 2030. Even though EV-specific electricity demand is predicted to increase by nearly 40% annually, it is only taking up about 6% of the total electricity consumed in the EU.
The Electric Vehicle Charging Infrastructure Masterplan
Does McKinsey analysis seem feasible? Or is it too ambitious?
Actually, the analysis was provided for the European Automobile Manufacturers' Association (ACEA) which then developed a proposed guideline called The Electric Vehicle Charging Infrastructure Masterplan. This masterplan lays out an even more aggressive deployment target for the EU to achieve the Fit 55 Package. It covers all EU-27 countries and various vehicle types with a focus on access to charging infrastructure and driving range for electric vehicles (passenger cars, light commercial vehicles (LCVs), trucks, and buses). An estimated EUR 280 billion needs to be invested by 2030 to install charging points, upgrade the power grid, and build renewable energy capacity for EV charging. The total investment will go up to approximately EUR 1,000 billion by 2050 for a complete transformation to electric road mobility in all EU member countries.
In accordance with the Fit 55 Package, the 2030 goal is to reduce passenger cars' and LCVs' emissions by 55% and emissions from trucks and buses by 30%. To achieve this goal, EV share should be ramped up to 17% for passenger cars, 13% for LCVs, and 3.5% for trucks/buses. That's an estimated 42.8 million EVs (BEVs and PHEVs), 4.4 million electric LCVs, and 0.3 million electric trucks and buses on the road by the end of 2030.
A rapid rollout of charging infrastructure is crucial to realize this goal. An imbalance in the number of charging points and EVs would only hinder customers from leaving ICEs behind. The EV Charging Masterplan recommends a total of 6.8 million public chargers for passenger cars, 0.7 million for LCVs, and 0.1 million for trucks and buses should be installed by 2030. This means that deployment rates must increase from less than 2,000 public charging points per week in 2021 to over 23,000 per week in 2030, with an average deployment of 14,000 per week between 2021 and 2030. A lot higher than McKinsey's 6,000 installations per week recommendation.
Market share distribution between EV charging operators
The biggest charging operators in Europe are active in multiple countries, with the top 10 running their business in at least 6 countries (except for Aral Pulse, which is branded as BP Plus in four countries). Some of these companies are included in Statzon's Top EV Hottest Charging Companies list.
As per 2022 data, Tesla, the EV maker, wins the market share when it comes to charging capacity. A leader in fast charging networks, Tesla is well known for its 480-volt Supercharger that can charge with a speed of up to 250 kW. Towards the end of 2022, Tesla celebrated a milestone of 10,000 Supercharger installations in Europe. gridX estimated 2,070 MW of charging capacity was supplied by Tesla in 2022 in Europe. That's around 13.1% of the total demand in Europe for Tesla only, with no other operators reaching a 5% share of the market.
IONITY and EnBW stand in second and third place with 697 MW and 580 MW charging capacity, respectively, in 2022. Way below Tesla's number. Previously criticized for limiting its network to its customers only, Tesla now started to open some of its Supercharger stations to all EVs. More market share for Tesla can be expected from this practice.
The market is less concentrated when the number of charging points determines the share. Although Tesla is still in the number one place with around 19,000 charging points in gridX's research of 28 European countries, its market share is only 4.1%. Enel X and Virta are right behind Tesla, each with a 3.2% share of the market.
| | | |
| --- | --- | --- |
| Operator Name | Charge Points (CP) | CP Share |
| Tesla | 19,807 | 4.1% |
| Enel X | 15,664 | 3.2% |
| Virta | 15,457 | 3.2% |
| Allego | 14,635 | 3.0% |
| EVBox | 13,632 | 2.8% |
| FreshMile | 9,783 | 2.0% |
| Vattenfall | 8,573 | 1.8% |
| Be Charge | 7,867 | 1.6% |
| Threeforce | 7,533 | 1.6% |
| Mer | 7,333 | 1.5% |
Sources: Statzon, ACEA (1), ACEA (2), ACEA (3), EAFO (1), EAFO (2), McKinsey, Jato, gridX