Global EV sales increased by 60% to reach 10.3 million in 2022, up from 6.5 million in 2021. China continued to lead in sales, as 6 million EVs were sold in the country. Meanwhile, Europe and the US tracked behind, logging sales of 2.6 million and 800,000 EVs, respectively.
In the first half of 2023, 6 million new BEVs and PHEVs were sold, marking a 40% rise from the first half of 2022. Of these, 4.27 million were BEVs and 1.76 million were Plug-in Hybrids. July's preliminary data indicates a 40% growth. Notably, China's EV sales growth rate slowed to 37% in the first half of 2023 from a high of 82% the previous year. Meanwhile, sales in Western and Central Europe rose 28% in the first half of 2023, up from a 15% increase in 2022. The US and Canada reported a 50% growth in EV sales until June 2023 compared to the same period in 2022. Elsewhere, while starting from a smaller base, EV sales doubled. The overall vehicle market also rebounded, with Europe leading the way with a 17% increase in the first half of the year. Globally, the light vehicle market for the first half of 2023 was up by 11% from 2022, but it's still 5 million units behind the average of 2015-2019.
EV sales share in the United States
EV sales share in the US hit 5.8% in 2022, up from 3.2% in 2021, with total EV sales surpassing 800,000 for the first time. This is an important milestone, as many experts believe the EV adoption rate will be slow and sporadic until it reaches 5%. As stated by BloombergNEF, the 5% tipping point for electric vehicle adoption is based on observations of other markets, such as China and Europe. These markets saw a three to four-times acceleration in EV adoption after surpassing the 5% threshold.
Closing the mid-year of 2023, BEVs constituted 7.2% of total passenger vehicle sales in the US. An estimated 470,000 electric vehicles were sold in the US in the first half of this year. Cox Automotive, the parent company of Kelley Blue Book, forecasts that EV sales in the US will reach 1 million for the first time in 2023, driven by new government incentives and the launch of new EV products. With this increase, the share of EVs in the US market is expected to rise further.
How many EVs are on the roads in the United States
Despite the increase in EV sales, EVs still account for less than 1% of all vehicles in the US. The country has over 284 million light-duty vehicles (passenger cars and light trucks), which includes an estimated 2.8 million EVs. Therefore, EVs only make up 0.99% of the entire US vehicle fleet.
Average EV price in the United States
By the end of 2022, the average price of a new EV sold was USD 61,448, which marked a considerable reduction of 5.5% from November's average EV transaction price of USD 65,042. However, when compared to December 2021, the decrease in the average price paid for a new EV was only 0.6%.
The downward trend continued in 2023. By February, the average cost of a new EV had reached USD 58,385, marking a 1.8% dip from the prior month. Come June, there was a notable decrease of nearly 20% in the average EV price compared to the same month in the previous year. With market leader Tesla at the forefront of this trend, the average EV price further decreased to USD 53,376 by August.
Tesla's major price reductions significantly impacted the market, given its 60% share of the US EV sector. The average transaction prices for Tesla dipped by USD 977, marking a 1.6% drop from January 2023 and a 5.9% decline from February 2022. By April 2023, Tesla offered an electric vehicle for under USD 40,000 for the first time in a while: the Model 3 Standard Range RWD, whose price decreased from USD 41,990 to USD 39,990. This move seems to be Tesla's response to a diminishing incentive, as this particular Model 3 variant experienced a federal tax credit reduction from USD 7,500 to USD 3,750. The lower prices likely contributed to higher sales volumes for Tesla. The company sold 336,892 units of BEVs at the end of Q2 2023 in comparison to 259,790 for the same period last year, indicating a 29.7% YoY growth.
Despite the decline in price, EV price point is still above the average price of cars in general (USD 48,451) but lower than the average price of a luxury car which stood at USD 64 107 in August 2023.
Should sales maintain their upward trajectory and prices continue to decrease, US EV sales are poised to breach the 1 million mark in 2023, as predicted by Cox Automotive. However, premium vehicles will lead these sales since the availability of cost-effective EVs isn't expected to see a significant surge this year.
Tesla's market share decline
Tesla's market share is reduced to 65% in 2022, from 72% in 2021. By mid-2023, this figure further declined to 60.5%, as reported by the Kelley Blue Book Electric Vehicle Sales Report. Despite these shifts, Tesla continues to be the dominant force in the US EV market. Chevrolet, its closest competitor, accounted for just 6% of total EV sales in the first half of 2023. Yet, it's evident that Tesla faces emerging challenges from new entrants offering comparable or even more advanced technology.
Within Tesla's range of models, the Model Y stands out with the highest sales growth at 52.9% in comparison to sales during H1-2022.
Ford Motor emerged as the third-largest player, accounting for 4.6% of the total sales, followed closely by Hyundai and Rivian, each with a 4% and 3.7% share, respectively. For a brand as new as Rivian, securing a spot in the top 5 is remarkable. Their focus on adventure-driven vehicles, especially the R1T pickup and R1S SUV, appears to have resonated well with many consumers. Genesis saw a sharp 998% sales boost in the US, driven by the introduction of the electrified versions of the G80 and GV70 models this year. Previously criticized for falling behind in the electrification of its lineup, the German automaker launched three models in 2022, the BMW i4 sporty, the BMW iX crossover, and BMW i7 large sedan, racking up over 15 000 BEV sales in the US, or about 1.9% share of the total EVs sold in 2022.
ELECTRIC VEHICLE (BRAND)

H1 SALES

H1 SHARE

2023

2022

YOY

2023

Audi

10,090

8,029

25.70 %

1.80 %

BMW

17,964

4,125

335.50 %

3.20 %

Brightdrop

298

155

92.30 %

0.10 %

Cadillac

2,316

-

-

0.40 %

Chevrolet

33,659

7,303

360.90 %

6.00 %

Ford

25,709

22,979

11.90 %

4.60 %

Genesis

2,559

233

998.30 %

0.50 %

GMC

49

371

-86.80 %

0.00 %

Hyundai

22,176

18,915

9.80 %

4.00 %

Jaguar

133

268

-50.40 %

0.00 %

Kia

13,075

18,885

-30.80 %

2.30 %

Lexus

1,117

-

-

0.20 %

Lucid

2,970

942

215.30 %

0.50 %

Mazda

66

319

-79.30 %

0.00 %

Mercedes

16,370

4,050

304.20 %

2.90 %

Mini

1,286

1,245

3.30 %

0.20 %

Nissan

9,429

7,622

23.70 %

1.70 %

Polestar

5,177

3,696

40.10 %

0.90 %

Porsche

3,162

4,449

-28.90 %

0.60 %

Rivian

20,586

5,694

261.50 %

3.70 %

Subaru

2,972

-

-

0.50 %

Tesla

336,892

259,790

29.70 %

60.50 %

Toyota

3,659

232

-

0.70 %

Vinfast

850

-

-

0.20 %

Volvo

7,695

3,970

93.80 %

1.40 %

VW

16,448

4,415

272.50 %

3.00 %

Total (Estimates)

556,707

377,687

47 %

100 %

Toyota

1,722

715

140.80 %

Hyundia

105

166

-36.70 %

Honda

-

154

-100.00 %

Total EV & FCEV (Estimates)

558,534

378,722

47.10 %
Source: Kelley Blue Book
California leading the US EV revolution
Known as a state with a great emphasis on environmental issues, California is paving the way for the future of electric vehicles in the United States. In 2022, EVs made up 18.8% of all new cars sold in California, which is almost one in every five cars sold. In comparison, EV sales were 5.8% of all U.S. car sales in 2022.

In April 2023, California marked a significant milestone by celebrating the cumulative sales of 1.5 million ZEV (Zero Emission Vehicles), achieving this feat two years ahead of projections. This accomplishment signals that the state's electrification efforts are robustly underway. During the second quarter of 2023, the State reported that one out of every four new cars sold was a ZEV, setting a noteworthy record. To date, California has recorded sales of more than 1.6 million EVs, constituting 34% of all EV sales nationwide. The next target set by the state is to have 5 million ZEVs on its roads by 2030.
Way ahead of any other state, California has set a ground rule in August 2022 that will force car owners to switch from ICE to zero-emission vehicles (ZEVs). This regulation mandates 35% of vehicle sales to be zero-emission in 2026, increasing to 100% in 2035.

Plug-in hybrids (PHEVs) can be used to meet compliance obligations but are capped at 20% of ZEV sales and must have a minimum all-electric range of 30 miles in 2026, increasing to 50 miles in 2029. Other essential components of this proposed regulation are vehicle durability and battery warranty requirements that will give more assurance to those who have doubts about EVs.
As other states plan to adopt similar regulations, the influence of California's mandate will likely expand beyond state lines and influence around 30%-40% of the US market.
Following California, Oregon and Washington hold the largest market shares for EV sales among the states, each achieving over 15% of electric vehicle sales out of total new car sales (based on Q1 data), Hawaii is closely trailing with approximately a 15% share (also based on Q1 data). In total, around 10 states in the country have surpassed a 10% market share for rechargeable vehicles, and 18 states have exceeded a 5% market share. BEV is the majority of ZEV sold in all the markets.
How many EV chargers are there in the United States?
Approximately 80% of electric vehicle charging takes place at home, but access to reliable and convenient workplace and public charging stations is crucial in supporting EV customers. By the end of 2022, the US had approximately 136,000 charging ports, based on the data provided by Gen Consulting Company. At the time of this writing (2023 Q3), there are roughly 152,000 EV charging ports available in over 58,000 stations across the country.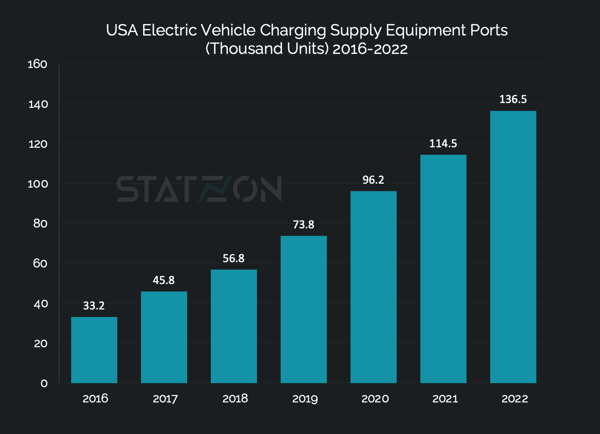 Source: Statzon/ Gen Consulting Company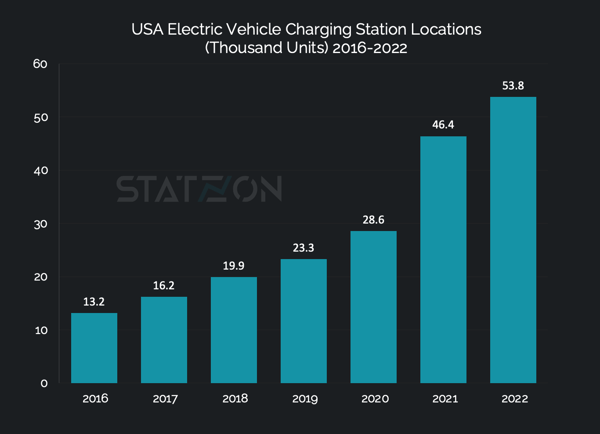 Source: Statzon/ Gen Consulting Company
Most of the charging ports available are Level 2 chargers, which account for 76% of all public charging ports in the US. DC fast chargers make up around 23%, with the majority (63%) of these fast chargers on the Tesla network and, therefore, only accessible to Tesla drivers.
There are currently more than 21,000 Tesla Superchargers in the US that can add about 200 miles of range to a Tesla vehicle in 15 minutes. Tesla already provides converters for non-Tesla electric cars to use their Superchargers in Europe and is also planning to bring this feature to the US.
Level 1 chargers can still be found in some public charging facilities. However, they are not very common and make up less than 1% of all charging points.
Nearly one-third of the nation's public charging infrastructures are in California. The state has the most significant number of EV charger points by volume (42,000), far outpacing the rest of the country. New York, ranked second, has less than one-fourth the number of EV chargers as California. However, when the size of the state is accounted for, Vermont emerges as the winner. A much smaller state compared to California, which also has a significant focus on environmentalism, the state has the highest number of EV charging ports per person based on 2022 data, with 140 EV chargers per 100,000 residents, followed by California (105) and Massachusetts (71).
Charging infrastructures outside urban areas are not getting enough attention currently. Although EV adoption is slow in these areas, it's still important to have enough charging stations there. Around 85% of Level 3 (fast) chargers and 89% of Level 2 (regular) chargers are located within US Metropolitan Statistical Areas (MSAs), areas with a high density of population. The same can be said about the Tesla charging network. 82% of its Superchargers (fast) and 83% of its destination chargers (regular) are located within MSAs.
Does the United States have enough EV chargers?
US EV market share for new vehicles is likely to reach 30% or more by 2030, at which point the total number of EVs in operation could reach 26.4 million. The Edison Institute generated these numbers by aggregating many other forecasts from different organizations (e.g.: Deloitte, Boston Consulting Group, Guidehouse, Wood Mackenzie).
Approximately 12.9 million charging ports will be needed to support the 26 million EVs projected to be on US roads in 2030. This would be a mix between home charging, workplace charging, and public facilities with a composition of 74% (9.5 million ports) home and multifamily Level 2 charging, 9% (1.2 million ports) workplace level 2 charging, 16% (2 million ports) public level 2 charging, and 1% (140 000 ports) public DC fast charging as reported by S&P Global Mobility.
While DC fast charging ports make up only 1% of the EV charging infrastructure needed in 2030, these charging stations are vital and should become a top priority for policymakers, third-party charging providers, and electric companies. However, they are also much more costly than lower-powered Level 2 stations, often costing hundreds of thousands of dollars per station.
Top EV charging companies in the United States
Combining the number of charger ports and locations across all levels of EV chargers, ChargePoint ranks well above all other networks and is easily the largest EV charging network in the US, accounting for 39% of all US public charging ports. Currently, ChargePoint is managing over 52,000 charging ports spread across 28,000 locations in the US.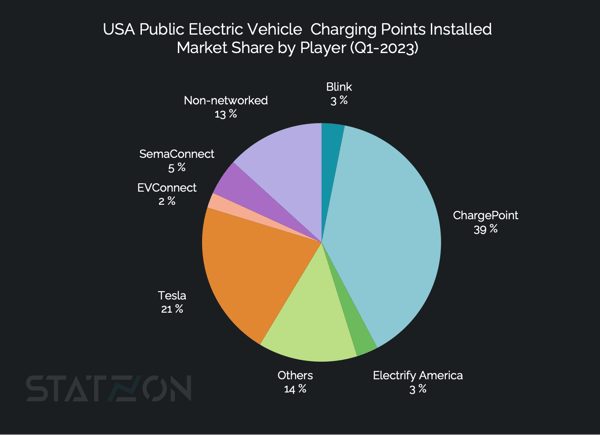 Source: AFDC
Tesla is in the number two spot for the overall charging network, but it dominates the DC fast charging market. Tesla Supercharger is currently available to Tesla drivers only, yet Tesla has the highest number of EV sales compared to other automakers, therefore, the network caters to a big proportion of EVs on the road.
Tesla Supercharger network is known for having the fastest and smoothest charging experience. With 18,000 superchargers spread over 1700 locations, Supercharger accounts for 61.7% of total DC fast charger ports in the US.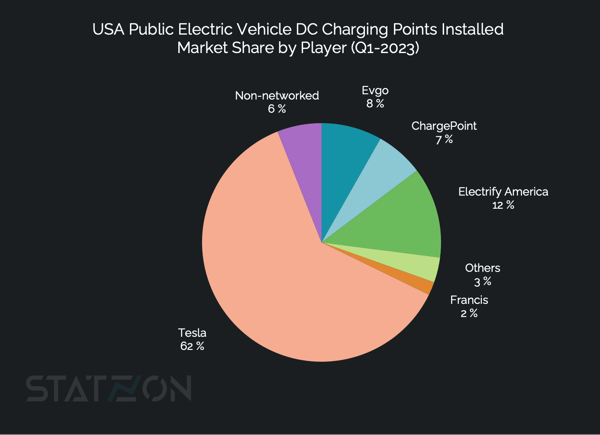 Source: AFDC
Taking into account both regular charging, also known as Destination charging, and the Supercharger network, Tesla charging network has a share of 21% of all charging points available in the US, with ownership of 28,000 charging ports spread over 5,800 different locations.
Following Tesla is SemaConnect with a 4.9% share, Blink with 3.1%, Electrify America with 2.9%, and EV connect with 2.1%. The rest 13.4% of the market is distributed to many other smaller operators, and another 13.2% is in "Non-networked" category.
In the fast charging segment, Electrify America is in second place with a 12.3% share, EVgo is in third place with 8.2%, ChargePoint came fourth with 6.5%, and Francis is in fifth place with a 1.8% share. Around 1000 ports (3.3% share) belong to the "Non-networked" category, and another 6% of the share goes to many other networks.
Source: Statzon, Kelley Blue Book (1), Kelley Blue Book (2), Kelley Blue Book (3), WSJ, AFDC (1), AFDC (2), Alliance for Automotive Innovation, Copilot, SP Global Mobility, CA.gov, EVAdoption, EEI, electreck.co, CleanTechnica, COX Automotive, insideevs (1), insideevs (2), ev-columes.com