Value of Robot Vacuum Cleaner Market
Robot vacuums have become a standard fixture in many households. These robots are easy to use, small, thus easy to store, and have become more affordable. Robotic vacuum cleaners' global market value is estimated to be around USD 2.7 billion in 2022, according to a market study by Apollo Research Reports. This number is forecasted to grow to USD 12.9 billion by 2032, registering a 17.2% growth annually over the forecast period 2023-2032. Factors propelling this growth include the rising interest in smart home systems, an increase in pet ownership, higher disposable incomes, and the declining costs of these devices.
Innovations in the robotic vacuum sector are significantly driving its expansion. These devices now feature advanced navigation and mapping technologies that enhance the efficiency of cleaning. Improved battery life translates to longer cleaning cycles without the need for human input. Enhanced suction power, along with new mopping functionalities, allow them to undertake a broader array of cleaning tasks.

In 2023, the price range for popular robot vacuum models is typically $200-$400, with premium models like the iRobot Roomba S9 retailing between USD 1,000 - USD 1,100​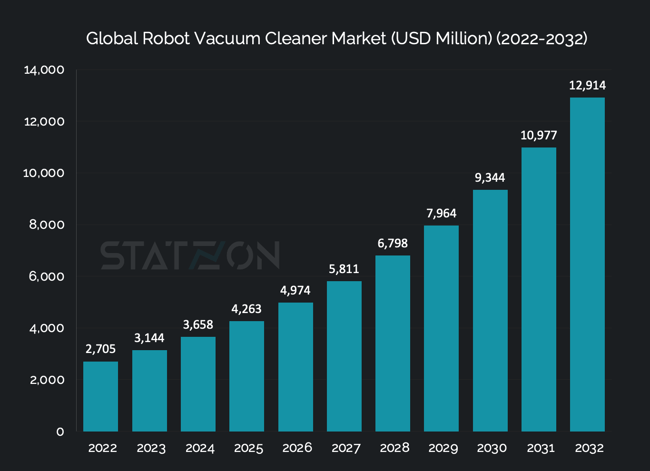 Source: Statzon/ Apollo Research Reports
Robot Vacuum Market Segmentation
Robot vacuums are differentiated into floor and pool vacuum cleaners. 78% of all robot vacuums in the market are floor vacuum cleaners. Reducing household chores is the main driver for people to buy these robots.
Retail stores are the preferred distribution channel for robotic vacuums, with around 70% of total robot vacuums being distributed in stores, and the rest, 30%, are sold through the online channel. However, the rise of social media marketing and e-commerce will encourage the growth of the online distribution channel.
Robot vacuums are more prominent in APAC than in any other regional market. APAC contributed around 37% of the total market share in 2022. South Korea, Japan, Singapore, and China are the four most lucrative markets. Meanwhile, North America and Europe took around 30% and 28% of the market, respectively.
Top Robot Vacuum Cleaner Brands
As of the most recent figures, the current market share of US-based iRobot Corp, the makers of the iconic Roomba vacuum, remains unreported, with the last known data from 2020 showing a market dominance of 46%. This was a decrease from 64% in 2016, largely due to the rise of Chinese competitors like Ecovacs and Roborock. iRobot's revenues in 2022 reflected these challenges, with a significant decline across various regions: 43% in EMEA, 18% in the U.S., and 6% in Japan.
Despite iRobot's strong market presence in North America and other regions, it faces its stiffest competition in Eastern Europe and the Asia-Pacific (APAC) region. Ecovacs, Roborock, and Xiaomi are notable market players in APAC. Ecovacs, in particular, has seen a remarkable growth, with their market share climbing from 7% in 2014 to 17% in 2020.
Chinese companies like Ecovacs are not only seizing a larger market share but also capturing the industry's innovation front, offering cutting-edge features at competitive prices. The total market value of Ecovacs has reached about CNY 44 billion, which is five times that of iRobot. As Chinese brands expand globally, they are working to enhance consumer trust and recognition, all while benefiting from the advantages of mass production and a growing domestic market in China.
In a notable development, Amazon has modified its merger agreement with iRobot, with the acquisition price adjusted to $51.75 per share, down from $61.00. Additionally, iRobot has secured a $200 million financing facility to support its operations amid this highly competitive market. The completion of Amazon's acquisition of iRobot is still pending regulatory approvals and the finalization of the amended merger agreement by iRobot's shareholders
Sources: Statzon global data on robotic vacuum cleaners, iRobot, Business Wire, Min News , amazon.com, Nikkei Asia, costhelper