Cities are increasingly adopting more electric buses with a deadline to phase out fossil fuel buses in the future. Nearly 25% of registered buses in 2021 were zero-emission, according to new data from Transport & Environment. Countries like Denmark, New Zealand, and The Netherlands have already set for 100% zero-emission bus procurements by 2025, while Costa Rica has a long-term goal to reach 100% bus fleet electrification by 2050.
The global market for electric buses reaches USD 19.2 billion in 2022, based on an estimation by Apollo Research Reports. This number will grow at an annual rate of 13.3%, the market size will hit USD 66.5 billion by the end of the forecast period in 2032. Another market evaluation from The Insight Partners gives a more promising forecast. According to their research, the global market for electric buses is growing at 20.2% CAGR during the forecast period of 2021 to 2028. The market was valued at USD 29 billion in 2021 and is growing to reach USD 105 billion by 2028.
Other than the increasing government initiative to decarbonize public transportation fleets, the falling price of batteries has accelerated the adoption rate of electric buses by cities and countries. Batteries make up 40% of the cost of electric buses. With the cost of lithium-ion battery packs expected to go down by 52% between 2018-2030, the high initial cost to develop an electrified transport fleet can be reduced, and the growth of the electric bus market will be encouraged.
China dominates the global electric bus market
APAC is touted as the leading region in the global electric bus market by both Apollo Research Reports and The Insight Partners. Based on data provided by The Insight Partners, APAC gained USD 26 billion in market value during the year 2021, and this number will grow to USD 96 billion by 2028, registering an 18.9% CAGR.
China alone contributed USD 24 million to the region's overall market value in 2021. In terms of market share, China is dominating the market both regionally and globally, controlling over 80% of the global market share, which will be maintained by the country throughout the forecast period.
China has made remarkable progress in rolling out new energy buses (NEB), mostly consisting of battery electric buses. By the end of 2020, 54% of the country's bus fleet will be electrified, and several cities like Shenzhen, Tianjin, and Zhengzhou, to name a few, have achieved 100% of bus fleet electrification.
The shift from conventional fossil fuel-based vehicles to electric buses has made a positive difference in China. Once known as one of the most polluted cities, Beijing's air and water quality have significantly improved. The number of days with heavy pollution in the Chinese capital was down to 10 in 2020 from 43 in 2015, a drop of nearly 80% in pollution.
In Europe, the market is accelerating slightly faster. Growing at a 21.6% CAGR, the highest among other regions, Europe market value is expected to increase from USD 1,5 billion in 2021 to USD 5,8 billion by 2028. New registrations of zero-emission buses outnumbered gas in almost every part of Europe in 2021. The EU Clean Vehicle Directive sets minimum quotas for purchasing new zero-emission public buses for its members, although the quotas are different from country to country. In most Western European countries, at least 22.5% of the total bus fleet should be zero emission by 2025, rising to 32.5% by 2030, for most countries within the EU, according to a 2021 report published by ING with the title "All Aboard Europe's Electric Bus Revolution".
North America is lagging behind APAC and Europe in the transition to electric buses. The region contributed USD 756 million to the global market in revenue, seizing around 2.6% of the total market share. The US, in particular, remains a long way from a complete transition to an electric fleet. The long lifespan of diesel buses is part of the problem. Most diesel buses last approximately 12 years, meaning it will take some time before they are up for replacement. Federal regulation also caps the number of buses that a transit agency may have, making it more difficult for them to add electric buses to their current fleets.
The region is catching up, focusing first on the country's iconic school buses. President Biden launched a plan to convert all 500,000 US school buses to zero-emission vehicles during his presidential campaign in 2020. Currently, school buses are run on diesel, but the limited daily mileage does not lead to significant savings, making a shift to electrification sensible.
As of June 2022, US school districts have committed to 12,275 electric school buses in 38 states, according to a report from the Washington, DC-based nonprofit World Resources Institute (WRI). The number is almost a 10-fold increase from August 2021 data when WRI began tracking school electric buses around the country.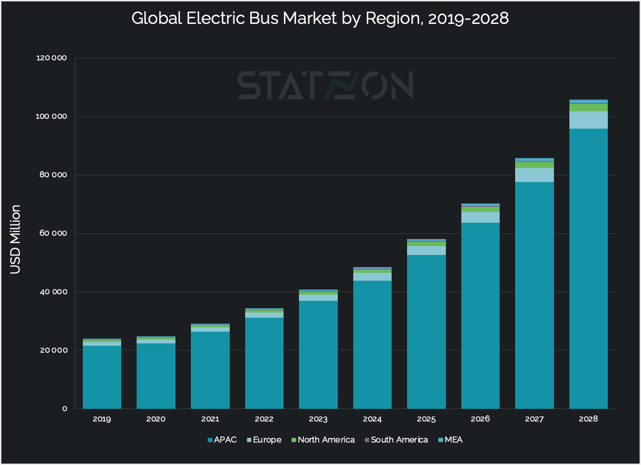 Electric bus market segmentation
The electric bus market is segmented based on vehicle type: battery electric buses, hybrid electric buses, and plug-in hybrid electric buses. The battery electric bus segment is the market leader, with more than 90% share in 2021. A higher acquisition cost of electric buses is justified because the overall cost is less expensive over the course of its lifetime. A fully electric bus also produces zero pipeline emissions compared to hybrids which sometimes run on fossil fuels. The hybrid electric bus and plug-in hybrid electric bus each gained a market share of 4% and 2% in 2021.
Segmentation by end-user is divided between the public and private sectors. The public segment held the largest revenue with 88% market share in 2021, while the private segment is anticipated to expand rapidly at a CAGR of 22.4% during the forecast period. Many private bus operators experienced setbacks during the Covid-19 pandemic. Now, as lockdowns are being lifted, the surge of migration and tourism activities will positively impact the private transportation industry.
The electric bus market is segmented based on length into less than 9m, 9−14 m, and above 14m. Throughout the forecast period, the 9–14 m segment will dominate the market with around 50% market share. This segment makes up most of the electric bus fleet of China as it is ideal for city transit in terms of size, passenger capacity, and battery consumption.
Sources:
Statzon, Transport & Environment, ICCT, Sustainable Bus, Transition China, Global Times, CGTN, ING, Autonomy Paris, Electrek, Interact Analysis