Autonomous vehicles have become one of the hottest topics in the automotive industry. Also known as self-driving cars, these vehicles are considered a breakthrough innovation with potential market. Although it's an emerging market, and a vision of a fully self-driving car without human intervention will not be fully realized in the next few years, the market is already growing and thriving.
The global autonomous vehicle market's value in 2021 was worth USD 87.6 billion and by 2030 will reach USD 614.9 billion at a 24.7% CAGR, according to market research conducted by Next Move Strategy Consulting. Robots services are already available in select markets but getting to a full-scale commercial launch is still challenging mostly due to the lack of technology and regulatory support. Fully automated driving is expected to still be limited in certain geographical and climate areas for at least the next decade.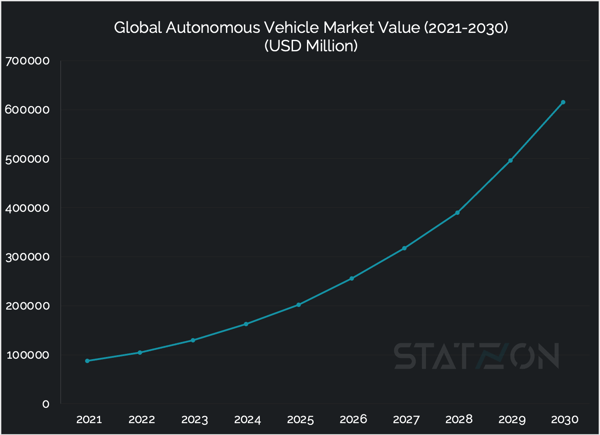 Autonomous vehicle market segmentations
By level of autonomous driving
In this segmentation, the autonomous vehicle market is classified into semi-autonomous and fully autonomous. Semi-autonomous means the responsibility for driving falls to the driver and the vehicle technology is used as a driver-aid and safety feature. This category includes Level 1 to Level 3 vehicles in the Society of Automotive Engineers (SAE) autonomous driving level. On the other hand, fully autonomous vehicles are capable of maneuvering without a human operator. These are Level 4 and Level 5 vehicles at SAE autonomous level.
The semi-autonomous segment is the highest contributor to this market generating USD 84.3 billion in 2021. This segment is anticipated to reach USD 524 billion by 2030, registering a CAGR of 23%. However, the fully autonomous segment will see a significant market growth at 42.9% CAGR during the forecast period. The market for this segment is valued at USD 3.3 billion in 2021 and is anticipated to reach USD 90 billion by 2030.
In their Smart Mobility report, UBS forecasted that by 2025, around 80% of all new cars would be equipped with some level of autonomy. Meanwhile, the development of fully autonomous vehicles is geared towards shared-mobility use. Large scale applications of this type of vehicle are likely to emerge in larger markets, more likely city centers, that have a higher volume of trips and a minimal risk of extreme weather.
By propulsion type
In this segmentation, the market is divided into Internal Combustion Engine (ICE), Battery Electric Vehicles (BEV), Hybrid Electric Vehicles (HEV), Plug-in Hybrid Electric Vehicles (PHEV), and Fuel Cell Electric Vehicle (FCEV).
ICE segment is currently dominating the market and valued at USD 46.1 billion in 2021. This segment is anticipated to reach USD 281.9 billion by 2030, growing at a 22.8% CAGR. However, the EV segment is catching up. The market for fully electric cars, or BEVs, is forecasted to reach USD 227.9 billion by 2030, accelerating with the highest CAGR of 27.8%. The ICE and BEV segments combined accounted for 82% of the market in 2021.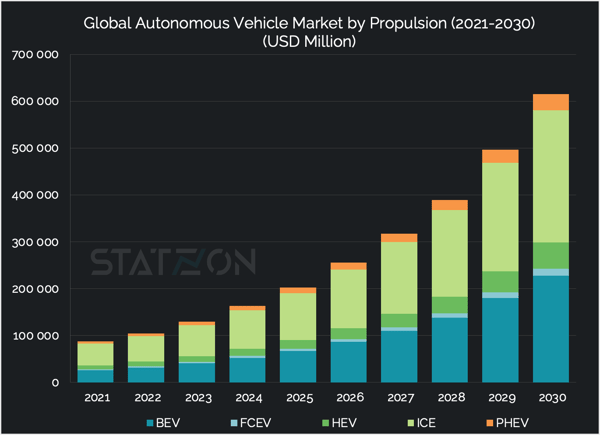 Autonomous and electric vehicles are inevitably linked. The shift to electric-run vehicles happens almost simultaneously with the development of progressively automated cars. Both concepts aim at a more sustainable means of transport and are being implemented greatly in the shared-mobility scheme. The trend of automation, electrification, and ride-sharing are reinforcing one another and are integral parts of mobility of the future.
By type of mobility
Another segmentation is to classify the market into shared mobility and personal mobility. Today, utilization of autonomous cars is dominated by shared mobility. This will continue in the future as future ownership of personal cars will decline and trips will mostly rely on Mobility as a Service (MaaS) which includes public transport, ride-hailing, and shared mobility.
The shared mobility segment gained USD 65.7 billion in 2021, roughly 75% of the total market. This segment is expected to reach USD 396.7 billion by 2030, registering a CAGR of 22.6%.
US and China racing to top position
The US is the second largest automotive market in the world and is currently at the forefront of the race toward fully automated vehicles. The country's autonomous vehicle market was valued at USD 20.7 billion in 2021 and is projected to reach USD 123.8 billion by 2030, growing at a CAGR of 22.5%. The US has been a long-time leader in autonomous driving technology, steered by tech hubs on the west coast with companies like Uber and Tesla making headlines for both successes and failures. But China is gearing up to take over. Although in 2021 China gained USD 11.1 billion in terms of market value, roughly half the value of US market, it is not that far behind in terms of volume.
More than 2.8 million semi-autonomous and autonomous vehicles are estimated to be running on US roads in 2021. For the same year, China is estimated to have more than 2.2 million units of the same types of vehicles. The consulting company, McKinsey, has predicted that by 2040 autonomous vehicles will compose 40 percent of new vehicle sales in China.
China already overtook US as the world's largest automobile market in 2009 and it is now ambitious to get to the top position in the autonomous vehicle market. The country certainly enjoys favorable regulations and policies allowing testing of self-driving cars in many cities. US, on the contrary, has states' specific regulations without any nationwide authorization for testing. When a self-driving test vehicle crosses from California into Nevada, for example, it must stop first to change plates so it can continue the test in the new state. The regulatory roadmap that will allow self-driving cars to be deployed on a mass scale is still far from ready.
But China also has its own problem. Production of autonomous vehicles in China is highly dependent on chips designed by foreign companies, mostly US groups Nvidia, Qualcomm, and Intel. Chinese chip industry is on the rise led by companies like MetaX Integrated Circuits and Biren Technologies trying to compete with western production. Yet they are still years behind their US rivals.
Sources: Statzon, The Verge, MIT, WE Forum, McKinsey (1), McKinsey (2), UBS, Financial Times (1), Financial Times (2)