The wave of electrification has seamlessly sailed from land to water, marking the dawn of a new era in the boating industry. Manufacturers globally are navigating towards a cleaner future, ramping up the production of electric watercraft that range from pontoons to speedboats, ensuring emission-free products without compromising range and speed. This shift has not only attracted traditional titans such as Brunswick Corp. and Mercury Marine Corp. but has also spurred a plethora of innovative startups, pushing the boundaries of design and engineering in the sector. From the light sailboat IZIBoat, which even the inexperienced can power with an e-bicycle, to Candela's hydrofoiling technology that combines speed with silence, the electric boat market is brimming with advancements.
Significantly, Europe has emerged as the frontrunner in this electric revolution, with its countries integrating the boating sector into their climate-change mitigation plans. Governments are deploying various measures to decarbonize marine vehicles, as reflected in Amsterdam's phasing out of diesel canal boats and Italy's push towards electric boats. The impetus, however, stems from Europe's robust seafaring economies and a commitment to reducing carbon emissions from transportation, which remains a substantial environmental challenge. Meanwhile, the U.S. is gradually catching up, with the focus primarily on land and air transport electrification. This progressive wave sets the stage for a comprehensive discussion on the burgeoning global market for electric boats, exploring the confluence of innovation, environmental concerns, and market dynamics.
Global electric boat market size and growth
Valued at USD 5.1 billion in 2022, the global electric boat market is set for impressive growth, projected to nearly double to USD 10.7 billion by 2030, according to data from Market Research Future. Dominated by Europe, which held a 34.5% share in 2022, the market is expanding at a promising CAGR of 9.9% between 2023 and 2030. Following Europe's lead, North America and Asia-Pacific clinched 29.5% and 23.9% of the market share, respectively. A pivotal driver behind this surge is the global emphasis on emission reduction, bolstered by supportive government initiatives.
Moreover, the flourishing demand for recreational boating, especially in the tourism sector, acts as another robust market propellant. Offering unique customization opportunities, recreational boating captivates a wide tourist demographic, enhancing their marine experiences. The rise of boat-sharing platforms and organized tours has democratized access to boating, appealing to individuals who relish sea adventures without the tether of ownership. With a combined focus on environmental sustainability and this expanded accessibility, the electric boat market is well-positioned for substantial global growth.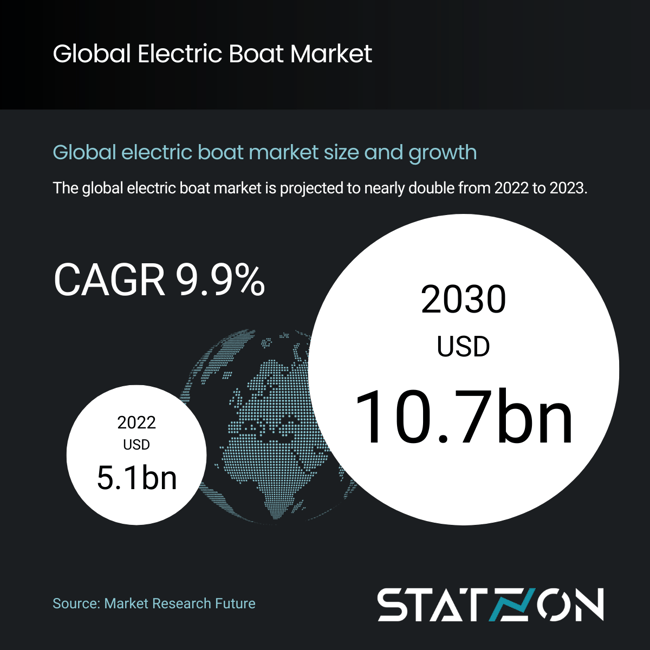 Electric boat market breakdown: hybrids and battery electric boat
Examining the global electric boat market segmentation by propulsion type, it's evident that the hybrid electric boat segment is leading the charge, boasting a robust market value of USD 3.53 billion. The forecasts are promising, anticipating continued growth with a CAGR of 9.7%, aiming to reach USD 7.35 billion by 2030. On the flip side, pure electric boats made up approximately 30% of the total market in 2022, generating USD 1.5 billion. This segment is set to experience marginally accelerated growth, with a CAGR of 10.3%.
Passenger carriages dominate the electric boat market
Looking at the global electric boat market segmented by carriage type, the passenger segment stands out, holding 65% of the market in 2022, with a market value of USD 3.27 billion. This segment is anticipated to grow at a CAGR of 10.4%, aiming to reach USD 7.2 billion by 2030.
The growth in passenger electric boats is significantly driven by the tourism sector, as these boats are designed to transport people for recreational, tourism, or commuting purposes.
Conversely, the shift towards electric boats in the tourism industry is particularly driven by younger customers, especially millennials, who view mitigating climate change as a top priority. McKinsey has reported that 40% of millennials are voicing concerns regarding the environmental footprint of their boats, a sentiment echoed by 28% of Gen Xers and 24% of baby boomers. Additionally, interest in alternatively fueled recreational boats is significantly higher among millennials, with 60% expressing interest, as opposed to 45% of Gen Xers and 33% of baby boomers.
Eco-conscious tourism and electric boat adoption
Notable examples of this shift include Maid of the Mist in Niagara Falls, NY, which pioneered the use of electric catamarans in 2020, and eco-friendly tour companies like Silent Whale Watching in Iceland, Berlin Solar River Cruise in Germany, and Electric-powered eco safaris in Botswana. These companies utilize electric and solar-powered boats for minimal environmental disruption, offering a more sustainable experience for tourists. These initiatives signify the growing acknowledgment and adoption of electric boats in response to consumer demand for greener tourism experiences.
While the uptake of electric boats experiences a notable rise, especially within the passenger and tourism segments, certain hurdles like energy storage continue to persist. This challenge is particularly evident for larger entities such as cruise and freight companies, evidenced by the fact that the cargo segment currently constitutes only around 35% of the total market, as reported by The Insight Partners.

Developing batteries capable of powering larger vessels without significantly increasing weight is a key obstacle. However, the interest and ongoing research in this area suggest a promising potential for broader adoption of electric propulsion in marine travel, contributing to a cleaner and more sustainable future.
Electric boat market share by range
The electric boat market by range was prominently led by medium-range boats, capturing a 42% market share. They were closely followed by short-range boats accounting for 34%, and long-range boats holding a 24% share. Valued at approximately USD 2.1 billion, the medium-range segment is anticipated to experience a 10.0% CAGR, reaching around USD 4.6 billion by 2030. Similarly, short-range boats, valued at USD 1.7 billion in 2022, are on track for slightly higher growth at a 10.1% CAGR, with projections estimating a value of nearly USD 3.7 billion by 2030.
Top companies in the global electric boat market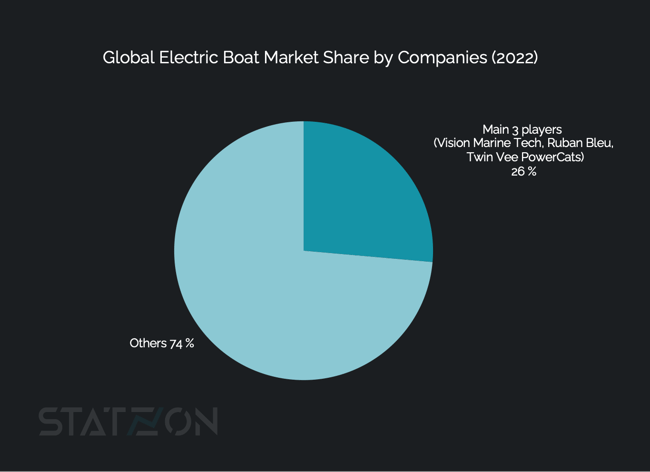 Source: Statzon/ Market Research Future
In the competitive landscape of the electric boat market, the intensity of rivalry is high, with major companies' market share being influenced by factors such as product differentiation, pricing, and innovation & technological advancements.
Vision Marine, Ruban Bleu, and Twin Vee PowerCats have been spotlighted by Market Research Future as the top three key players for their noteworthy product portfolios, extensive regional presence, and significant industry experience. Collectively, these companies control a substantial 26% of the overall market, highlighting their pivotal role in shaping the electric boat market. Additionally, names like Navalt, RAND Boats, Duffy Electric Boat Company, Nautique Boat Company, and GardaSolar are also recognized as key contributors, each bringing a unique approach to product range, performance, affordability, and eco-friendliness, thereby adding to the market's competitive dynamics.
Source: Statzon, Market Research Future's report on global electric boat market, Slate.com, Wahington Post, ecotourism-world.com, McKinsey