In the evolving landscape of automation technology, various robotic configurations have staked their claim. Among these contenders, the delta robot has emerged as an agile and efficient solution, for example, for pick and place operations.
Delta robots are prominent in assembly line processes, particularly due to their high-speed capabilities and precision. Their distinct triangular architecture allows them to maintain a significant share of the robotic market. In comparison to other robot configurations like articulated and cartesian robots, delta robots hold their own, a testament to their efficiency in their specific application niches.
What is a Delta Robot?
A delta robot is a type of parallel robot that is characterized by its three arms connected to universal joints at the base. These parallel arms control the movement of the end effector, which can move in X, Y, and Z directions, providing agility and high speed. Parallel robots, like the delta robot, are defined by having multiple arms (or legs) operating in tandem, connected to a common base and the end effector. This configuration allows for direct and precise control over the position and orientation of the end effector. Intended for fast pick and place operations, delta robots are a subset of parallel robots that are now branching out to other applications due to their speed, precision, and minimal footprint.
While articulated robots, which are a more popular type of industrial robot, are versatile in their range of motion, delta robots specialize in high-speed tasks in a smaller working envelope. This makes them optimal for industries and applications where speed, precision, and efficiency are paramount.
Delta Robot Market Size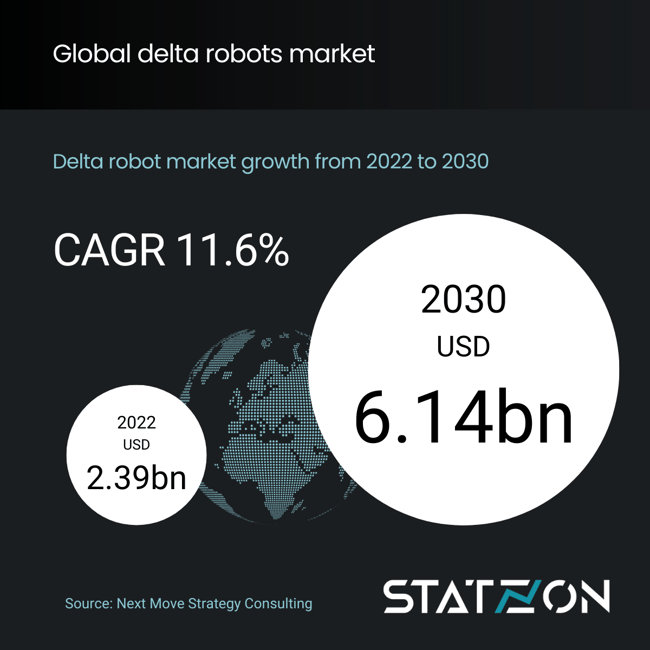 The global delta robot market was valued at USD 2.4 billion in 2022 and is anticipated to reach a valuation of USD 6.1 billion by 2030, registering a CAGR of 11.6% during the forecast period, as per the market insights provided by Next Move Strategy Consulting.
Historically, the price trends of delta robots show a consistent pattern. Analyzing the price trajectory of delta robots from 2020 to 2030, we observe a consistent downward trend in the unit price. Between 2022 and 2030, delta robot price per unit is projected to decrease from USD 24,401 to USD 20,944. This represents a reduction of approximately 14.2%, making delta robots increasingly affordable over the span of these years.
With the price projected to drop below the USD 21,000 mark by 2030, it's anticipated that the declining price can be an enabler for industries that were previously hesitant to adopt automation due to cost constraints.
Regional Market Shares of Delta Robots
In 2022, the Asia-Pacific region was the titan of the delta robot market, holding a dominant 64.1% share with a market value of USD 1.5 billion, propelled by China's substantial contribution of USD 1.017 billion, a hefty 42.6% of the global total. Europe followed as the second-largest market, capturing a 19.9% share, supported mainly by Germany, the UK, and France. North America came in third, with the United States leading the region to account for 7.9% of the global market, contributing to the region's 10.8% share.
Looking ahead to 2030, the global market is poised to grow to USD 6.1 billion. Asia-Pacific is expected to maintain its lead, growing to USD 3.9 billion. North America's share is set to increase to about 13.3%, with the U.S. market expanding to USD 613 million, roughly 10% of the global market. Europe is projected to command an 18.3% market share with a value of USD 1.1 billion.
China's market value is forecast to reach USD 2.4 billion, holding onto its dominant market position with an estimated 38.7% global share. Meanwhile, the US is poised to strengthen its position to command around 10% of the worldwide market with a value of USD 613 million.
Segmenting the Delta Robot Market
Delta Robot Market by Axis: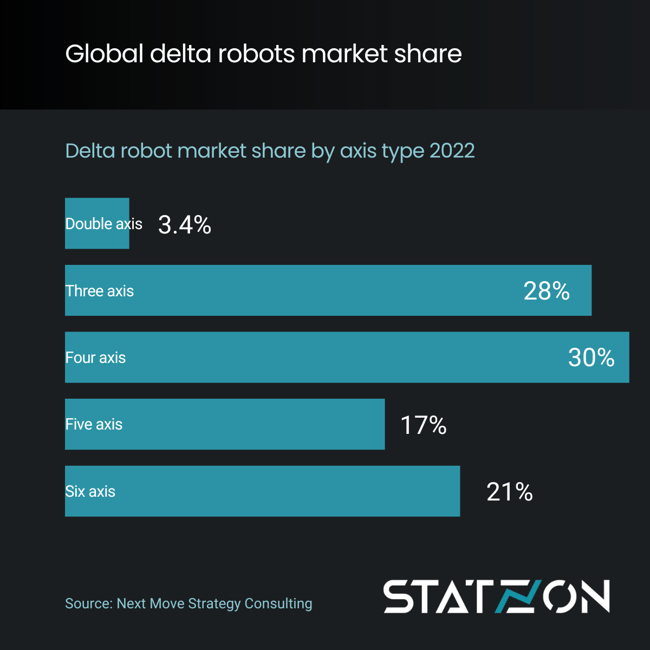 In 2022, the delta robot market segmentation based on axis type showcased varying dynamics. The four-axis segment stood out with the highest market value of USD 710 million, suggesting its dominance and relevance in the current automation landscape. This dominance could be attributed to its balanced capabilities, offering both agility and precision, catering to a broad range of applications across different industries.
The most impressive growth, however, is projected for the five-axis segment. While it began at a market value of USD 415 million in 2022, it's expected to register the highest CAGR of 15.14% by 2030.
When we aggregate the market shares, the four-axis, three-axis, and six-axis delta robots are the three biggest segments in the market. Together, these segments held a significant chunk, approximately 79% of the global delta robot market in 2022.
Delta Robot Market by Application: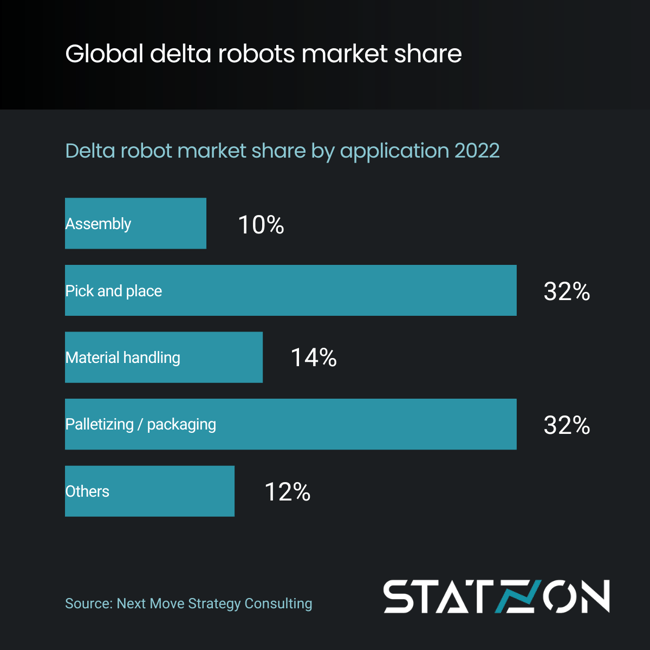 Delta robots find significant applications in electronics manufacturing, particularly in pick-and-place operations for small components. Their precision and speed have also led to their adoption in the food and beverage industry, especially in packaging processes.
The pick and place tasks had the highest market value at USD 755 million, with palletizing and packaging not far behind at USD 758.9 million. Together, these applications dominated the market, with pick and place comprising about 37% and palletizing/packaging approximately 37.3%.
The forecast for 2030 shows palletizing and packaging applications leading growth with a CAGR of 12.5%, anticipated to reach USD 2.1 billion. Material handling is also expected to see considerable expansion with a 13.3% CAGR, projecting a market value of USD 993 million.
The assembly application has a projected growth rate of 10.9% CAGR, with its market value increasing to USD 595 million by 2030. Other applications, including a variety of specialized tasks, are estimated to grow at an 11.5% CAGR, resulting in a market value of USD 729 million.
Delta Robot Market by Industry:
Delta robots have a strong presence in sectors like electronics manufacturing, automotive, and pharmaceuticals. Their ability to handle delicate objects with precision also makes them ideal for the food and beverage industry.
In 2022, the electronics industry had a market value of USD 470 million, while food & beverages had a higher market value of USD 770 million. Combined, these industries made up over 74% of the market, with electronics and food & beverages holding 28% and 46% shares respectively.
Electronics are expected to grow the fastest, with a CAGR of 15.7%, potentially reaching USD 1.6 billion by 2030. The food & beverage industry is also growing strongly, with a 12.9% CAGR and a possible increase to USD 2.2 billion by 2030.
The pharmaceuticals sector is growing more slowly, at a 6.6% CAGR, from a 2022 value of USD 749 million, reflecting a more gradual uptake in this regulated area.
Source: Statzon, Next Move Strategy Consulting's Report on Delta Robot Market