About Stäubli
Stäubli is 130 years old company that started first in the business of textile machinery. Now they are an equipment manufacturer with four divisions Electrical Connectors, Fluid Connectors, Robotics, and Textile.
The robotics division celebrates 40 years of robotics in the group in 2022. Stäubli is making industrial robots for different purposes, such as cobots, mobile robot systems, and AGV.
Stäubli covers automotive, metal, photovoltaics, food, pharmaceutical, healthcare, medical, industrial intralogistics, etc. They focus on small and medium robots in high-end applications in demanding environments such as pharmaceuticals, sterile, hygienic environments, or the metal industry where the environment can be very hostile.
Using market information for:
corporate strategy
product strategy
marketing
product management
Edouard Guillaume, Marketing manager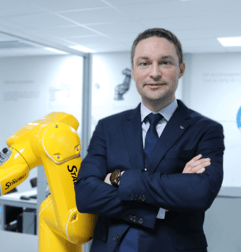 Edouard is the Marketing Manager of the Robotics Division, focusing on Product Management and Global Marketing Specialist.
His key focus is to understand better the deep needs of customers to provide the best solutions for them. In addition, his daily work is to push new strategies in the organization and position in the markets.
A better understanding of customer needs
To build high-end solutions, it is vital to develop and maintain customer intimacy. The biggest challenge is that the direct customers are not always the end users. Instead, they are system integrators who deliver the whole automation system to a customer. Often end-users are not even thinking about robots. For example, they are buying a complete production line. Then it is up to system integrators and machine builders to push Stäubli robots there as part of a comprehensive solution.
Managing market information was a challenge
Stäubli had a typical issue most global companies face, lots of market reports were bought, but nobody was able to keep track of what was already there and how it was used. Also, the problem with buying reports was that it was already outdated as soon as it was released, and information was based on a fixed point in time.
"When I took this position as Marketing Manager in February 2020, we did not have a clear setup of managing market information. We bought reports from time to time on top of the IFR report, of which we are a member. However, we did not have a global view of how much we spend on these reports or consolidate how much we use these reports. What is the return on investment, what we do with it and how we use it, do we get anything out of it, and how do we share it within the company."
"For us, it was a view to having one single point of truth for market information. So that's why get back on a full year and took more users."

Edouard Guillaume
Marketing Manager
Stäubli
Statzon is coming to help
Statzon contacted Stäubli, and Edouard felt that Statzon looked attractive on the visual side; the user interface and experience were great. "Statzon was very open and transparent during the sales process, and several people got a chance to test Statzon and see if we get any benefit from it."
After four months of testing feedback, Edouard got from others was positive – "I didn't get any negative feedback, I get positive feedback, first of all, what they looked for was interesting."
They saw that Statzon provides a continuously updating market information database instead of buying individual reports. As a result, after the initial test group, Stäubli increased the number of users and took Statzon as the primary source for market information.
"For us, it was a view to having one single point of truth for market information. So that's why get back on a full year and took more users."
"It is a platform to consolidate market data and utilize market reports, giving access not only to reports but access to data inside report and cross check the data with different filters to crunch the data."
Benefits of using Statzon
For Edouard, Statzon is a valuable tool to enable him to gather market intelligence quickly. With Statzon, Edouard and his team have access to a large volume of market data and reports. They can easily find updated market figures, industry and country level data, trends on type of robots, volume, and revenue data.
"I do always lastminute.com presentation. I can easily find the data I am looking for."

Now managing spending on market reports is much easier to handle when most of the needed reports are available from the Statzon platform with one subscription.
Also, Statzon customer support is reacting quickly if there are any inquiries or we would like to see some specific data on the platform in the future.