When to Invest in Metaverse?
There is no official definition for metaverse up to today as there is no one can describe what the metaverse really is. Cathy Hackl, a tech futurist often touted as the metaverse expert, try to define the metaverse as a convergence of our physical and digital lives enabled by many different technologies, like AR [augmented reality] and VR [virtual reality], which are the main entry points, but also blockchain, 5G, edge computing and many other technologies.
One definite thing about the metaverse is: experimenting and investing in the metaverse need to begin now. Metaverse is already a sensation today. Companies can't afford to wait until the metaverse is fully evolved to start marketing in it because then it will be too late. The metaverse market is already alive and thriving with major investors rushing to develop the technology and make it available for customers as early as possible. Major experts believe that metaverse will soft launch in 2024 and will be a common phenomenon by 2030.
How Big the Market Really is?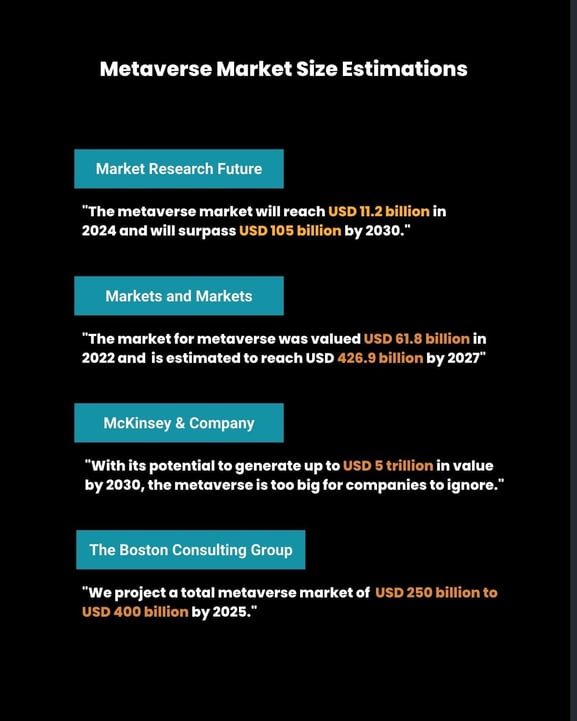 Looking at the estimations of metaverse market size, we will find the number can be completely different from one estimation to another because that's what the numbers are, mere estimations. People still have difficulties describing what the metaverse is, how big is the scope of the concept, or what should or should not be included in the market size calculation.
The global metaverse research done by Market Research Future estimates the metaverse market will reach USD 11.2 billion in 2024, at the time of its soft launch, and will surpass USD 105 billion by 2030. That is a significant growth of 45.2% annually. Global metaverse users are predicted to be around 22 million in 2024 and will grow to 166 million users by 2030.
Those estimations probably look small compared to a forecast done by McKinsey. In their report, released in June 2022, McKinsey & Company estimated the metaverse will generate up to $5 trillion in impact by 2030. The impact varies by industry, with an estimated $2 to $2.6 trillion impact specifically on e-commerce.
McKinsey surveyed more than 3,400 consumers and 450 executives for the metaverse report, and the results showed that 61% of corporate executives believe metaverse will "moderately disrupt the way their industry runs."
64% of consumers surveyed indicated they were excited or very excited about shopping in the metaverse. Around 59% of respondents said they already preferred virtual activities versus physical ones, and 79% of them reported that they preferred immersive world shopping.
The potential influence of the metaverse, according to McKinsey, is due to a number of factors, including its attraction across genders and geographic boundaries and that consumers are already spending on digital assets.
For the retail industry, McKinsey continued, the metaverse is expected to boost physical product sales in the retail sector, lower the operating expenses of physical stores, and improve the in-store experience through individualized surroundings.
Another estimation from Markets and Markets indicated the metaverse market size was valued at around USD 61.8 billion in 2022 and is forecasted to reach USD 426.9 billion by 2027 at 47.2% CAGR. The growth of the market can be attributed to the increased usage of VR devices, especially in the gaming, sports, and entertainment sectors. There is also a shift by brands to promote their product using gamification and virtual world simulators. This encourages the metaverse vendors to improve their game in creating a top-notch 3D environment and technology-driven ecosystem for their users.
And yet another estimation from The Boston Consulting Group came with a prediction of the metaverse's market size between USD 244 billion to USD 394 billion by 2025. That is significant growth from a market size of USD 122 in 2021. According to The Boston Consulting Group, the value of the metaverse may ultimately be found in business applications rather than consumer ones. Examples of such applications include virtual meetings and training sessions, new product design capabilities, or the ability to let customers experience a virtual home or vehicle before purchasing a real one.
Structure of The Metaverse Market
In their research, Market Research Future differentiated the hardware and software components of the metaverse market, each with 58% and 42% shares of the total market that was estimated to reach USD 11.2 billion in 2024.
Hardware-based products such as smart glasses, haptics, and omni treadmills are used to operate in VR or AR-based environments. Smart glasses will contribute to this trend by serving as an interface or platform that brings the metaverse to individuals.
The software market is dominated by extended reality software due to the high influx of VR/AR players. Some software currently in high demand are AR/VR web app development tools, AR/VR mobile app development tools, AR and VR studios, Software Development Kits (SDK), 3D mapping, modeling, & reconstruction tools, and volumetric video tools. These are some of the key tools used in designing virtual worlds.
Market Research Future also reported blockchain, VR/AR, and Mixed Reality (MR) as the three main technological components in the metaverse, with VR/AR segment dominating the market with more than USD 6 billion market value or around 56% of the market share in 2024. The blockchain segment will gain a market share of 22% or around USD 2.5 billion while the MR segment will gain a market share of 12% or around USD 1.5 billion.
The Boston Consulting Group (BCG), on the other hand, projected a total metaverse market of USD 244 billion to USD 394 billion by 2025 with four major component parts:
The virtual asset economy
Virtual assets will increase in value as the metaverse becomes more popular. More and more virtual assets will be created and exchanged between users and companies. BCG valued the market of a virtual assets to be around USD 90 billion in 2021 and projected that their transaction value will range between USD 150 billion and USD 300 billion by 2025.
AR/VR/MR Hardware and Software.
The 2021 market value for this segment was estimated to be around USD 16 billion. But this number will grow to USD 47 billion by 2025. The hardware market, especially, will be advancing quickly with a reduction in headset weight and size for each new version.
Network and Cloud Infrastructure
AR and VR experiences will require a powerful cloud infrastructure. In 2021 the cloud market accounted for USD 9 billion in the metaverse market value. The market will expand to USD 28 billion by 2025
Existing Information and Communication Infrastructure
This includes 2D screens on mobile phones, tablets, and PCS. The metaverse is not expected to deliver a big boost in the traditional infrastructure market, given the already high penetration of PCs and smartphones presently. The market size for this segment is USD 6 billion in 2021 and a forecast of USD 19 billion by 2025.
The metaverse is still evolving, and research about it would still happen. New estimations will come up as well as an analysis of challenges and opportunities. Companies can already start familiarizing themselves with the ideas of realities convergence, which is the main idea of the metaverse. Impact analysis needs to be done to assess how their business would be affected, both negatively and positively, as more business activities would be shifted to virtual reality. The best way to make this assessment is for businesses to explore the metaverse by becoming the metaverse users themselves, as per suggestion from Eric Hazan, a senior partner at McKinsey and Company.

Get access to +100k dataset with a free Statzon account!
Sources:
Statzon, McKinsey, McKinsey, Markets and Markets, BCG, Retail Dive