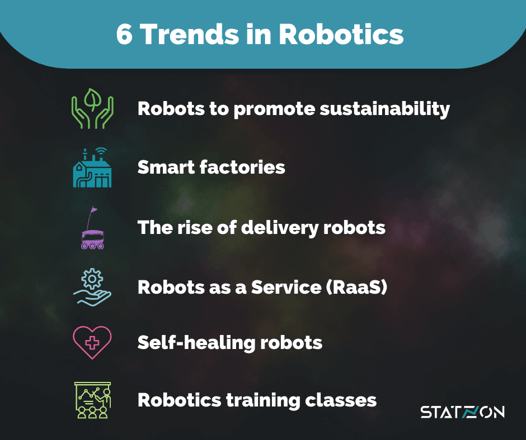 The global robotics market is valued at 41 billion USD in 2020, according to Statzon's aggregated data. This number is expected to accelerate by 270% in 2026.
As Milton Guerry, President of the International Federation of Robotics, said:
"Transformation for robotic automation is picking up speed across traditional and new industries. More and more companies realize the numerous advantages robotics provides for their businesses."
Robotics is a rapidly evolving technology. In just a few decades, robots and automation have revolutionized the manufacturing industry. So it's important to keep an eye on what's coming next because this technology plays a crucial role in how we do our business and live our lives in the future.
At least 6 key trends have emerged in the robotics industry, and these trends are expected to become more apparent in 2022 and beyond.

Smart Factories
As factories become more automated, smart factories are the next step in the Industrial Revolution.
A smart factory is a fully integrated and connected system across all operation processes that enables digital sharing and collecting of data between devices, machinery, materials, and people. This kind of connectivity alongside data analysis is expected to deliver fewer shutdowns, improved processes, and optimized facilities. A smart factory utilizes various technology such as cloud robotics, sensors, big data analytics, and augmented reality. analytics
The number of human interventions is probably the easiest way to differentiate a smart factory from a traditional yet modern and automated factory. In conventional factories, processes can be automated but disconnected from one another, requiring human intervention to handle the transition between the process of operations. In the future, these separate processes are no longer isolated. Instead, a smart factory is flexible and able to optimize its performance, self-adapt in real-time, and run entire production processes by itself.
Schneider Electric's le Vaudreuil factory is a prime example of a smart factory. This factory has incorporated the latest digital technology at a scale that saves up to 30% of energy in production. The use of augmented reality in the factory has sped up operation and maintenance, resulting in a productivity boost from 2% to 7%.
Johnson & Johnson, Bosch, and Tesla are other companies that have been digitalizing some of their factories. With the growing size of the smart factory market, other companies are expected to join the movement. Market & Markets estimated the smart factory market size at around $80 billion in 2021. This number is expected to jump to $135 billion in 2026, registering a CAGR of 11%. Growing emphasis on energy efficiency, resource optimization, and cost reduction in production are the key factors driving the market growth.

Robots as a Service (RaaS)
With the everything-as-a-service trend on the rise, including the most common ones such as Platform as a Service (PaaS), Software as a Service (SaaS), Big Data as a Service (BDaaS), Robots as a Service (RaaS) is, the next big thing.
RaaS is a subscription business model where companies can rent robotics and cloud computing devices instead of purchasing them outright. High initial investment and lack of employee expertise are the two most common problems inhibiting companies from adopting robotics technology. Thanks to RaaS, companies now can enjoy the benefit of advanced robotics technology without the hassle of conventional ownership. This allows small and medium-sized businesses to deploy robots in their operation as RaaS offers more predictable costs and less upfront capital to get started.
Magna Intelligence estimated the RaaS market value at around $15 billion in 2021 and is forecasted to reach $53 billion in 2029. This includes the use in industrial and commercial sectors. Some big and emerging names in robotics are in the market offering tools and innovation to enable RaaS deployment on a large scale.
Amazon came with AWS RoboMaker, a cloud-based simulation service that enables robotics developers to run, scale, and automate simulation without managing any infrastructure. InVia Robotics offers a subscription for mobile picking robots to pick packages from the shelves and deliver them wherever they need to go. Savioke targets the healthcare and hospitality sectors with their delivery robot, Relay, which can navigate crowds and operate elevators to deliver room service for hotel guests or medicine for patients in hospitals. A fixed price is charged per month for each robot.

Robots to Promote Sustainability
Now that robots are shaping how business is done, it is time to think of how they impact the environment. There is a push for companies to do business in more sustainable ways, and robots can help them do that. We are beginning to see some companies using robots for sustainability purposes.
Robots can help companies reduce their carbon emissions by providing an alternative to carbon-emitting options. As robots do not run on fossil fuels, their engines run clean.
Los Angeles Port of Long Beach is among the first ports experimenting with robots. Robotic vehicles are running around the ports instead of gas-powered trucks. As a result, the port now emits 85 percent less diesel soot, 58 percent less nitrogen oxide, and 33 percent less carbon dioxide than a traditional port.
Companies have also been using robots for recycling purposes. For example, Apple introduced Daisy in 2018, a robot that can strip up to 1.2 million units of iPhone for parts and then sort and pick reusable components to be used in other products. Since then, more companies have been following this initiative to reduce waste in their factories.
Ciliin Robotics, a Denmark-based company, has developed a cleaning robot to be used to clean cargo in the shipping industry. This job is traditionally done by humans that involve the use of dangerous chemicals. The robot is remotely controlled and does the cleaning without exposing humans to a hazardous work environment. This practice also successfully reduced the amount of chemical waste being dumped into the ocean as CEO and co-founder of Cliin, Thomas Jørgensen, explains: "100s of millions of liters of chemicals per year are used on cargo hold cleaning. It ranges from soaps to very powerful acids and alkali bases. All of it is being let out to sea after completion of the cleaning. People do not know this because they have no idea what is happening on these ships. As soon as you are on the open sea, you can dump whatever you want, which is very harmful to our marine life."
Outside the industrial settings, Saudi Arabia is implementing a combination of AI, robotics, Internet of Things (IoT), genetic engineering, and quantum computing technology for their green initiative program. For example, with a scheme to plant 10 billion trees, AI technology will be deployed to manage an efficient irrigation system as water is a precious resource in the kingdom. Every tree will be equipped with a sensor to monitor the condition of the soil surrounding the roots; this will determine exactly when the tree requires water and exactly what amount.
Such AI-based solutions are already being implemented, for example, in the form of "smart dust," nanoparticles that communicate with each other, enabling data collection and efficient decision-making in agriculture.

Self-healing Robots
Self-healing robotics research is still in its infancy, but this technology will become imperative in the future. Damages caused to the robots can add to the expenses of already expensive technology. The development of self-healing robotics is not only revolutionary, but it also has the potential to eliminate the need for complex and costly repairs.
Self-healing robots are made of soft materials or polymers instead of conventional rigid metal. These robots have muscle-mimicking and self-healing abilities that enable them to self-repair and provide flexibility and adaptability to be used in various environments. This technology is already being used in prosthetic robots, replacing the more conventional mechanical ones with a soft skin-like structure that feels more natural and the added benefit of less need for repair and replacement for users. As a result, self-healing prosthetic robot is predicted to dominate the prosthetic market in the future.
While robots have been prominent fixtures in industrial settings, self-healing robots are set to become much more prevalent in homes within the next few years. Flexible materials offer a safer collaborative work alongside people and the ability to handle delicate jobs typically handled by humans.

The Rise of Delivery Robots
The pandemic plays an important role in the booming sales of delivery robots due to people's preference for contactless delivery. Delivery robot market size jumped tenfold from $10 million in 2020 to $100 million in 2021, based on a study by Astute Analytica. This trend will continue in the post-pandemic era with an increased demand for delivery robots in the retail and F&B industries. Apollo Research Report predicted delivery robots' market value to reach $3.7 billion in 2032.
For now, delivery bots are prominent in several locations only, primarily in the United States. Still, they are making headways across the globe, with countries in Asia and Europe starting to adopt this technology. China is expected to lead the market due to the size of its parcel and food delivery market and the country's strong demand for same-day delivery.

Robotics Training Classes
When automation and robotics become normalized in many industries, people wonder what would happen to human employees? Contrary to popular belief, robots create jobs, double the number of jobs that became obsolete since automation took over. World Economic Forum (WEF) reported in 2018 that rapid technological advances would create 133m jobs globally over the next decade, compared to 75 that could be displaced. However, new sets of skills are required for humans to be able to work alongside robots. In a 2016 McKinsey report, 62% of executives needed to retrain at least one-quarter of their workforce because of automation. The future of human-machine collaboration will have to focus on education and training.
As in-house training has become customary in manufacturing and logistics sectors, external education routes can enhance staff learning programs. For example, several manufacturers like ABB, FANUC, and KUKA have already engaged in and developed robotic training classes in 30 countries with up to 30.000 participants every year.
Stay competitive
Find new opportunities​ – Gain more market share ​- Faster entry to new markets – Identify market potential ​- Make better strategic decisions
Sources: Statzon global robotics data, Statzon global RaaS data, Statzon global delivery robots data, TWI-Global, Forbes, Robotics Casual, Analytic Insight, Green Clean Guide, Meili Robots, Inc.com, IFR, Autonews