Surgical robotic systems help to automate the process of surgeons performing minimally invasive surgeries (MIS). The systems consist of equipment, accessories, software, and distinct services. According to Statzon's analysis from its data providers, the global Surgical Robot market is valued at around 5.4 billion USD.
The advantages of robot-assisted surgeries (RAS) include factors, such as increased efficiency and accuracy, diminished post-surgical complications in patients, along with the decreased risk of infection and blood loss. Other significant benefits contain shorter recovery time, accessibility to distinct body parts, and a lesser number of scars.
Growth in the surgical robot market can be attributed to driving factors, such as increasing demand for healthcare automation, the complexity of surgical procedures, increased funding for medical robot research, the aging population, and the growing number of chronic diseases.
On the contrary, high installation costs, concerns regarding safety, integration issues, and requirements for skilled personnel are some of the factors that challenge the growth of the market.
Nonetheless, the innovations in the surgical robotics industry are expected to reduce the cost of the systems over the coming years. Thus, market penetration is expected to increase over the forecast period until 2028. According to Statzon's data analysis, the emerging trend is estimated to continue in the future with a CAGR of +13.8% until 2028.
Statzon has collated the following list featuring the Top 10 Robotic Surgery companies in 2021:
Rank #1
Medtronic Plc
Founded: 1949
Legal headquarters: Dublin, Ireland
Operational headquarters: Minneapolis, Minnesota, USA
Revenue: 28.91 billion USD (2020)

Medtronic Plc is one of the biggest medical device companies in the world. With operations in over 150 countries, foreign sales generate nearly 50% of the total sales. The company acquired Mazor Robotics Ltd., an Israel-based spine surgery innovator, in 2018; and Digital Surgery, a London-based surgical AI company, in 2020. Medtronic (MDT) is traded on NYSE.
The four main business units of Medtronic consist of: the minimally invasive therapies group, the diabetes group, the restorative therapies group, and the cardiac and vascular group. The company's wide selection of products treats 70 health conditions, including cardiac devices, insulin pumps, surgical tools, and patient monitoring systems.
Medtronic currently offers the Mazor X Stealth Edition robotic guidance platform for spinal surgery, which was co-developed with the previously acquired Mazor Robotics. The platform consists of features, such as customizable implant selection, optimal implant trajectories, and 3D analytics.
According to a Medtech Insight in 2020, Medtronic's in-house robotic-assisted platform Hugo RAS Surgery System is currently in development. However, its safety and effectiveness are yet to be established. The system is set to rival da Vinci SP by Intuitive Surgical, Inc. Medtronic is also looking to enhance the existing Mazor X robotic system.
Rank #2
Zimmer Biomet Holdings, Inc.
Founded: 1927
Based in: Warsaw, Indiana, USA
Revenue: 8 billion USD (2019)

Zimmer Biomet Holdings, Inc. designs and manufactures orthopedic reconstructive implants, along with supplies and surgical equipment for orthopedic surgery. More than half of the company's revenue is generated from the sales of large joints, and an estimated 20% accounts for trauma & extremities, with the remaining sales mostly related to the spine and dental products.
The company acquired a French-based Medtech SAS in 2016 for around 132 million USD. Along with the acquisition, Zimmer Biomet was able to broaden its portfolio to surgical robotics operations (Medtech's FDA-approved surgical system). Zimmer Biomet (ZMH) is traded on NYSE.
The company's robotic solution, ROSA one, was designed to be surgeon-centric, accurate, and consistent. The ROSA Knee System is used to perform Total Knee Arthroplasty (TKA). The assisting features include bone resections, assessing soft tissues, and facilitating implant positioning.
The ROSA ONE Brain application is a dual platform offering both brain and spine modalities in one system, decreasing tech acquisition costs. It is used to assist in diverse neurosurgical procedures, such as stereo electroencephalography (SEEG), deep brain stimulation (DBS), stereotactic biopsy, as well as in ventricular and transnasal endoscopy.
Rank #3
Smith & Nephew plc
Founded: 1856
Based in: Watford, England, UK
Revenue: 5.1 billion USD (2019)

Smith & Nephew plc is a designer and manufacturer of orthopedic devices, sports medicine, ENT technologies, and wound-care solutions. Approximately half of the company's total revenue comes from the USA, around 30% is from other developed markets, and emerging markets account for the remainder. Smith & Nephew (SN) is traded on London Stock Exchange.
The company offers two types of handheld robotics: the NAVIO and CORI surgical platforms. They are both small and portable, hence ideal for ambulatory surgery centers.
2020 launched CORI platform is intended for knee & total knee arthroplasty. CORI comes with new camera tech (over four times faster than the older NAVIO platform) and offers more efficient cutting tech (twice the cutting volume).
CORI's handheld milling technique uses two control modes: exposure and speed control, which automatically adjust to execute patient-specific plans. The enhanced robotic software delivers image-free smart mapping of bone and cartilage. The software does not require CT or MRI.
Rank #4
Intuitive Surgical, Inc.
Founded: 1995
Based in: Sunnyvale, California, USA
Revenue: 4.48 billion USD (2019)

Intuitive Surgical, Inc is a developer, producer, and marketer of a robotic system that assists in minimally invasive surgeries (MIS). The company also provides disposable accessories, instrumentation, and warranty services for the system. Intuitive Surgical (ISRG) is traded on Nasdaq-GS.
The company's surgical platform da Vinci System has been installed in around 1,500 hospitals in the U.S. Additionally, more than 5,500 da Vinci Systems can be found in hospitals around the world.
There are three surgical system models to choose from:
Da Vinci Xi

features the most advanced instrumentation, vision, and incorporated table motion

Da Vinci X

is the cost-conscious choice with Xi-model's architecture

Da Vinci SP

for narrow access surgery, with a single arm equipped with multi-articulated instruments and a 3DHD camera

All of the three systems share the following components, that vary depending on the model: a patient cart, surgeon console, and a vision cart.
Rank #5
Renishaw plc
Founded: 1973
Based in: Wotton-under-Edge, England, UK
Revenue: 699.3 million USD (2020)

Smith & Nephew plc is a designer and manufacturer of orthopedic devices, sports medicine, ENT technologies, and wound-care solutions. Approximately half of the company's total revenue comes from the USA, around 30% is from other developed markets, and emerging markets account for the remainder. Smith & Nephew (SN) is traded on London Stock Exchange.
Renishaw's Neuromate robotic system was designed for stereotactic neurosurgery. It is used in procedures, such as electrode implantation procedures for deep brain stimulation (DBS), stereoelectroencephalography (SEEG), along with stereotactic applications in neuroendoscopy, biopsy, and other research applications.
The Neuromate robot provides a steady, rapid, and precise approach to procedures. Neuromate can be used with or without a stereotactic frame, of which the latter is intended for reduced patient trauma. Procedures with the Neuromate robot can be done using local and general anesthesia.
Rank #6
Accuray, Inc.
Founded: 1990
Based in: Sunnyvale, California, USA
Revenue: 382.9 million USD (2020)

Accuray, Inc. is a radiation oncology company that is a developer and a manufacturer of progressive cancer treatment technologies. The equipment is manufactured in Madison, Wisconsin; Sunnyvale, California; and in Chengdu, China. The company employees more than 900 people globally. Accuray (ARAY) is traded on the Nasdaq-GS.
The CyberKnife Systems are fully robotic systems that deliver SRS and SBRT, which are used to treat several types of cancer and tumors throughout the body. The systems aim to make the patient's recovery safer, shorter, and more individualized.
CyberKnife tracks, detects, and corrects tumor and patient movement in real-time during the procedure. This process enables the delivery of precise radiation with sub-millimeter accuracy while allowing patients to breathe normally. CyberKnife requires no anesthesia.
Rank #7
THINK Surgical, Inc.
Founded: 2007
Based in: Fremont, California, USA

THINK Surgical, Inc. is a medical device and technology company.
The company's surgical system TSolution One is used to carry out total knee arthroplasty (TKA), and it is fully automated. TSolution One consists of two parts: a TPLAN 3D planning workstation and a TCAT computer-assisted tool.
The TPLAN workstation is a computer system that lets the surgeon explore diverse surgical approaches without wasting the time of the patient (and saving time spent in the OR). The TPLAN converts the CT scan of the patient's joint into a three-dimensional model of the bone. Subsequently, the TCAT computer-assisted tool uses the surgeon's previously created plan in order to prepare the joint surface and bone cavity. Under the surgeon's direct control, TCAT uses specialized bone cutters and other hardware to find an optimal fit for the implant.
Rank #8
Auris Health, Inc.
Founded: 2007
Based in: Redwood City, California, USA

Auris Health. Inc. develops robotics technology for medical applications. The company was acquired by Ethicon in 2019, which is part of the Johnson & Johnson Medical Devices Companies. Johnson & Johnson (JNJ) is traded on NYSE.
The MONARCH platform of Auris Health is used for diagnostic and therapeutic bronchoscopy procedures. The platform integrates robotics, micro-instrumentation, endoscope design, sensing, and data science in order to treat lung cancer.
In a company's study called 'REACH', the unique bronchoscope and sheath telescoping design of MONARCH was able to access all 18 segments of the lung. The platform also successfully reached 42 millimeters further on average than a standard thin bronchoscope. Moreover, the platform's sheath can be bent up to 130 degrees, while the bronchoscope allows further 180 degrees to work with. Advanced mobility is crucial in the surroundings of tortuous, cramped lungs.
Rank #9
Medrobotics Corporation
Founded: 2005
Based in: Raynham, Massachusetts, USA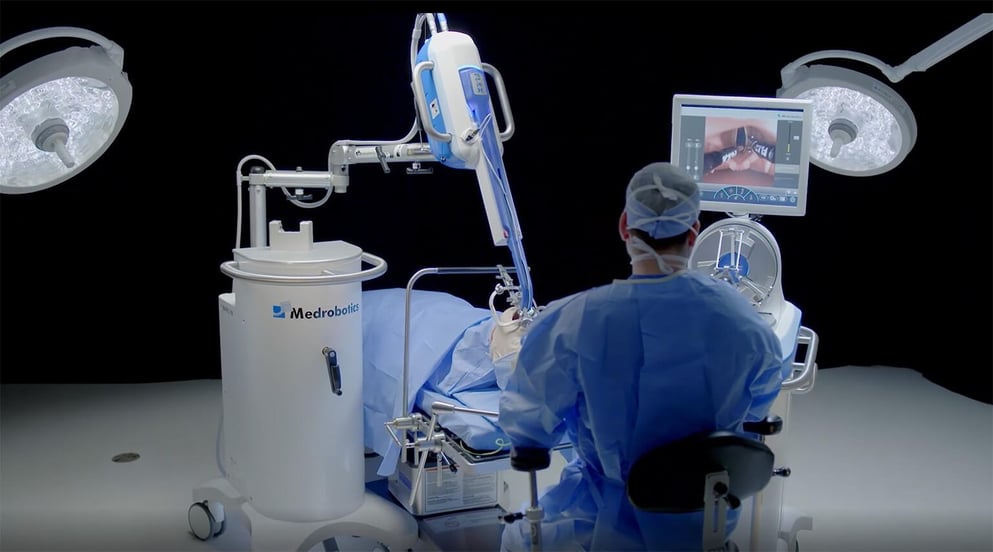 Medrobotics Corp. is a surgical products company with a core focus on robotics. The company was formerly known as Cardiorobotics, Inc. until 2011.
The company's flagship product, Flex Robotic System, assists in minimally invasive surgeries (MIS). The system aids surgeons to reach and visualize anatomical locations that are otherwise hard to reach or thoroughly inaccessible. The entry to these difficult locations is done through small entry points with technology that utilizes a highly articulated multi-linked scope. The tool can be steered along non-linear paths in a way that is not possible with traditional scopes. Once positioned, the tool becomes rigid, forming a stable surgical platform from which the surgeon can pass flexible surgical instruments. The integrated 3D high-definition vision system illustrates the anatomical journey.
Rank #10
Asensus Surgical, Inc.
Founded: 2006
Based in: Morrisville, North-Carolina, USA

Asensus Surgical, Inc. is a medical device company, that was known as TransEnterix, Inc. until February 2021. The company is committed to digitizing the interface between the surgeon and the patient to improve minimally invasive surgery (MIS) through a digital laparoscopy. Asensus Surgical (ASXC, formerly TRXC) is traded on NYSE American.
The company's Senhance Surgical System brings digital laparoscopy to patients around the world. The company markets its products in the United States, Europe, Japan, and Russia, among some other countries. The benefits of the Senhance System are saving time and cost comparing to manual laparoscopy. Further benefits include reaching more patients, operating in more diverse settings, and realizing more distinct procedures.
The system gives the surgeon haptic feedback, which increases the sense of pressure and tension when executing a procedure. Moreover, the platform involves a chair that enables the surgeon to be positioned ergonomically throughout the operation. The monitor of the platform offers eye-tracking camera motion with 3D HD visualization.