An important part of product managers' work is market and competitive analysis. As a product manager, you need to deeply understand your customers, markets, and competitors. It is vital to understand what the customers need and what your competitors are doing to win your competition and gain more market share. Once a product manager understands what the market needs, that information is shared with the production people so that the company can offer products and solutions that are in high demand on the market.
Statzon's survey conducted in April 2022 shows that 39% of product managers need market information daily or weekly, and 28% need it monthly. To get all this information, you need market research, and there are many different ways to gather the required information. Below are listed the most used sources where product managers get their market insights.
Customers
It is crucial to speak with your current or potential customers. You need to understand their needs, pain points, what they are trying to achieve, which solutions they are using, etc. You gain first-hand information from the market, but visiting customers' sites, calling, having online meetings, and emailing are time-consuming. It's not uncommon for a product manager works 50-60 or even 70 hours per week.
Google and free public s
ources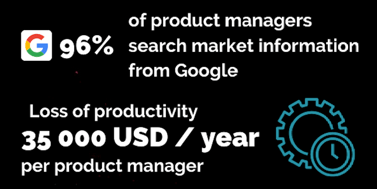 96% of the survey respondents say they use Google or other free public sources to gather the needed information. From Google, it is easy to find top-level information about the global markets like market size, growth, forecasts, etc. But trying to find the information needed from these free data sources is super time-consuming. According to studies from McKinsey, IDC, and Interact Source, employees spend 20-30% of their daily working time searching and gathering the needed information.
Let's do an example calculation about how much it means when converted to lost productivity in USD. An example product manager spends 2.5 hours per day looking for and gathering market information. According to Glassdoor, the average salary for a product manager is 113k USD per year in the United States. This means that the cost of lost productivity is 35k USD per product manager per year. In a large organization with 50 product managers that means 1.8M USD of lost productivity. According to the same studies, even 40% of people don't even find the information they are looking for.
So the question is, are these "free" sources really free in the end?
Market reports
When you need to dig a little bit deeper, you don't find the required information from free sources in most cases. 54% of Statzon's survey respondents purchase market reports to gather the needed information. An average market report costs around 4,000 EUR. 23% of the product management people say they are buying ten or more market reports per year which convert to +40,000 EUR.
A good thing in readily available market reports is that you get access to them quickly once you purchase. However, many people struggle in choosing which report to buy. There are hundreds of research providers on the market, and it requires a lot of effort to validate the research providers, comparing the content of their reports, their prices, and choosing the one/ones to purchase. In many cases, one report is not enough to answer all your questions, and you need to buy a few to gain all the required information.
Example market research publishers providing market reports include companies like BIS Research, Market Research Future, Verified Market Research, The Business Research Company, Inkwood Research, Next Move Strategy Consulting, among many others.
Market intelligence subscriptions

30% of the product management people use market intelligence subscriptions which are a good solution for a frequent need that these people have. You can access either data, reports, company information, or news with a subscription. In some cases, the subscriptions are limited to provide some of the needed information. You might need to have several subscriptions: one for company insights, one for your industry, and one to gain information about your target markets. Solutions like Statzon provide access to data, market reports, company insights, and news about +12k industries, topics, and technologies. With a single subscription, you access market insights from +200 trusted research providers like Euromonitor, Crunchbase, BIS Research, and all the above-listed research providers.
What is the best market information source for you?
It always depends on your needs; what is the best source for your case. You easily get top-level data with free sources but cannot dig deep. When purchasing one market report, you rely on one research provider's opinion about how they see the market. The more relevant market information you have from several reliable sources, the more confidence you have in your business planning. You can make better and faster decisions and develop winning strategies with the right information.
Explore how Statzon could help you with your market information needs.
Sources: Statzon (Global survey to robotics and automation companies about their market information usage and Global survey of market report pricing), Forbes, Glassdoor, Feedback Loop, Agency Bloc, Article Cube, Xenit, CMSWire, and Lamin Solutions.