Companies are developing strategies and business plans to expand their business, gain more market share, or to find new opportunities. The plans typically include significant investments, and they should be backed by reliable data, not just a gut feeling. If the data used is unreliable, that leads to bad plans and wrong investment decisions, which becomes very expensive to the company. That's why the market information you are using must be of the highest quality.
Many people we speak with ask, where is the data coming to Statzon, and how do we ensure that the market information they get is of the highest quality? According to Statzon's survey of people who use market information in their roles, 77% said that reliability and quality of the data are the most important criteria when evaluating market information.
Statzon has developed a research provider validation process to ensure the reliability of the market information in our platform. It is an ongoing process that includes several stages, which are described below.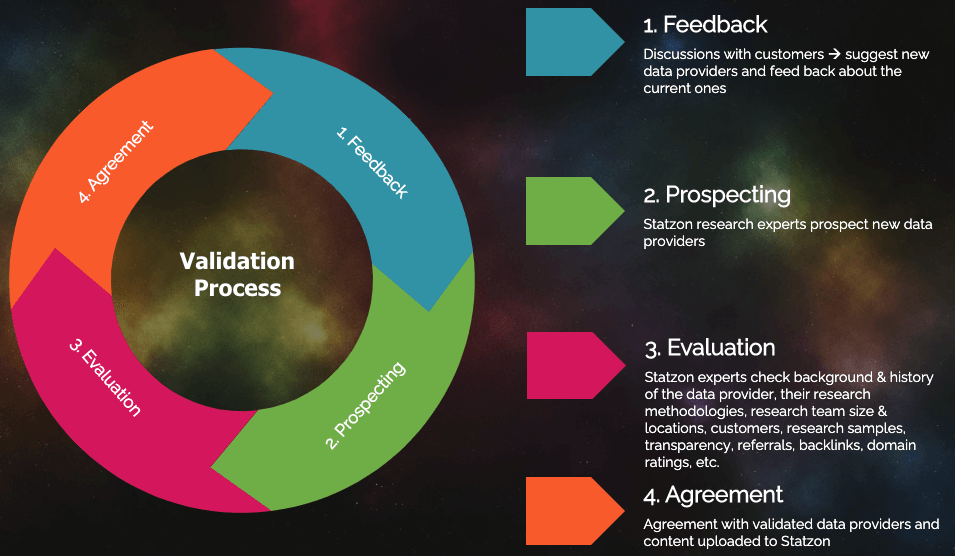 Feedback
Statzon's team constantly discusses with our customers who suggest new data providers that they would like to be available on the platform. The customers also give feedback about the currently available data providers and their content. Statzon is also conducting surveys of people who use market information in their roles to find out which research companies these people are currently using.
Prospecting
Based on the first stage of the process, Statzon's team maintains a database of potential new research partners. Our team has a long history in the market research industry and large networks globally where we prospect new research providers. There are two approaches to how we prospect new research providers:
Based on the interesting topics to our customers, we look for research providers publishing research about those topics.

Based on the research providers that are interesting to our customers, we dig deeper to understand which topics these publishers cover.
Evaluation
Based on the customer discussions and prospecting, the most potential data providers are taken into a closer evaluation. We check the companies and their research from different perspectives during this process stage and have in-depth interviews with the providers. We check the following:
What is the company's background and foundation to understand how long history they have in conducting research?

How many employees do they have?

What are the research team size and share of research people of the total number of employees?

Which are the research locations, and is the research conducted locally or remotely?

Is the research conducted in-house, or do they use external partners?

Which research methodologies are they using, including both primary and secondary research methodologies?

Which research categories and topics do they cover?

How many reports do they publish per year?

How often are they updating their research?

Are they conducting global, regional, or country research, company profiles, etc.?

Who are their customers?

Referrals and backlinks

Domain ratings and authority

Research samples

Transparency
Agreement
After the first three stages of the process, we clearly understand the company and the research they are conducting. Then, if the data provider is validated, we start discussions about licensing their content. At the end of the process, we sign a licensing agreement, and the provider's data and research are made available to Statzon subscribers on the platform.
Transparency and reliability of market information are cornerstones of Statzon's values. We are supporting our customers to stay competitive and expand to new opportunities. We only work with validated and trusted research providers that meet our customers' standards, such as BIS Research, Euromonitor International, MarketsandMarkets, Crunchbase, etc. Currently, we are working with +200 hand-picked data providers that you can find all at https://statzon.com/providers.