Company overview
Zoef Robot, founded in 2016, is a Dutch start-up company specialized in robotics products to be used in and around the house. The range of products covers robot vacuum cleaners, robotic lawn mowers as well as pool cleaning robots, UV-C disinfection robots, and window cleaning robots. Nearly all the company's products are sold online: either purchased from their online store or through partner retail stores. Their physical store is located in Arnhem, Netherlands.
According to Sjoerd Van Haaster, the company's general manager and co-founder, Zoef Robot have two main ustomer audiences. The first customer group consists of 25 to 30 year-olds, and the second group has people aged 60 or older. Van Haaster explains that the younger customers tend to lead busy lives in urban surroundings where the time-saving robot vacuum cleaners are very welcome. The more mature customer group appreciates the robots helping around the house. They are no longer able to do the chores on their own, or simply prioritize time for other activities.
The market: robot vacuum cleaners and lawn mowers
According to Euromonitor International, iRobot is a clear leader in the robot vacuum cleaner market. The company currently has a 28% share of the global market, with nearly a third of the market in Western Europe. Online sales generate 60% of the company's revenue, of which around 88% are vacuum cleaners. Other companies that hold significant market shares of the global market are Ecovacs Robotics, Xiaomi, Beijing Roborock Technology, and Vorwerk.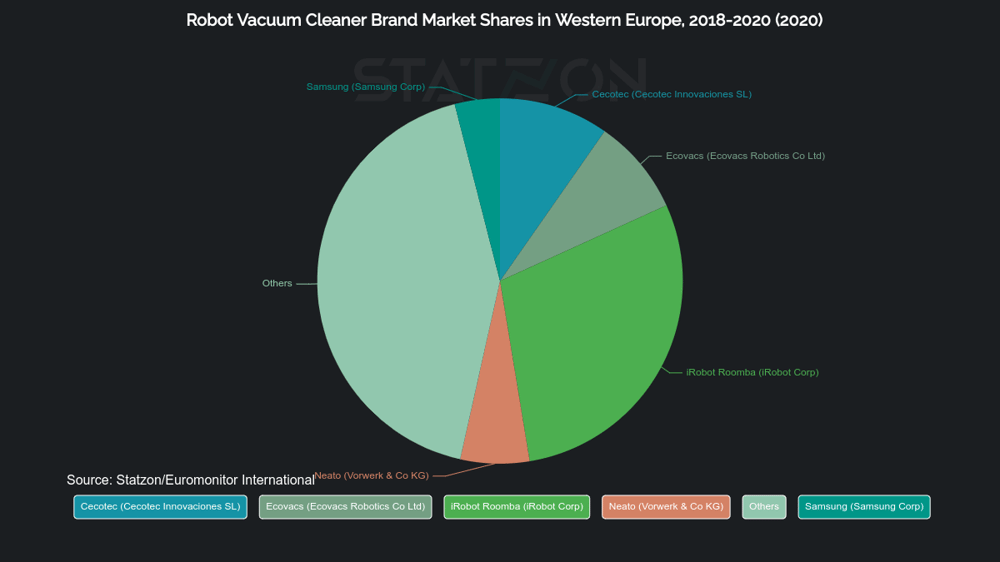 Husqvarna leads the global robotic lawn mower market with a 25% market share (Euromonitor). The company also holds the largest market share in the Western Europe market. As opposed to robot vacuum cleaners, robotic lawn mowers are mostly (77%) sold through retail stores, as reported by Inkwood Research. In addition, companies like Robert Bosch, Friendly Robotics, and Positec hold large shares of the global robotic lawn mower market.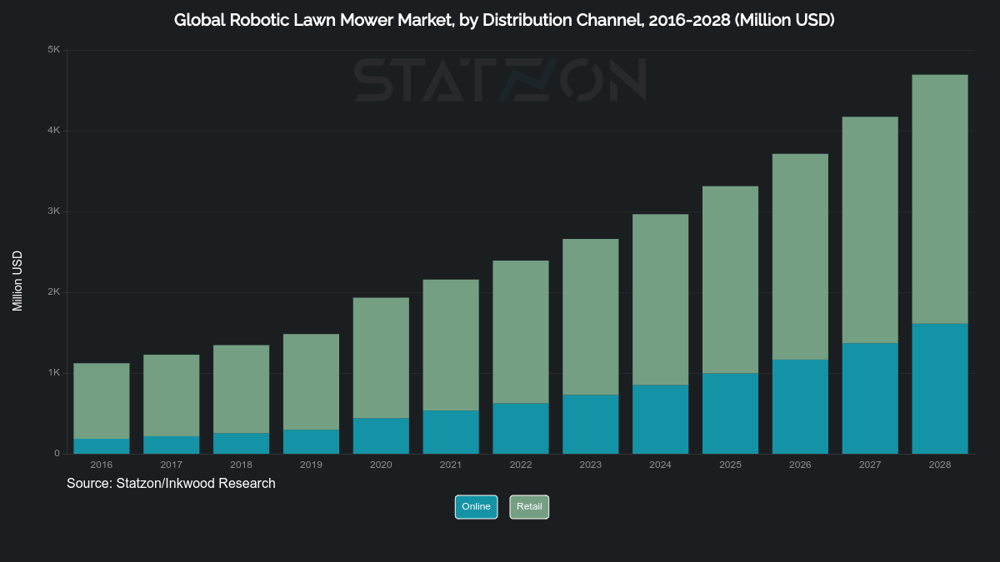 Increased market shares as a long-term goal
Zoef Robot operates mostly in the Netherlands and Belgium, but is exploring the German and French markets as well. Van Haaster reveals that the company's growth in 2020 increased by +50% from the previous year. The company's goal for this year is to grow as much as in 2020, with promising results so far. "Our primary long-term goal is to increase our market share in the Netherlands and Belgium." Their secondary goal was to grow the company's current market share in Germany.
The robotic vacuum cleaners have been the company's best-selling product during the pandemic, while the sales of lawn mower robots have risen comfortably as well. The global pandemic drastically changed day-to-day life, increasing the time spent at home working and resting. This changed people's attitudes on doing house chores, particularly when strict restrictions were cast on recreational activities and travelling. As a result, a flourishing interest in household items emerged, including household robotics.
Zoef Robot aimed to manage growth & oversee market development
Zoef Robot had a challenge: the company had a limited budget, and they hadn't been able to access any market reports for that reason. However, they had received market data from local retail stores in the Netherlands. This data illustrated market shares of selected robot vacuum cleaners, and the current market shares of those retail stores. Unfortunately, the amount of data that they received was scarce. Additionally, lawn mower robots weren't included in the figures at all. And that was a problem.
Van Haaster goes on to clarify the company's need for data: "We didn't know the market well, and we wanted to be able to manage our growth." He continues: "We also needed to find suitable partners to support our growth". They needed reliable data about the market's current state, as well as how the market was forecasted to develop. They were particularly interested in seeing how the market would vary between the robot vacuum cleaner and lawn mower forecasts.
Fortunately, Kimmo Kuokkanen (the CEO of Statzon) got in touch with van Haaster. They discussed the company's current needs and position in the market, and van Haaster decided to go ahead with the data offer. "It was a great opportunity to find more data for our business."
The following market data was received from Statzon:
Market size for robot vacuum cleaners in Belgium and Netherlands, both market values in USD and market volumes in units (2018-2023)
Market size for robot lawn mowers in Belgium and Netherlands, both market values in USD and market volumes in units (2016-2028)
Statzon's data was applied to improve Zoef Robot's business strategy
With the finely-detailed data gained from Statzon, Zoef Robot finally had a chance to manage the company's growth in a profound manner. Moreover, they now had clear numbers that indicated the development of the market – including the past, current and coming years – in the regions of their target audience.
Statzon helped Zoef Robot to improve the company's business strategy, and to recognize the areas where the company had to concentrate in. "We wanted to know our precise share of the market", van Haaster recalls, and that is exactly what Statzon did for them. Knowing the company's accurate market share also led them to recognize the great potential lying ahead. "There's a lot of space for us to grow in the operation we are doing at the moment", van Haaster comments with newfound determination.

Conclusion
Zoef Robot was struggling to find good quality market data, much like many other start-up companies with limited resources. They had received a small amount of data from local retail stores, but it was not enough to give a thorough view of the market. Moreover, the data did not cover their other important source of revenue: the robotic lawn mowers. Instead, they needed reliable and accurate market data to verify the company's market share in the entire target region.
With data received from Statzon, Zoef Robot was able to confirm the company's share of the target audience market, conduct market monitoring, and improve the company's business strategy. When asked whether Statzon met the company's expectations, van Haaster responds that he is very happy with the results gained from Statzon. "We found everything we were looking for."