With the increasing legalization and social acceptance of cannabis, the global cannabis market is witnessing significant growth, with market size of USD 26.3 billion in 2021. This number includes usage for medical and recreational usage of cannabis. The global market is currently growing with a 28% CAGR and predicted to hit USD 90.4 billion by 2030, according to Markets and Markets.
Acceptance for cannabis-based medication is also growing along with the rising prevalence of chronic diseases. From Market Research Future analysis, the global market for medical cannabis reached USD 12.2 billion in 2021. With annual growth of 18%, the market value is expected to rise to reach USD 33.2 billion by 2030. Medical cannabis has a wide range of applications in the treatment of various diseases including chronic pain, cancer, depression, diabetes, arthritis, glaucoma, epilepsy, migraines, AIDS, and Alzheimer's among others.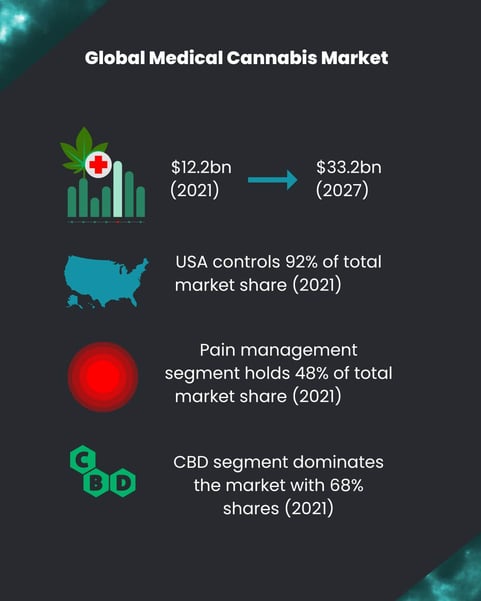 The North American region is currently dominating the market. It controls more than 90% of the market shares and gains USD 11.3 billion in market value. Cannabis legalization in 37 US states is the force that helps the region to gain this large market share. The US market is valued at USD 9.2 billion in 2021 and Canada at USD 2.15 billion.
The other regions, on the other hand, still have to face many constraints, such as tight regulation and negative social stigma related to cannabis consumption. However, APAC is showing promising growth, especially due to the huge pool of cancer patients in the region that would benefit from medical cannabis properties as pain relievers. Based on Markets and Markets analysis, there is a huge opportunity to initialize and legalize the use of marijuana in this region. As one of the largest markets for industrial hemp, China is anticipated to become a significant market for industrial cannabis in the near future. Several countries in the region could also be prospective low-cost producers of cannabis with high production capacity.
Pain Management Segment Leading The Market
Medical cannabis is an increasingly popular alternative to traditional pain-relieving medications, including opioids. Cannabis may reduce certain types of chronic pain, such as pain caused by cancer, inflammation, arthritis, fibromyalgia, or nerve damage. Moreover, cannabis is used to treat nausea and vomiting caused due to chemotherapy.
The market for the pain management segment held 48.3% of the revenue share in 2021. Usage in this segment is mostly targeted for cancer-related pain, followed by inflammatory and neuropathic pain.
Cannabis is also highly effective and safe for treating people suffering from brain and nervous system diseases. It is commonly used to treat patients suffering from multiple sclerosis, Parkinson's disease, Huntington's disease, Tourette syndrome, cervical dystonia, and epilepsy. Cannabis usage for neurological health management yielded a market value of USD 4.1 billion in 2021.
Another application segment that is growing quite rapidly is the use of cannabis for mental health purposes. Medicinal cannabis is a possible treatment for individuals diagnosed with depression caused by chronic stress. It is also known to treat patients suffering from anxiety, stress, dementia, and eating disorders. With annual growth of 19%, this segment is projected to grow from USD 2.2 billion in 2021 to USD 6.5 billion by 2027. Anxiety and depression treatments are the most prominent use of cannabis in this segment.
CBD Surpasses THC in Market Size
The cannabis plant produces different chemical compounds known as cannabinoids. Two of the most popular are cannabidiol (CBD) and tetrahydrocannabinol (THC). Despite their similar chemical structures, CBD and THC don't have the same psychoactive effects.
THC is the main psychoactive compound in cannabis that produces a high sensation associated with euphoria. It is common to consume it by smoking, but THC is also available in oils, edibles, tinctures, capsules, and more. CBD doesn't produce the high created by THC, but CBD is a potent substance to help with anxiety, depression, and seizures.
The CBD segment dominated the market in 2021 with an estimated value of USD 8.3 billion vs. USD 3.3 billion from the THC segment, according to market analysis by Market Research Future. THC usage is shown to be effective in treating nausea, multiple sclerosis, and neuropathic pain. THC also shows promising results in cancer treatment as it can restrict the spread of cancerous cells.
Major players.
Although cannabis production and cultivation are crucial parts of the cannabis market ecosystems, high revenue actually comes from pharmacological organizations. More companies are expected to invest in the market as the legalization of medical cannabis is currently spreading across the world.
Some major players in the market are Canopy Growth, Tilray, Aurora Cannabis, and GW Pharmaceuticals. These companies show major dominance in American and European markets.

Get access to +100k dataset with a free Statzon account!

Sources:
Statzon, Markets and Markets, Healthline