Last week our team participated R-22 trade fair in Odense, Denmark. It is the newest and the most extensive robotics, automation, and drone trade fair in the Nordics.
The event was not huge, but a good variety of people and companies working in robotics and automation participated in the fair. It was a great place to meet people in the industry.
Strong community
In the startup section, Statzon was divergent from all robotics companies. In the startup area, companies made software, sensors, and tools for robots and robots.
Although Odense is not a very large city, the robotics community and expertise are impressive. Several companies are working with robotics and automation, and there is an active community where the University of Southern Denmark is actively involved.
Overall, there is a solid robotics startup community in the Odense area. A Good ecosystem with expertise, education and, investors is vital for robotics companies. For robotics companies, it is more challenging to get adequate funding, as their investments before going to market are often more significant than for software companies.
The fair gave a good overview of what robots are used for now and in the future. Traditionally robotics has been focused on industrial robots. However, at the R-22, we were able to see many different types of applications for robots –
Kimmo Kuokkanen, CEO, Statzon
Who were the exhibitors?
Most products presented were collaborative robots (Cobot), mobile collaborative robots, automated mobile robots (AMR), and drones. Also, different tools for the cobots were prominent. Of course, there are applications for robots for usual industrial assembly, logistics, and maintenance. But there were also a bit newer applications for robotics. For example, in the drone section, you could see flying cranes and applications to use drones for wind power plant construction and maintenance.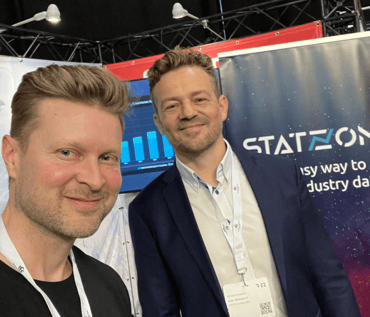 Successful robotics companies enable growth for others
We also had the chance to chat with the founder of Universal Robots A/S, Esben Østergaard. Esben has invested in several companies in robotics in the Odense area.
Universal Robots (UR) and Mobile Industrial Robots (MiR) are among the largest and most well-known companies which have started in Odense. Now you can see several companies from Odense conquering the world with innovative tools and other equipment for the UR and MiR robots.
Successful companies have also helped the Odense Robotics cluster grow to one of the most significant robotics clusters in the world. In addition, UR and MiR have helped to attract robotics experts and investors to Odense.
Are you interested in finding out how the robotics markets will develop? What kind of market shares do current players have, or what kind of market size projections are there for the coming years? Register a free account with Statzon and get access to market data.